EQONEX Lists "Game Changing" Polkadot (DOT) Token
The token is now available for trading through a DOT/USDC pairing on EQONEX.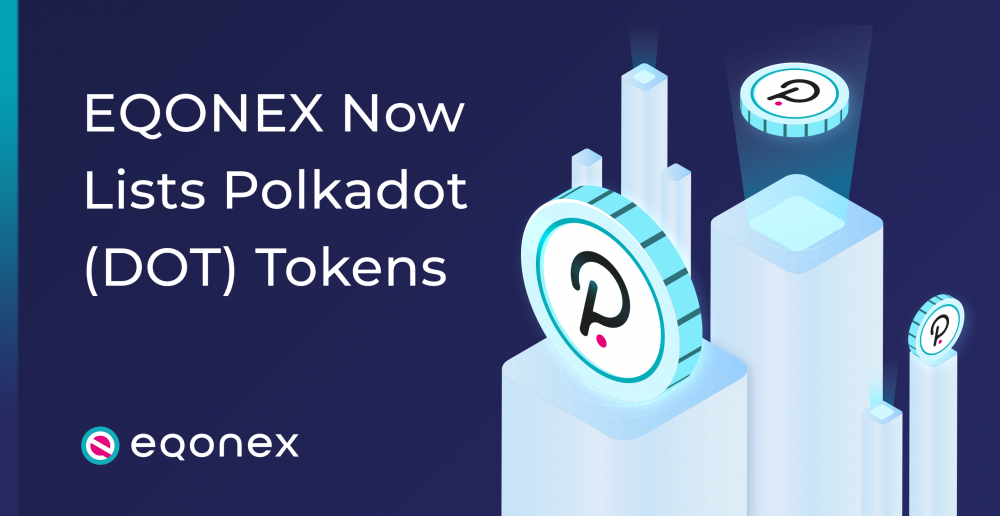 EQONEX, the crypto exchange of Nasdaq-listed Eqonex Limited (Nasdaq: EQOS), today announces it has listed the Polkadot (DOT) token on its platform.
All new traders who join EQONEX and trade any spot or perpetual futures contracts, over $200,000 in volume will also receive a $350 Welcome bonus.
The Polkadot network is a game changing viable alternative to Ethereum according to research published by EQONEX Labs.
Claire Zhao, Blockchain Researcher from EQONEX Labs, has high hopes for the performance of the network saying it offers the "perfect trifecta of solutions": blockchain interoperability, decentralized governance, and scalability.
"We're excited to make the token available for trading through a DOT/USDC pairing"
said Richard Byworth, CEO of the Nasdaq-listed crypto ecosystem EQONEX Group. USD and USDC are fully fungible on the platform meaning that USD holders can purchase DOT using the USDC market.
The complexity in the Polkadot protocol's design has created challenges for traders with very few custodians able to provide safe storage of the coin, and some other exchanges have had to indeed freeze withdrawals as the protocol pushes changes through. EQONEX Group custodian Digivault is pleased to have solved these technical challenges and will provide safe custody and exchange services for DOT.
"The beauty of trading Polkadot on the EQONEX exchange is the default custody in Digivault"
said Robert Cooper, CEO at Digivault.
The new DOT listing follows the announcement that Digivault, EQONEX Group's crypto custodian, became the first custodian registered by the UK's Financial Conduct Authority (FCA), to provide secure custody services for DOT. Mr. Byworth said:
"We've listed this token due to its contribution to solving the problems of being able to offer interoperability, decentralization and scalability simultaneously. Polkadot has also designed a ground-breaking blockchain protocol which allows for communication between different blockchains that are then connected, from a security and governance perspective by the core 'Relay Chain' "
Mr. Byworth noted he expected a high level of interest and activity on the exchange amongst both traders and longer-term investors given recent research that has demonstrated that for institutional investors DOT is the most widely held crypto asset after BTC and ETH.
About EQONEX Group
Eqonex Limited is a digital assets financial services company focused on fairness, governance, and innovation. The group encompasses cryptocurrency exchange EQONEX as well as an over-the-counter trading platform. It also offers a front-to-back integrated trading platform, Access Trading, a securitization advisory service EQONEX Capital, market leading hot and cold custodian Digivault, and asset manager Bletchley Park.