ETH Flash Crashes 60% on Kraken, Gas Fees Hit All-Time High
Kraken suffered connectivity issues that may have liquidated traders en masse, although this has yet to be confirmed.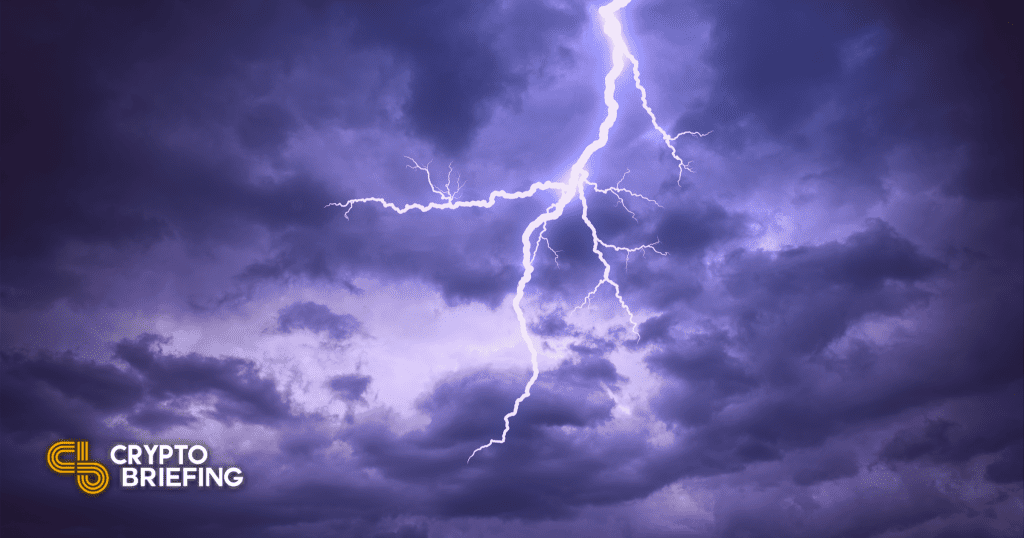 Key Takeaways
ETH dropped over $1000 below market value on the Kraken exchange for around 5 minutes earlier today.
ADA/USD and BTC/USD also decoupled from market prices, with the exchange reporting connectivity issues.
The extent of the problem and its impact on traders remain unclear.
The Kraken exchange order book saw ETH tank below $750, around $1,000 less than the true market value earlier today. Following the event, gas prices soared to 1,000 gwei for a fast transaction.
Kraken Exchange Sees Major Price Glitch
Ethereum briefly dipped below $750 on Kraken today, a 60% drop. It's currently trading at around $1,700. With Bitcoin and other lowe cap currencies seeing a major correction in the market today, the exchanges are humming with activity, and it appears that Kraken suffered some sort of technical failure in the process.
ETHUSD on Kraken traded < $750 pic.twitter.com/0EyPnnoDmY

— skew (@skewdotcom) February 22, 2021
Skew posted a video detailing a major price collapse, following up minutes later to report that ETH:USD on Kraken had fallen back in line with other exchanges.
However, by that point, it's possible that traders on Kraken incurred liquidations and sudden losses, while arbitrage opportunities may have popped up for any fast enough to seize them.
ETHUSD on Kraken has recovered relative to the other exchanges pic.twitter.com/bFYTfJYgOO

— skew (@skewdotcom) February 22, 2021
Not long after the event, gas prices surged above 600 gwei for a "safe low" transaction. According to Etherscan, a fast transaction hit as high as 1,000 gwei, an all-time high.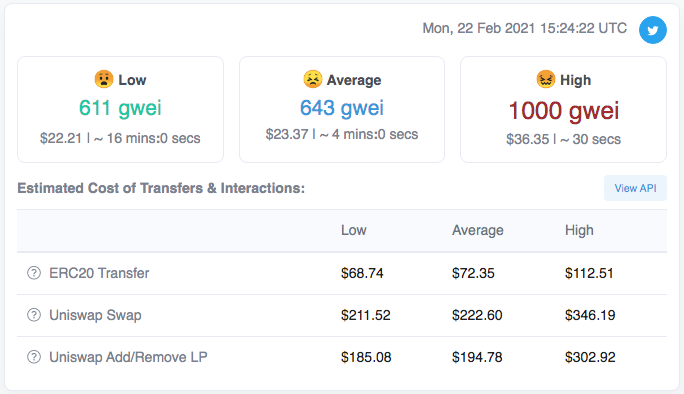 According to Etherscan, an ERC-20 transfer would cost roughly $112 at a 1,000 gwei gas fee. A Uniswap fee is even more expensive; it would cost $346.
It appears that Ethereum was not the only cryptocurrency that suffered price decoupling on the exchange.
One trader reported that the price of ADA had flash crashed to just $0.15, far below the market value of approximately $1.01. Again, flash crashes such as these run the risk of liquidations for traders unprepared for such a major drop.
https://twitter.com/kaboom12344/status/1363858248290488321
This story is breaking, and Crypto Briefing has seen no confirmation of mass liquidations due to the flash crash so far.
The question of what exactly happened to the Kraken order books remains, with reports indicating that BTC/USD also experienced a smaller price decoupling on Kraken.
The exchange has commented to confirm connectivity issues.
Meanwhile, Binance has frozen withdrawals of ETH amid heavy traffic and Bitcoin has seen $2 billion worth of liquidations in the last hour as a chaotic day for the crypto markets continues to unfold.
Disclosure: At the time of writing, the author held Bitcoin.