Ethereum Name Service Market Cap Tops $570M Following Airdrop
ENS soared over 200% following its launch before a slight cool-off.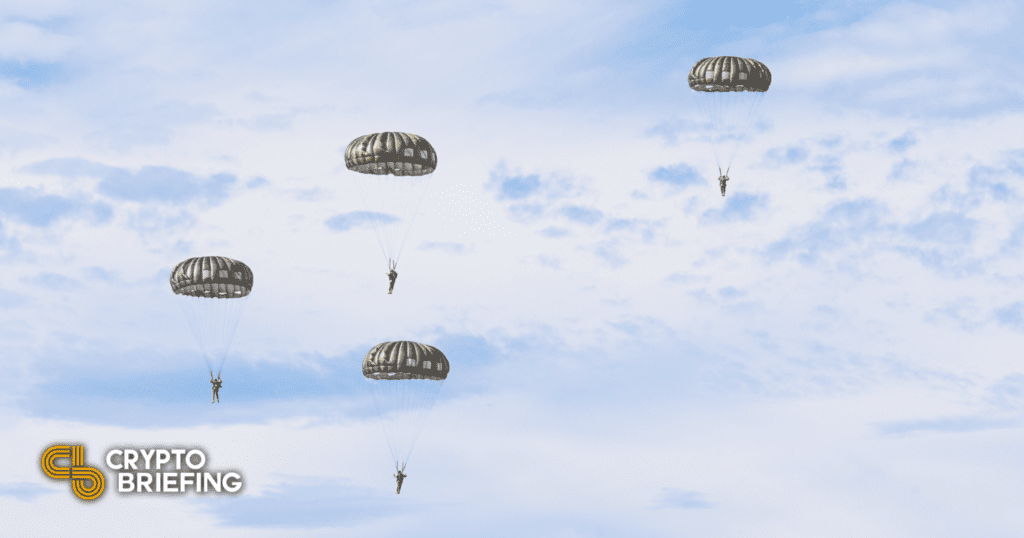 Key Takeaways
Ethereum Name Service's ENS token is rallying following a community airdrop.
The project launched a governance token yesterday to become more decentralized.
Ethereum Name Service lets users register a Web3 domain name on the Ethereum blockchain.
Dedicated Ethereum users were rewarded with another airdrop courtesy of Ethereum Name Service yesterday. ENS tokens are currently trading at just below $50 today following an overnight rally.
Ethereum Name Service Launches Token
Ethereum Name Service's ENS token has launched.
The claiming window for the Ethereum project's native token opened Monday following an airdrop announcement at the beginning of the month. It's currently trading just under $50 with around 11% of the 100 million supply in circulation, which puts the project's market cap at $570 million. At current prices, its fully diluted valuation is over $5 billion.
The token's price saw wild fluctuations on launch due to illiquidity on the Uniswap exchange. At one point, one ENS traded for over $500,000, albeit only briefly. The price stabilized at around $17 before posting a 200% rally; the token has slightly retraced after topping out at $54.
Ethereum Name Service is one of the Ethereum community's most beloved projects. It allows users to register their own domain name on the Ethereum blockchain to make their Ethereum address more readable. It also supports other blockchains and websites. Every ENS address ends with ".eth," and many people choose their own name for their domain. Vitalik Buterin, for instance, owns "vitalik.eth" for his address commencing "0xd8d." ENS domain names are technically NFTs; they use the ERC-721 token standard.
Per the Ethereum Name Service website, the project has registered over 411,000 names to 157,000 users. Most names can be leased for $5 per year excluding the gas fee, although sought-after names often trade at higher valuations on the secondary market. Budweiser, for example, paid 30 ETH for "beer.eth" in August.
Ethereum Name Service launched the ENS token to decentralize the project by becoming a community-owned DAO. Like other community-owned Ethereum projects, ENS holders will be able to vote in key decisions affecting the future of the protocol. Following the token launch, Ethereum Name Service tweeted that it was "just the beginning of a new era for ENS." The project's founder Nick Johnson also posted a message on Twitter thanking the community for its support. "I never imagined it would be as successful and widely used as it is today – and we're only just getting started," he wrote.
Disclosure: At the time of writing, the author of this feature owned ETH, ENS, some ENS domain names, and several other cryptocurrencies. They also had exposure to UNI in a cryptocurrency index.