Ethereum's Bleed Against Bitcoin Dashes "Flippening" Hopes
Ethereum is losing market share to Bitcoin as its decline continues. The ETH/BTC trading pair has breached a key support level, indicating that the bleed could continue.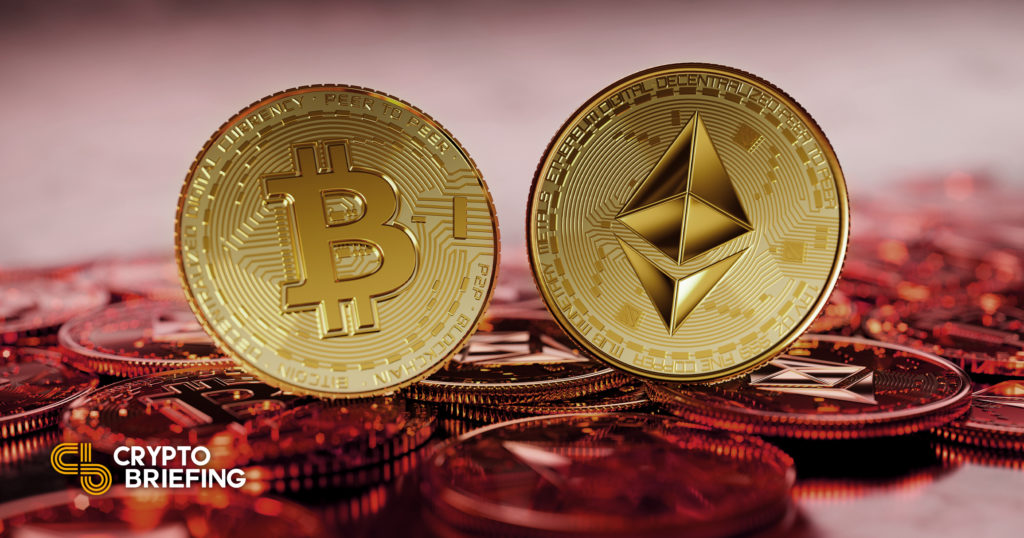 Key Takeaways
Ethereum has dropped by more than 20% against Bitcoin over the past three weeks. 
It comes as skepticism surrounding "the Merge" prevails, with no launch date set.
Under the current market conditions, the ETH:BTC ratio could drop to 0.048.   
Ethereum is having a hard time recovering from the recent market slump.
Ethereum Slides Against Bitcoin
Ethereum is lagging behind Bitcoin.
The second-largest cryptocurrency by market cap is showing weakness amid the latest market downturn.
Notably, Ethereum is bleeding against both the U.S. dollar and Bitcoin. The ETH/BTC trading pair has dropped by more than 20% over the past three weeks, breaching a crucial support area. Now that Ethereum has taken a notable dip against Bitcoin, further losses could be incoming.
Moreover, skepticism is growing in the Ethereum community over the network's highly-anticipated "Merge" to Proof-of-Stake. On May 25, seven blocks were reorganized on Ethereum's Beacon Chain. Blocks 3,887,075 to 3,887,081 were forked from the chain, raising questions about whether the network is ready to transition to Proof-of-Stake. Sigma Prime co-founder Mehdi Zerouali told Crypto Briefing that the issue was "nothing systemic," but the event sparked concerns all the same.
Last week, Ethereum core developer Preston Van Loon suggested that the Merge could take place in August. Vitalik Buterin, meanwhile, has said that it could happen in September or October. With a date still not set in stone and the broader market in decline, Ethereum's "Merge" narrative has failed to gain any significant momentum.
Now, it appears that the negative sentiment could be affecting the ETH:BTC ratio.
Ethereum appears to have lost a crucial support trendline that has been holding its value against Bitcoin since May 2021. The ratio dropped below 0.066, meaning 0.066 BTC dipped to a value of less than 1 ETH. At a ratio of 0.066, 1 BTC is worth roughly 15.15 ETH.
The ratio is considered a key indicator for crypto traders and Ethereum enthusiasts as they often use it to refer to "the Flippening," an event that describes the point at which Ethereum's market cap would overtake Bitcoin's. Based on the current circulating supplies for ETH and BTC, the ratio would need to be 0.157 to see "the Flippening" play out.
The ETH/BTC has now dipped as low as 0.06, delaying the probability of a "Flippening" event. Now that it has dipped, ETH could slide further against BTC.
The next potential area of support for ETH is around 0.055 BTC. If this level fails to hold, 0.048 BTC could become the most likely target.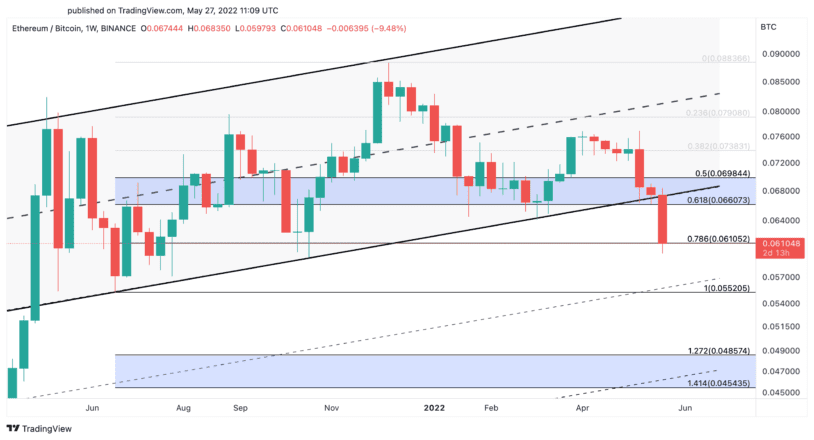 While "the Merge" could still increase interest in Ethereum, but as no launch date has been set, it's still unknown whether it will ship anytime soon. A successful launch could release some pressure from the ETH/BTC trading pair, but ETH would likely need to reclaim 0.066 BTC as support to have a chance at invalidating the pessimistic outlook.
Ethereum's market cap is currently around $212.6 billion, while Bitcoin's is $548.6 billion. Ethereum is currently around 38.7% the size of Bitcoin in market cap terms.
Disclosure: At the time of writing, the author of this feature owned BTC and ETH.
For more key market trends, subscribe to our YouTube channel and get weekly updates from our lead bitcoin analyst Nathan Batchelor.