FC Barcelona Chooses Spotify Over Crypto Sponsors
Polkadot and Binance have both attempted to sponsor the Spanish football club.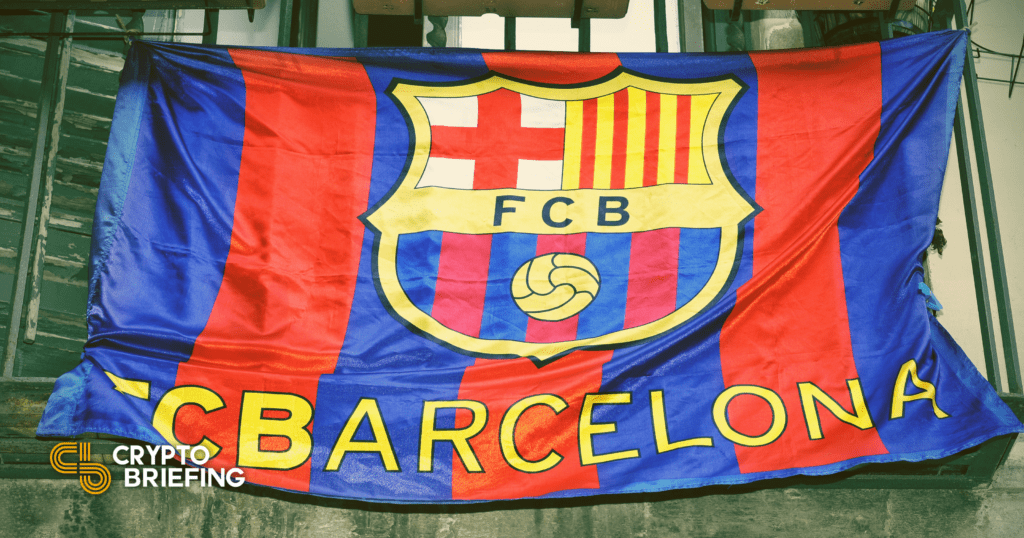 Key Takeaways
FC Barcelona has reportedly rejected various sponsorship bids from cryptocurrency companies in recent weeks.
The Spanish football club cited a lack of confidence in the cryptocurrency industry as one reason for the decision.
Polkadot and Binance submitted bids in January; Spotify has secured a deal with the club.
FC Barcelona, a Spanish football club also known as Barça, has reportedly rejected sponsorship bids from various crypto firms.
Barcelona Rejects Crypto Sponsorship
Spanish newspaper Sport reported on Feb. 22 that the football club and its president, Joan Laporta, rejected various sponsorship bids from cryptocurrency exchanges and companies.
The newspaper cites a "lack of confidence in the sector and the lack of economic solidity of the [sponsorship] proposals" as the club's reason for rejecting those offers.
Though Sport did not indicate which companies were rejected, Polkadot and Binance were both said to be bidding in January. Polkadot was expected to pay $110 million over five years; the amount that Binance would have paid is unclear.
It should be noted that some reports suggested that Barcelona intends to negotiate multiple sponsorships, and as such, it is narrowly possible that Polkadot and Binance are not among the cryptocurrency sponsors rejected by the football club.
Other Sponsors Include Rakuten, Spotify
Now, Barcelona is closing a sponsorship deal with music streaming company Spotify. Spotify will gain stadium naming rights as well as a presence on various team uniforms including the first team kit, women's kit, and training kit.
The exact amount involved in the Spotify deal is still unclear and will likely depend on player performance, according to Sport. However, other sources that Spotify will pay about €280 million ($320 million) over three years for the sponsorship.
Previously, FC Barcelona was sponsored by the Japanese e-commerce site Rakuten, which incidentally offers a digital wallet with some crypto features. That sponsorship ended in 2021.
Disclaimer: At the time of writing this author held less than $100 of Bitcoin, Ethereum, and altcoins.