Fidenza Creator Tyler Hobbs Raises $16.75M on QQL NFT Drop
Mint passes for Tyler Hobbs and Dandelion Wist's highly-anticipated QQL collection went on sale in a Dutch auction today. The 900 pieces sold out at 14 ETH.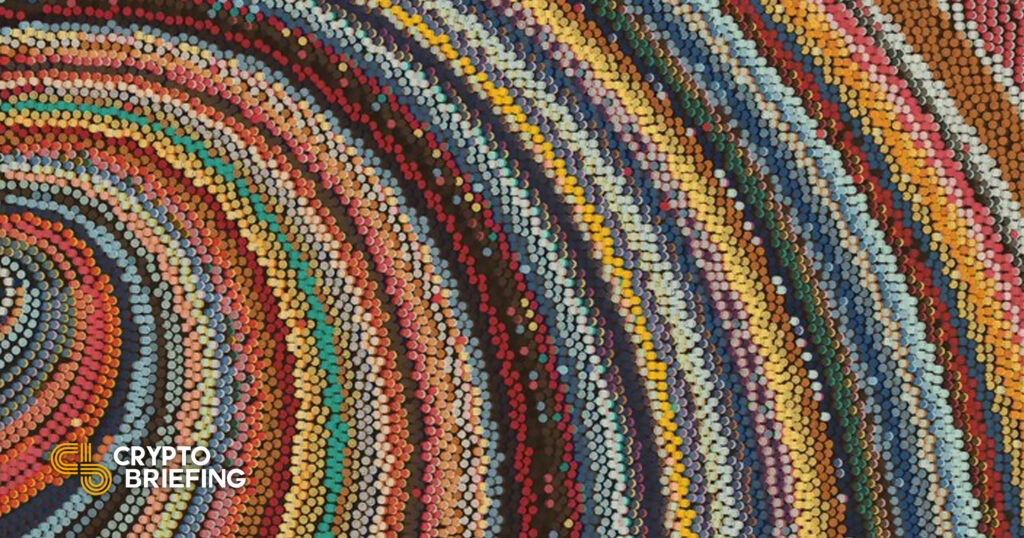 Key Takeaways
Artists Tyler Hobbs and Dandelion Wist have breathed new life into the NFT market.
Mint passes for their new collection, QQL, dropped in a Dutch auction today that closed at 14 ETH and netted around $16.75 million.
Tyler Hobbs is one of the most notable NFT artists in the space; his Fidenza series remains one of the market's most sought-after collections.
The QQL Dutch auction closed in less than an hour, raising around $16.75 million.
QQL Raises $16.75M
It turns out NFTs aren't dead, at least if today's QQL drop from Tyler Hobbs and Dandelion Wist is anything to go by.
Fidenza creator Hobbs and Dandelion Wist released their highly anticipated generative art experiment via an Archipelago Dutch auction earlier this evening, putting 900 mint passes for the 999-piece collection on sale at an initial asking price of 50 ETH. The auction implemented a rebate mechanism, meaning buyers all paid the same price once it settled. The auction closed out at 14 ETH, banking the pair a total of 12,600 ETH worth roughly $16.75 million at press time.
QQL's website describes the collection as a collaborative work "that celebrates emergence, unpredictability, and happenstance over forced rarity." Unlike most other generative art collections, it invites the owner of the work to become a creator of the project. The QQL website lets anyone create their own outputs using the project's complex algorithm. Those who minted a pass today can create infinite outputs until they settle on a piece they like, meaning someone could theoretically mint a QQL NFT 100 years from now. QQL also introduces a 2% royalty fee on secondary sales for mint pass owners.
Thanks to Hobbs' status in the space, the collection's unique approach to NFT minting, and the striking outputs the algorithm produces, QQL generated huge hype in the lead-up to the auction. After Hobbs and Dandelion Wist opened the QQL website to the public to allow them to create their own outputs, Hobbs revealed that over 1 million pieces were rendered in the first two days.
Fidenza's Legacy
The pair also ran a competition to give would-be collectors a chance to win their own mint pass, asking entrants to tweet a photo of their best render. Rising generative art star Emily Xie, NFT whale DCinvestor, and ARTXCODE founder Sofia Garcia were invited to pick out nine winners from the 11,000 entries.
For the QQL Contest, @iamDCinvestor selects:@ArtofConviction https://t.co/7MEOfWHS5I pic.twitter.com/KBkpJqzTYW

— Tyler Hobbs (@tylerxhobbs) September 27, 2022
Mint pass holders can create their own NFT using the algorithm from September 30. Due to the unique approach to the drop, it's unclear whether the mint passes or the outputs themselves will command a higher value. Since the auction closed, the collection's passes have hit a floor price of 17 ETH on OpenSea.
Hobbs became one of the NFT space's biggest stars during a boom in the market in 2021 when he released Fidenza on Art Blocks. Fidenza NFTs minted at around $400 and topped a floor price of $500,000 weeks later. Though the floor price has since fallen to 96 ETH, worth around $128,000 amid a slump in the NFT and crypto market, Fidenza is still one of the world's most sought-after generative art collections. Dandelion Wist entered the NFT space as generative art collections like Fidenza exploded in popularity; they're renowned for their collection of canonical works that dropped during the 2021 frenzy.
While it's not clear if QQL will be quite as popular as Fidenza, with today's drop raising millions in the depths of a bear market, it's probably fair to say that at least a few hundred generative art collectors are big fans of the work.
Disclosure: At the time of writing, the author of this piece owned a QQL mint pass, ETH, and several other fungible and non-fungible cryptocurrencies.