Fintech Leaders Converge for 2019 SXSW Blockchain Events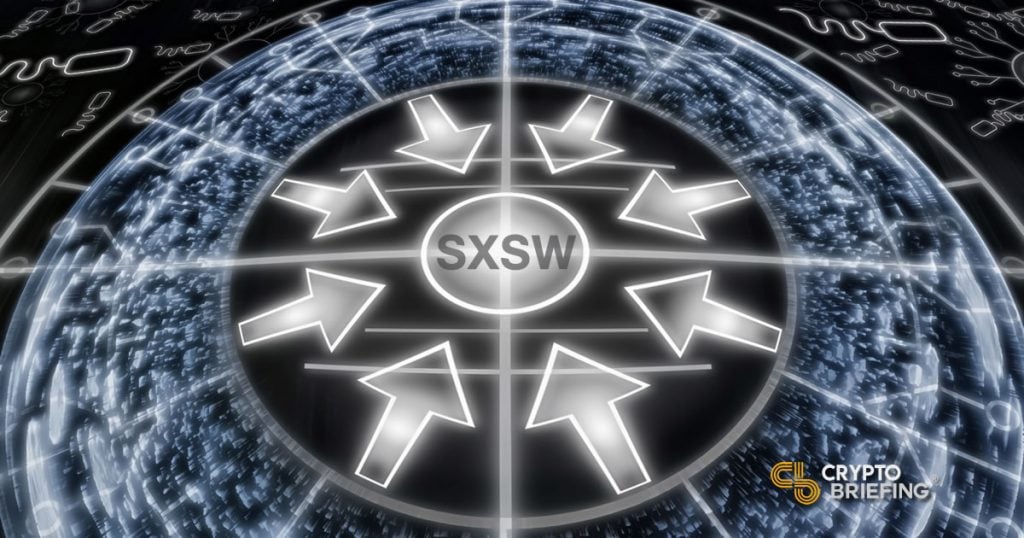 This week Austin, Texas, will host many of the best and brightest innovators from the finance, technology, and cryptocurrency spheres for the 2019 SXSW Blockchain track. The event will cover the future of blockchain's impact on everything from venture capitalism and artificial intelligence to the cannabis industry and food safety, and ultimately, the continued integration of distributed ledger tech into the global mainstream.
SXSW will also provide a forum for keynote speakers from forward-thinking, pro-blockchain companies such as:
Microsoft
IBM
MIT
Ripple
Ethereum Labs
ConsenSys Labs
Coinbase
Gemini
Speakers include luminaries such as Cameron and Tyler Winklevoss, co-founders of Gemini; David Schwartz, CTO of Ripple; Jesse Lund, IBM's VP Blockchain Markets; and (ahem) Crypto Briefing's own co-founder and Chief Editor, Jon Rice, who will speak at a ConsenSys event on the evolution of blockchain based banking.
Speaking of ConsenSys, their
Ethereal Summit
is now well underway at The Blockchain House, 606 E. 3rd St, Austin TX. The team has dozens of events planned, and the Ethereal Lounge has drinks, food, and a Zen Zone for decentralization decompression.
Some of the can't miss sessions to be held in this week's event include:
---
The Real World Applications of Blockchain: Blockchain CEO's and founders from tech firms Tide Foundation, Kilroy Blockchain, ShelterZoom, and Oracle share some of the latest innovations in Blockchain as a Service (BaaS) uses including securing transactions, ensuring transparency, and Australia's creation of the world's first Blockchain Bond. The session takes place on March 13, from 5:00- 6:00 at Lucille 77 Rainey St.
Blockchain Beyond The Hype: The Ripple Effect: During which Business Insider's Sara Silverstein will interview Ripple's David Schwartz converse on how blockchain alters the foundations of the global financial system, and the advent of the newest facet of the digital revolution: the internet of value. This session will take place on March 14, from 12:30-1:30 pm at Hilton Austin DowntownSalon H 500 E 4th St.
The Future of Venture: Partners at ConsenSys Labs, AIKON and Republic Crypto will discuss the new wave of blockchain financed startups, how leveraging cryptocurrency as a means of funding and financing compares to traditional venture practices launching businesses in the new digitally financed world. The session will take place on March 14, from 10:50-11:30 am at 606 E. 3rd street Austin TX, 78701
The Future of Banking- De-Fi Is Coming: CryptoBriefing co-founder and Managing editor Jon Rice joins Tim Grant, founder of Drum G Financial Technologies, and Jeremy Millar of ConsenSys Labs to discuss the emergence of 'De-Fi' or Decentralized Finance. They'll also cover the current state of the banking system, and the rapid integration of decentralization into the way banks handle transactions. The session will take place on March 14, from 1:00 to 1:40 pm at 606 E. 3rd street Austin TX, 78701
Regulating Blockchain: Valerie Szczepanik, Head of the Securities and Exchange Commission's (SEC) Distributed Ledger Technology Working Group, will chat with Daniel Kahan, Corporate Attorney at international law firm Morrison & Foerster, about the future of regulating the cryptocurrency space, legislative hurdles, and collaborations between entrepreneurs and lawmakers to promote blockchain usage. The session takes place on March 15, from 2:00 to 3:00 pm at Hilton Austin Downtown Salon C 500 E 4th St.
Aside from promoting awareness and education on the cryptocurrency space, the SXSW Blockchain Event will provide networking opportunities for attendants and speakers alike, a forum for the exchange of ideas regarding blockchain tech and build upon the already fast growing movement of global decentralization.
---
The author is invested in digital assets.