Forkast, AAX Present "Bitcoin & Beyond" on November 10
More than 20 influential industry figures are expected to participate.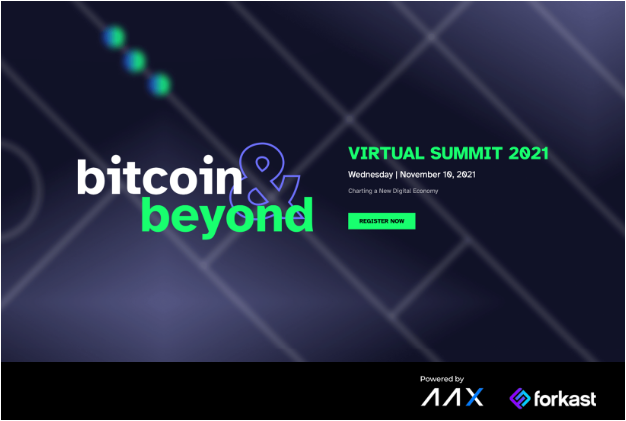 A one-day virtual cryptocurrency conference, "Bitcoin & Beyond," will take place on November 10 and include more than 20 prominent figures in the space.
Annual "Bitcoin & Beyond" Summit Set for November
Forkast.News, Asia's premier news platform on digital currency, blockchain and emerging technologies, and AAX, the next generation crypto exchange powered by LSEG Technology, will co-host the annual "Bitcoin & Beyond" global summit on Wednesday, November 10.
The one-day virtual event will discuss and dissect the most complex and pertinent issues facing the industry today. What does Bitcoin's adoption by countries look like and what are the wider economic and political implications? What does innovation on the Bitcoin network look like? How does space exploration intersect with the rise of digital assets? How can digital assets reinvigorate the global economy?
According to research firm Chainanalysis, global adoption of cryptocurrency has skyrocketed. In the second quarter of 2021, the adoption rate shot up 881% quarter-over-quarter and the uptrend is expected to pick up more steam as more governments, institutional investors, and retail investors participate in the industry.
Bitcoin & Beyond started from an online video series as a "conversation between peers." With AAX and Forkast joining together, this conversation can now be elevated to a new level of scale and impact as a global virtual summit. This is the first of many more to come in the years to follow.
The event features over 20 industry's most prominent investors, researchers and thought leaders. The line-up includes:
Sam Bankman-Fried, Founder & CEO of FTX
Don Tapscott, Co-founder & Executive Chairman of Blockchain Research Institute
Raoul Pal, Founder of Real Vision
Sheila Warren, World Economic Forum
Alex Tapscott, Co-founder of Blockchain Research Institute
Ash Bennington, Senior Editor & Crypto Editor of Real Vision
Wayne Huang, CEO and Co-founder of XREX Inc.
Michael Casey, Chief Content Officer of CoinDesk
"It is clear cryptocurrency as a tool for exchanging value is not the future, it is an unstoppable wave that is happening right now in all corners of the world. But the industry is inundated with distractions that can be misleading, intimidating, and even off-putting," said Angie Lau, co-founder and editor-in-chief of Forkast.News, who will be one of the moderators at the conference.
"The goal of Forkast, aligned with Bitcoin & Beyond, is to cut through the noise and present the facts so crypto players can make informed decisions," she added.
AAX Head of Research & Strategy, Ben Caselin, said:
"Bitcoin is a technology and asset as much as it is a discursive phenomenon. As such, beyond delivering institutional-grade trading technology and a full suite of services for users to engage Bitcoin and the broader crypto markets, AAX sees a responsibility in driving productive discourse and promoting adoption,"
Caselin continued:
"This is not about fueling the hype or pushing any of the thousands of crypto coins to the public, nor should people expect just another round of panels. Bitcoin & Beyond is set to be a full-on, interactive live experience that should inspire anyone who wants to see an acceleration of the transition to a world built on sound money principles."
Favored by more than a million users in over 100 countries, AAX is the world's first cryptocurrency exchange powered by LSEG Technology, and the first to make the switch to the Satoshi Standard (SATS) to drive the adoption of Bitcoin.
Connecting traders, innovators, NFT-artists, high-net-worth investors as well as the unbanked, AAX's mission is to help ground digital assets in the real world and bring the benefits of sound money to everyone.
Founded in 2018, Forkast.News is a digital media platform covering all things blockchain and emerging technology at the intersection of business, economy, and finance — from Asia, to the world. Forkast.News reaches a global aggregate audience of 30M+ across distribution partners such as Dow Jones Factiva, LexisNexis, Moody's, CoinDesk, and more.
For more information, contact [email protected]