Gitcoin's Kevin Owocki on Changing the World With Web3
Crypto Briefing sits down with the founder of one of the major pillars of the Ethereum ecosystem.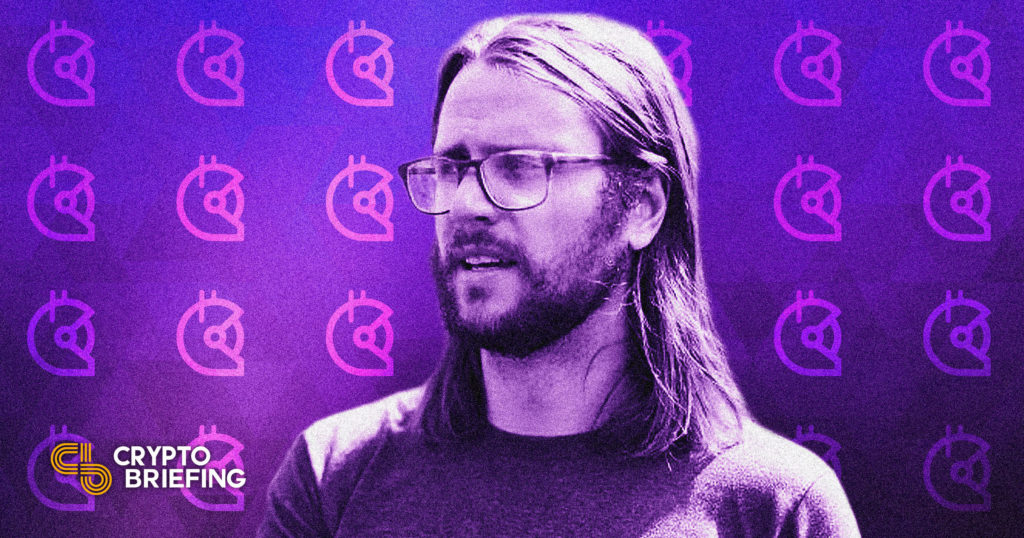 Key Takeaways
Kevin Owocki is the founder of the Ethereum-based open source funding platform Gitcoin.
Gitcoin accepts donations on the Ethereum blockchain and uses quadratic funding to match donations and raise funds for public goods in Web3.
Owocki believes in a world in which Web3 could augment income for everyone and bring about transformative change by supporting the most impactful blockchain projects.
Gitcoin founder Kevin Owocki talks quadratic funding in Web3, tokenizing positive impact with NFTs, and more.
Introducing Gitcoin
Kevin Owocki is just about the opposite of the "crypto bro" stereotype. A Colorado local who prefers to spend his time in the mountains to any concrete jungle, he comes across as someone who'd fit in better at a remote hippy gathering than anything to do with money—even if it is the virtual kind.
When Crypto Briefing met him on the first day of Consensus 2022 in Texas' hippy meeting spot turned tech hub capital, he turned up in a tee and shorts, contrasting the dozens of speakers that sat on panels in expensive suits and high heels. When we escaped Austin's 100 degree heat to find a discrete cafe for our conversation, he removed his sandals to sit cross-legged on the sofa, almost as if he was practicing a yoga position while we chatted.
Most people wouldn't be able to guess that Owocki works in blockchain, but as the founder of one of Ethereum's most vital projects, he's every bit as crypto as the dollar-eyed tech enthusiasts the space is often associated with. In fact, he's closer to the cypherpunks that inspired Bitcoin than any of crypto's newer Silicon Valley entrants, though he describes himself as a "solarpunk" given his love of the outdoors.
His main venture, Gitcoin, is one of the most successful projects in the blockchain ecosystem, responsible for supporting Ethereum mainstays like Uniswap through its groundbreaking community grants program.
Gitcoin is best described as a funding platform that supports the open Internet, a world crypto natives like Owocki refer to as Web3. It leverages the Ethereum blockchain to raise funds to help accelerate the growth of public goods. To date, it's raised over $63 million from the crypto community.
Open Source Maximalism
Owocki came up with the idea for Gitcoin after spending a decade in software engineering for so-called "Web2" technology startups. After seeing how recruiters would extract value when sourcing talent, he found his way into crypto—specifically Ethereum. The idea of creating a new version of the Internet that wouldn't be controlled by Facebook or Google fitted perfectly with what Owocki wanted to achieve. "I started Gitcoin to disintermediate recruiters," he said. "Basically, we're helping developers find opportunities in Web3 and get coins."
Owocki believes that crypto networks provide the perfect way to support open source projects that change the world for the better, so much so that he describes the emerging technology as a tool for a societal revolution. "The magical thing about crypto is that we can program our values into our money so if we value open source and public goods then we can build monetary systems that support those things," he said.
"The magical thing about crypto is that we can program our values into our money."
Gitcoin is an Ethereum project, but unlike many of crypto's foremost evangelists, Owocki insists that he's blockchain agnostic. Rather, he and Gitcoin want to support builders to help the whole pie grow bigger. As Ethereum has the biggest mindshare in the space today, it just so happens to be the best one for Gitcoin to run on. "I'm an open source maximalist, I wanna see people working on powerful impactful projects, and Ethereum has the greatest network effect to make that happen right now," he explained.
Gitcoin launched at the height of a retail-driven mania period for the cryptocurrency market in late 2017. While sketchy projects were using Ethereum to raise funds through crypto crowdfunds known as initial coin offerings, Gitcoin set out on its mission to support the builders that were beginning to appear in the ecosystem. It found success early on. The Ethereum Foundation funded the project's first seven grants rounds, before key decentralized finance projects like Yearn.Finance came on board to support its subsequent funding rounds.
The Power of Quadratic Funding
While Internet-based crowdfunding is nothing new, Gitcoin works differently to Web2 platforms like Kickstarter and GoFundMe—and not only because donors have to send Ethereum tokens. It pioneered quadratic funding, a concept coined by Ethereum's Vitalik Buterin, Zoë Hitzig, and E. Glen Weyl. In traditional funding, projects often have big supporters that increase the total funds raised by matching the amount donors have committed. Quadratic funding, meanwhile, uses a matching pool based on the number of donations rather than the size of them. In other words, a project that receives $100 worth of grants from 100 donors will receive more than one that receives a single $100 grant from one donor. "Quadratic funding optimizes for the preferences of the many rather than the rich few," Owocki said.
"The next 1 billion people using Web3 will use it for the Internet of jobs."
Eschewing the status quo of the traditional system in favor of "the many" sums up Owocki's entire outlook on crypto. While Web3 is currently known for speculative hype cycles that have enriched the savviest DeFi and NFT users, Owocki thinks that decentralized technology could offer the world more than ponzinomics and monkey pictures. He says he's excited about helping regular people earn a better living as the space heads toward mass adoption. "I think the next 1 billion people using Web3 will use it for the Internet of jobs," he said. "I aim to create a world in which DAOs are augmenting income so we have a systemic incentive to work on the commons and our communities."
While Web3 still gets a bad rep from Big Tech entrepreneurs, Bitcoin fans, and blockchain skeptics alike, Owocki argues that it improves on the Internet of today because it helps create a more pluralistic world. "We have money legos we can build on, so there are less of the sharp elbows found in Web2," he said. "It's like being in a garden together where we share the soil and the air and composite parts."
The most recent Web3 boom was led by an explosion of interest in art-based NFT projects like CryptoPunks and Bored Ape Yacht Club, but with ETH currently around 75% down from its highs, much of the speculative hype that characterized 2021 in crypto has died. Nonetheless, Owocki says this doesn't matter for Gitcoin. "Everyone in the space, whether it's a boom or bust cycle, needs software developers," he said. "Gitcoin happens to be in a good spot because it's helping these developers find these ecosystems, so we've got a pretty healthy business."
Supporting Impact DAOs With Gitcoin
Besides Gitcoin, Owocki is most interested in crypto projects that have positive externalities and increase their resources over time. He namechecks the universal basic income project Proof of Humanity and the decentralized carbon-based token initiative KlimaDAO as examples of what he calls "impact DAOs"—groups known as decentralized autonomous organizations that have demonstrated a commitment to creating a positive impact on the world around them.
"Gitcoin funds all these kinds of projects and we've been helping them find each other, exchange resources, and ideas," he said. "The potential of this is where impact DAOs augment every income on the planet to help everyone support their communities and make ends meet."
Owocki thinks that impact DAOs could leverage NFT technology to fulfil their missions, but not necessarily through digital art JPEGs. Instead, he envisages a world in which DAOs issue tokenized "impact certificates" to spread their message. "What if we could tokenize that impact and say you remove 10 tons of carbon from the atmosphere, or you take 10 kids out of poverty, or you fund open source projects for a year?" he pondered. "We can create a certificate that you can add to your balance sheet."
Owocki says that impact certificates could create a business model for DAOs by offering wealthy donors a chance to signal virtue and flex about spending on important causes. "The most important thing is that when people are creating value for the world, they can get paid for that value," he said.
"Impact DAOs could augment every income on the planet."
Crypto has long rewarded users for doing good. Early project supporters often receive governance tokens for bootstrapping liquidity, and in recent years Ethereum projects like Optimism have allocated token airdrops to Gitcoin donors. Owocki applauds the dozen or so projects that have rewarded loyal Gitcoiners. "It creates a feedback cycle where it's like 'oh wait, doing good is good karma and it comes back to me'," he said.
While Gitcoin has enjoyed success over its early years, Owocki is just as excited for the project's next phase. The company is currently moving toward a decentralized structure that will unwind its current hierarchy with the end goal of putting the project's development and economics fully in the hands of its community DAO. He also says that he'd like to see the project receive recurring contributions rather than one-off donations. And he's more convinced than ever that it could play an essential role in supporting the fast-growing decentralized ecosystem. "Once Web3 is big enough to take over the world, we'll be able to go into adjacent categories of doing grants and hackathons for everyone," he said. "But for now, it's niche Web3 projects."
Disclosure: At the time of writing, the author of this piece owned ETH, GTC, and several other cryptocurrencies. They also had exposure to UNI in a cryptocurrency index and have previously contributed to Gitcoin Grants.