Governor Ron DeSantis Wants to Outlaw CBDCs in Florida
DeSantis announced he was working on legislation designed to protect Floridians from central bank digital currencies.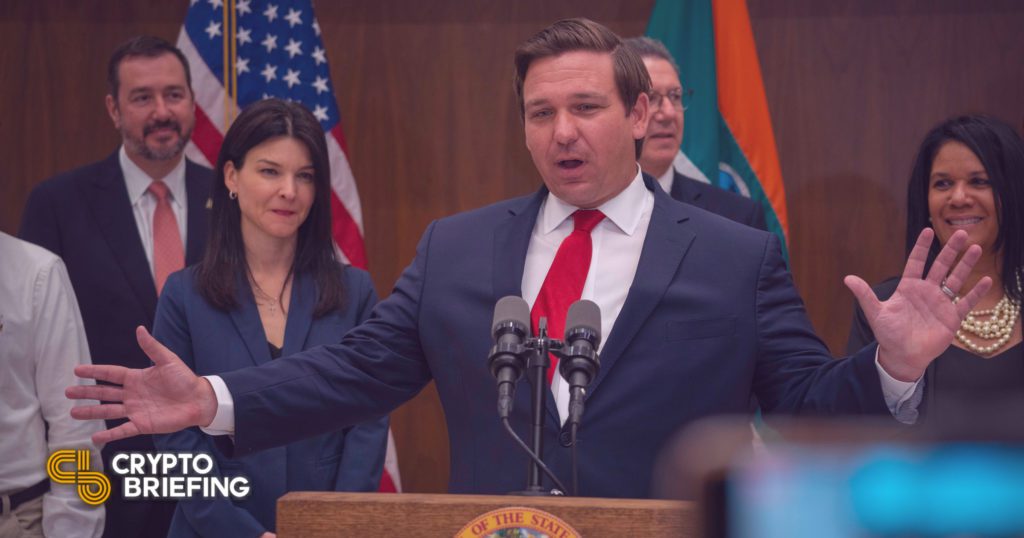 Key Takeaways
Florida Governor Ron DeSantis wants to prevent CBDCs from being forced onto Florida residents.
He announced yesterday his intention to pass anti-CBDC legislation.
DeSantis claimed that the U.S. government's efforts to create a CBDC were about "surveillance and control."
Florida Governor Ron DeSantis is looking to take steps to prevent residents of the Sunshine State from having CBDCs imposed on them.
Surveillance and Control
Central bank digital currencies are facing growing opposition in the United States.
Florida Governor and presidential candidate Ron DeSantis announced yesterday his intention to pass comprehensive legislation prohibiting the federal government from forcing Florida residents to use CBDCs.
According to a press release, the legislation would seek to protect consumers and businesses by forbidding CBDCs (whether issued by the U.S. government or by a foreign nation) from being used as money in Florida. The legislation would also call on like-minded states to adopt similar prohibitions in order to fight back against the technology on a worldwide scale.
"The Biden administration's efforts to inject a centralized bank digital currency is about surveillance and control," stated DeSantis. "Today's announcement will protect Florida consumers and businesses from the reckless adoption of a 'centralized digital dollar' which will stifle innovation and promote government-sanctioned surveillance. Florida will not side with economic central planners; we will not adopt policies that threaten personal economic freedom and security."
DeSantis has previously expressed a positive view of cryptocurrencies—even declaring in March 2022 that Floridian state agencies were working on a way for residents to pay their taxes in crypto.
The U.S. government has hinted on numerous occasions that it was looking to build and deploy a digital dollar, with Federal Reserve Chair Jerome Powell stating in June 2022 that "in light of the tremendous growth in crypto assets and stablecoins, the Federal Reserve is examining whether a U.S. central bank digital currency would improve on an already safe and efficient domestic payments system."
Disclosure: At the time of writing, the author of this piece owned BTC, ETH, and several other crypto assets.