Every 4 Years a President Is Elected and Bitcoin Moons
Messari analyst suggests election results reduce uncertainty and benefit the market.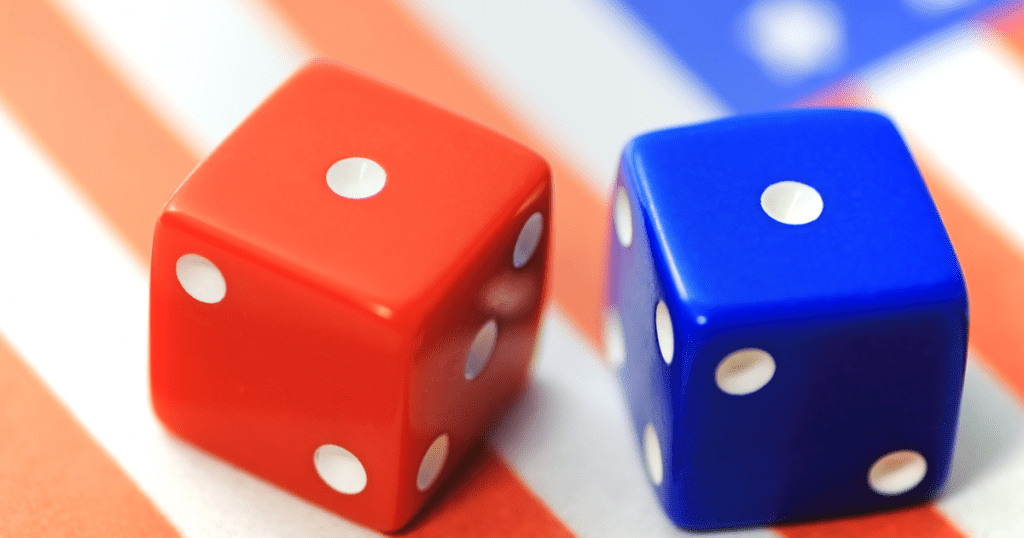 Key Takeaways
Bitcoin saw significant price gains following the past two U.S. elections in 2012 and 2016.
This year's controversial election could evolve into a long-term dispute, and it is not clear whether the trend will hold true.
Other factors, such as Bitcoin's halving, will probably have a much greater effect on Bitcoin prices.
Ryan Watkins, an analyst at Messari, has suggested that U.S. elections have historically driven up Bitcoin prices. That raises the question of whether prices will again surge this year.
Elections Coincide With Surges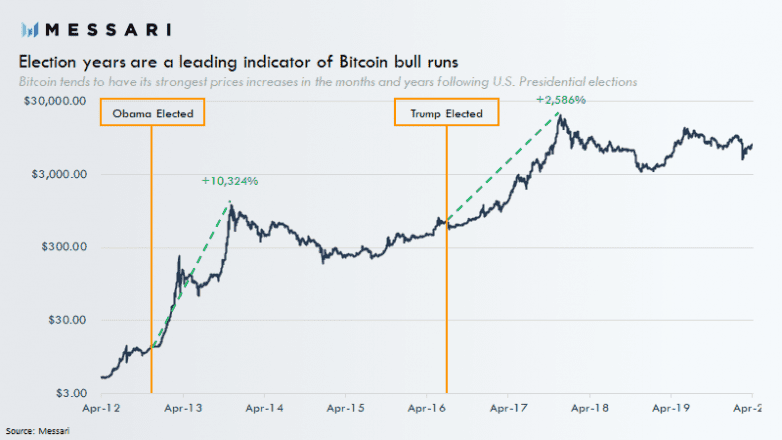 According to Watkin's chart, previous elections have coincided with significant Bitcoin price gains.
Obama's 2012 victory drove Bitcoin's price up from $8 to $820 within two years (a 10,324% increase). Likewise, Trump's 2016 victory saw prices rise from $670 to $17,350 within two years (a 2,586% increase).
"The reduced uncertainty following elections provides fertile ground for Bitcoin bulls runs," Watkins suggests.

It is unclear whether this year's election will have the same effects, however.
Today's results could be disputed in court over the coming months due to America's volatile political climate. If that's the case, initial election results will provide little certainty. That, in turn, might limit Bitcoin's potential price gains.
Correlation or Causation?
Correlation doesn't imply causation. Presidential elections coincide with Bitcoin halvings on an identical four-year cycle. Since halvings are deliberately designed to reduce Bitcoin inflation, those events arguably have a much more direct effect on Bitcoin's price.
Critics have noted that both events coincide with leap years– something that should have no significant impact on the Bitcoin market or the behavior of investors.
Watkins has acknowledged that elections might not be a sufficient explanation for price surges.
"The 2008 election was such a strong catalyst it caused the launch of Bitcoin just 2 months later," he says in what appears to be a tongue-in-cheek statement.
There is reason to believe that political events have at least some effect on prices, as smaller gains have been seen in the traditional stock market under the same circumstances. For instance, U.S. Bank suggests that stock prices appreciate by 5%-6.5% in the year following each American election, regardless of the results.
But ultimately, it seems that the U.S. elections do not provide a full explanation for Bitcoin rallies, given a large number of factors at play and the massive price changes that have been observed.