HIRING: Cryptocurrency Journalists and Analysts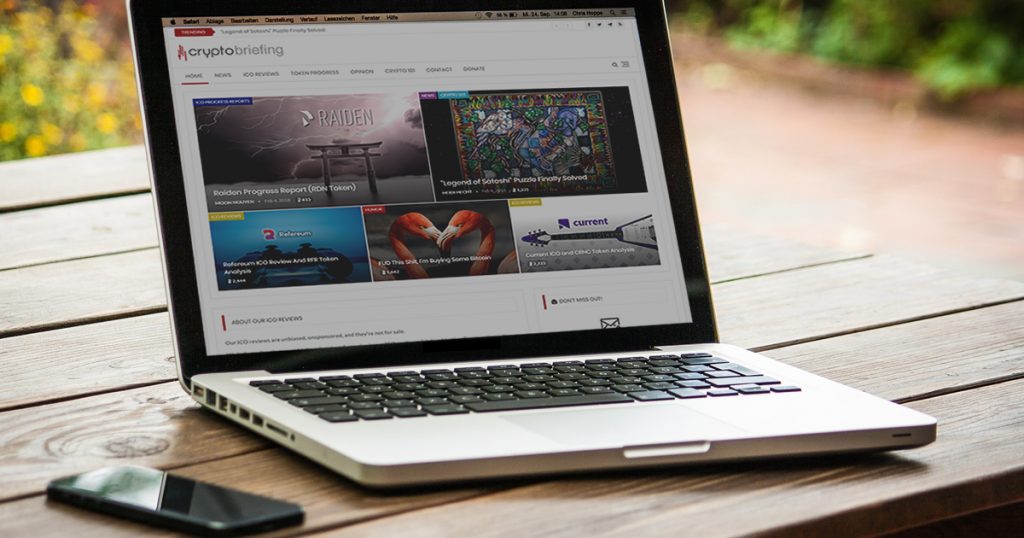 Crypto Briefing is a truly independent blockchain voice, and we're looking for cryptocurrency journalists and blockchain analysts.
Our model is as successful as it is innovative. We've organically grown a media property that is already serving 300,000 readers per month – and that number is expanding rapidly. The foundation of our work is not dictated by advertisers – because we have none.
Instead, we are VC-funded by some of the top funds in the world, who believe in our mission and our model. Over 18 months we have built value and trust, becoming one of the most well-respected media outlets in our space by adhering to strong ethical principles. We have never accepted a sponsored story, free tokens, ads, or any other form of payment – nobody pays to play in our sandbox.
Our new products will be hitting the market soon, and growing our news and research team is part of our ongoing commitment to providing insightful, actionable intelligence for our readers and subscribers.
That's why we're looking for the most outstanding talent only.
---
JOURNALISTS
As a news writer / journalist for Crypto Briefing, you'll deliver engaging writing that caters to a highly-intelligent audience. Our readers are early adopters, blockchain innovators, and crypto newbies: their common denominator is that they're hunting for smart and informed work.
---
What we are looking for in a cryptocurrency journalist:
• The ability to select intriguing news stories and locate primary and secondary sources.
• The tenacity to deliver a minimum of 15 articles of 450-750 words each, every week.
• A willingness to promote your own pieces through our social media channels.
• Knowledge of best-practice SEO techniques.
• The potential to assist the publishing team in preparing the work for WordPress.
• Exceptional attention to detail and fact-checking skills.
• Demonstrable writing expertise in business markets.
• An understanding of journalistic ethics, and ideally, U.S. First Amendment rights.
• A strong interest in, and aptitude for, cryptocurrency and blockchain technology.
• The discerning ability to add a little irreverence and a clever headline to a news item.
What we are NOT looking for in a cryptocurrency journalist:
• Opinion or feature writing, how-to guides, ICO reviewers, or analysts. We're hiring for the news.
• Perfection. You'll be working alongside an experienced editor who will offer constant advice on how to improve – and who will expect you to learn quickly and take constructive feedback well.
---
Instructions for submitting your application – please read carefully, as we guarantee that 50% of the people who apply for this position will not bother. And therefore, following these simple instructions automatically puts you in the top half of the candidate pool.
Send a link to your LinkedIn profile to

[email protected]

, and make sure it is up-to-date. Feel free to use the subject line 'Cryptocurrency Journalist' and your name.
Send links to THREE work samples – if unpublished, host them somewhere. On Medium is fine.
We will NOT open any documents, PDFs, or any other attachments.
In the body of your response, tell us why you are interested in crypto and blockchain; what you can offer our readers; and how you will find stories and sources to become immediately valuable to our company. That's three separate questions.
---
ANALYSTS
We are looking to expand our analytics branch and are searching for someone that shares the same values as we do. We are looking for someone who has high integrity, is hardworking, independent, and self-sufficient, to help us create the high-quality content that we are known for, as well as, expand our product offering. This person will be responsible for performing research and due diligence on blockchain-based projects, as well, as other analytic tasks.
Qualifications
– A passion for cryptocurrency and blockchain-related technologies.
– Strong vocabulary and command of the English language (all of the content will be created in English).
– Strong analytic skills, with the ability to perform both qualitative and quantitative analysis.
* A background in journalism, economics and/or IT is a bonus but not required.
We offer
– A competitive salary.
– An opportunity to work remotely with one of the best US companies in the field.
– Challenging and interesting assignments.
– An opportunity to study the industry from within.
– Growth opportunities within the company.
If you are interested in a role in which you can build a career and your skill set, we want to hear from you. But please visit our site to see what we do before applying.
These are examples of our Digital Asset Report & Evaluation, in which we perform in-depth analysis.
Please, send your CV to [email protected]
---
In both cases we think our team is likely to grow quickly, and we see outstanding opportunity for highly-ambitious people to gain a strong foothold in an exciting market. Our goal is to rapidly promote quality people from within, and to reward well those who commit to our mission.
We do not currently offer a benefits package outside the USA – unless you count working from home in your pajamas, possibly in Phuket and possibly in Kansas. Seems like a benefit to us.
We look forward to your application – or if you know someone who might fit, share this post.
---
We advocate for the safe and responsible integration of blockchain technology and cryptocurrency into mainstream life, and we are committed to equal opportunity and inclusion.
Please note – we are also seeking freelance writers. Same standards, different expectations.