How DeFi Project AntiMatter Finance Tanked Its Own Token Price
AntiMatter unlocked all of its early investors' vested tokens, causing a price crash of more than 50%.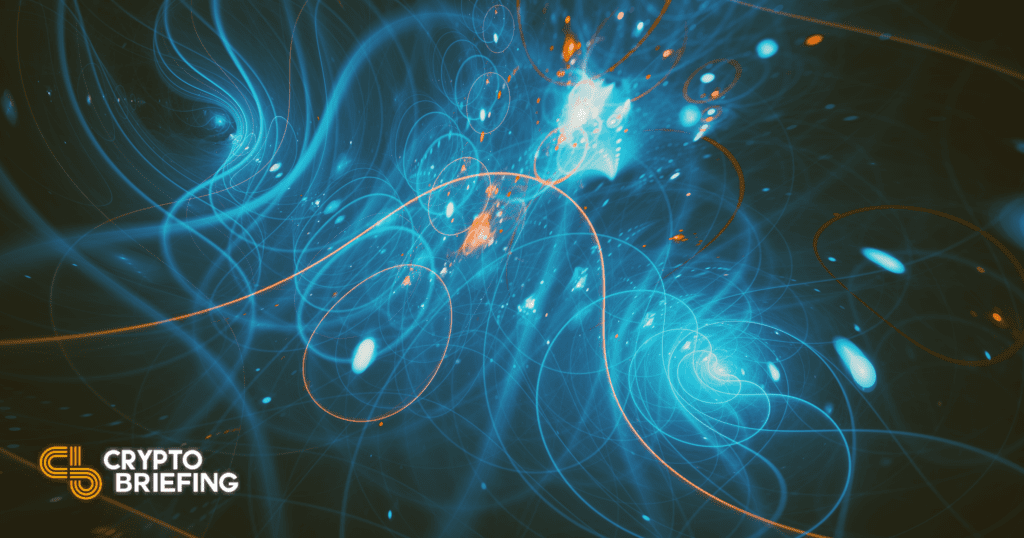 Key Takeaways
AnitMatter, an onchain derivatives protocol, announced it was removing vesting of MATTER tokens sold to early investors Wednesday.
Due to the inflated supply, the token price crashed by more than 50% in a period of 24 hours.
The project has been widely criticized for the move, with some accusing the team of a "rug pull."
Onchain derivatives protocol AntiMatter Finance has removed the vesting period for its strategic investors, which caused the project's native token price to tumble.
AntiMatter Finance Unlocks Millions Of Tokens
AntiMatter Finance, an on-chain options trading protocol, caused its own token MATTER to crash after it removed a vesting period from tokens sold to early investors. The project announced Wednesday:
"After internal discussion MATTER has decided to move forward the unlock all strategic investors, including seed and private rounds."
Dear community, after internal discussion $MATTER has decided to move forward the unlock all strategic investors.

We believe this will benefit the protocol in the mid/long term helping filter long-term supporters of the project.

Thank you for your understanding and support ✨

— AntiMatter ➕/➖ (@antimatterdefi) June 30, 2021
In a single day, 16 million MATTER tokens, or 16% of the total 100 million supply, have been added to the circulation.
Following the announcement, the token price crashed by more than 50% within a period of 24 hours, coming down from $0.44 to $0.22, according to CoinGecko.
The unlocking decision was made privately by the team without any input from the community.
The token's original vesting schedule that the team disregarded can be viewed on AntiMatter Finance's website.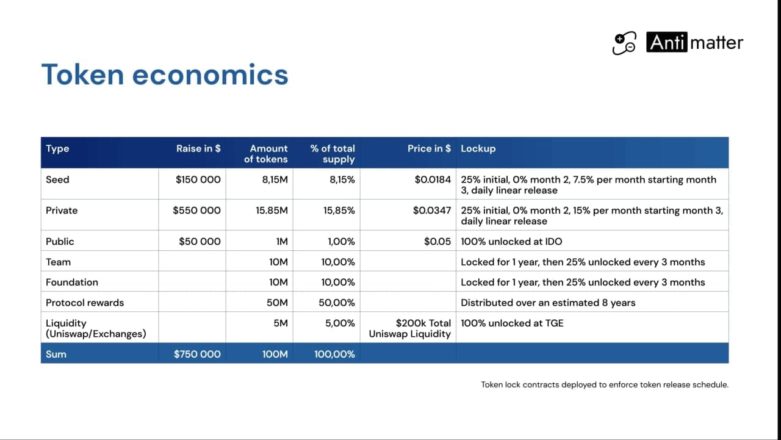 In February 2021, AntiMatter Finance raised $150,000 during a seed round after it sold 8.15 million MATTER tokens to NGC Ventures, Spark Digital Capital, and Monday Capital at a price of $0.0184 per token.
The team later raised another $550,000 during a private sale at a token price of $0.0347 per token. In both cases, the investors made a return of thousands of percent.
While 25% of the initial allocation was unlocked, early investors could further unlock their tokens on a daily basis starting on Jun. 5.
The core team members described the linear release as "unhealthy," despite being the ones who designed the tokenomics.
Thread [Reasoning behind the unlock action] 👇🏽

1) We noticed daily unlock wasn't healthy.

— Jack Lu (@jack_venture) July 1, 2021
Jack Lu, the project's co-founder, said of the release schedule:
"We believe that this action will speed up negotiations with several CEX's [sic] and partners we have been having and helping us filter long term supporters."
Lu claimed that unlocking all of the vested tokens at once would remove the sell pressure, filter long-term supporters, and make the token supply more decentralized.
In response, several notable crypto personalities accused the team of executing a rug pull. Many critics also called the project a "scam."
Can anybody suggest one single reason how unlocking the tokens of "strategic investors" would do anything at all to be beneficial to the long-term success of this project?

Like one single reason?

How is this not just a straight scam https://t.co/dENlKeY7Ko

— Cobie (@cobie) July 1, 2021
Others say the move was made so the MATTER token would be ready for a listing on a centralized exchange (CEX), also pointed out by Lu above.
According to Devchart, co-founder of ChartAlerts.io, AntiMatter's unlocking of early investors' tokens vesting helps meet the listing requirements of certain exchanges.
https://twitter.com/devchart/status/1410417371077124106
Nevertheless, the core team members' decision to not honor the scheduled vesting period is a breach of investors' confidence.
According to research from Seoul School of Integrated Sciences & Technologies, vesting of tokens purchased by early investors is a critical step in ensuring long-term market incentives. Vesting schedules that are modified to benefit VCs and insiders can cause significant harm to retail investors.
Vesting levels the playing field for new market participants. Its goal is to make sure early investors do not inflate the token supply and harm the token price. On the contrary, AntiMatter's move puts the power back into the hands of pre-market players.
Similar market behavior was recently seen with the Dfinity token launch and the subsequent price crash. Evidence suggests that in this case, unvested early backers sold off ICP tokens on the market at launch, helping the price to collapse by more than 95% in a month.