IBM Blockchain A Sure Bet For Enterprise Customers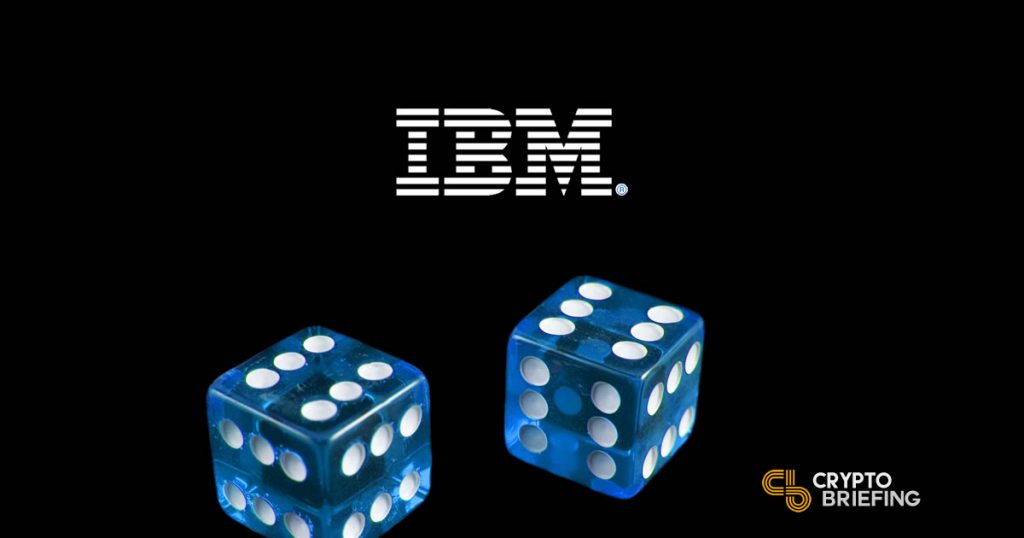 Crypto guru Mike Novogratz views distributed ledger technology (DLT) as split between enterprise-facing private blockchains and open-source public blockchains. IBM is the undisputed leader in enterprise solutions with 65% of companies saying they would choose Big Blue to deploy the technology in their own business, per a Sept. 2018 survey by Juniper Research.
For now, it's hard to imagine anyone dislodging IBM when it comes to large-scale use cases of blockchain. And that's reflected in how corporate executives view the New York-based conglomerate of 330,000 employees.
Corporate preference for Big Blue is nearly 10 times that of second-place Microsoft (7%) while other companies that barely received votes include Accenture, Deloitte and Oracle. Samsung SDS and Sony have entered the space, with Samsung helping the South Korean government use DLT to improve administration — a pilot project that will undoubtedly attract similar interest from bloated bureaucracies around the world. Sony recently announced an initiative on digital rights management.
But compared to what IBM Blockchain is doing, these look like tentative steps rather than bold inspirations of conquest — and perhaps more of an effort to appease impatient board directors than to achieve a tectonic break in how business is done.
---
IBM Is All-In On Blockchain Bets
The Fortune 50-ranked company is focused on sure bets that are aimed at global impact: That is, to help Fortune 500 clients reshape entire industries, and whose private or open-source DLT transformations drive the highest ROI for shareholders.
Like Bitcoin (BTC) investors who bought in 2011 to 2012, the company is reaping the benefits of foresight and early action. IBM Blockchain launched over three years ago, and therefore it enjoys a first-mover advantage over heretofore hesitant competitors. As everyone else fawned over crypto prices, Big Blue quietly amassed over 1,500 blockchain experts on its team. And it has successfully built and deployed commercial-scale solutions, whereas it could take other tech giants years to introduce similar capabilities to the marketplace, if ever.
The open-source Hyperledger blockchain can handle millions of transactions per second. Moreover, the platform counts more than 250 companies as clients. With such a head start, it makes it easier to acquire other multi-billion-dollar clients in various industries due to IBM's track record.
---
IBM And Walmart
That's evident in IBM's partnership with none other than America's biggest company (at $500 billion in 2018 revenue): Walmart. The retail behemoth and subsidiary Sam's Club last month announced it would require food suppliers to install blockchain systems by September 2019 to track items from farm to table. IBM's tech is expected to improve public safety, reduce costs and lower risks by making food items trackable in real-time.
The mandate is considered a game changer in the $1.5 trillion food industry where a typical grocery store can have upwards of 70,000 products. Audits of contaminated food that can take seven days can be done in a few seconds under Walmart's IBM-powered blockchain network, according to Sept. 24 announcement.
Big Blue is perfecting business processes with blockchain, and it's positioned to capture more revenue from this sector because the blockchain team's approach is applicable beyond food supplies to all kinds of supply chains. And as mentioned, IBM executives seem focused on driving the biggest results.
Earlier this year, the company partnered with shipping giant Maersk to improve global shipping, logistics, and transportation processes using blockchain. The cost of global trade is $1.8 trillion annually and it's estimated that efficient practices can shave off $180 billion in savings.
"The objective of the platform is to connect and provide benefits to the supply chain ecosystem," according to Jan.18 IBM announcement. "A global network of interconnected shipping corridors linking the ports and terminals, customs authorities, shipping lines, third-party logistics (3PLs), inland transportation, shippers and other actors, all together."
The author holds BTC which is mentioned in this article.