Investors Pounce On IOTA As Jaguar Land Rover Announces Crypto Integration
Drivers will be able to earn money on the road.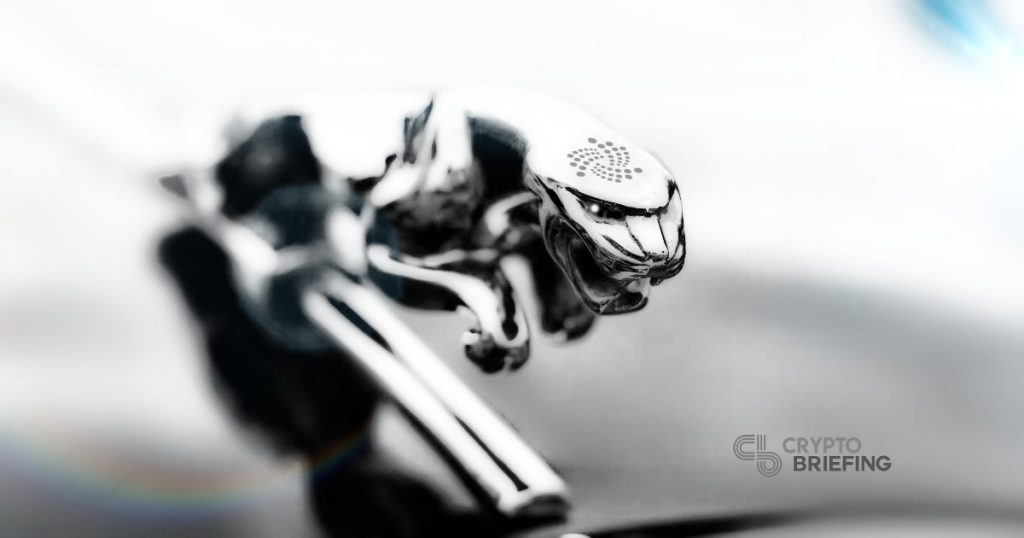 IOTA (MIOTA) tokens accelerated an upward trend in value this morning after the internet-of-things (IoT) project announced a surprise integration with the British car manufacturer, Jaguar Land Rover.
In an official blog post, an IOTA spokesperson said Jaguar Land Rover was actively trialing a new smart wallet initiative, which will use their distributed ledger. The smart wallet will automatically pay drivers in cryptocurrency for sharing information with other drivers, as well as local authorities, about road conditions and traffic.
Drivers can use their earnings to pay for things like road tolls, parking and battery charge points, which are rapidly spreading across Europe. "The connected car technologies we are developing will be transformative and truly turn your Jaguar or Land Rover into a third space," argued Russell Vickers, Jaguar Land Rover Software Architect.
IOTA first attracted the attention of auto manufacturers earlier this year, when the DLT project unveiled a new car wallet, which would enable automatic payments for fuel or battery charge.
This new "sharing economy" creates new incentives for drivers to share useful information with other cars, Vickers said. Drivers who participate in the shared economy will help collect data and help cities run more efficiently.
---
The IOTA Price
Jaguar Land Rover is currently testing the technology at its software engineering base in the Republic of Ireland. They have not said when smart wallet integration might begin and it is still uncertain whether drivers will be paid in MIOTA tokens.
Nonetheless, MIOTA surged in value soon after this morning's news, reaching $0.31 at the time of writing. Following the Jaguar Land Rover announcement, market capitalization for the IOTA token increased by $87M, an 11% increase in the course of a few hours. Our morning technical analysis offers more insight.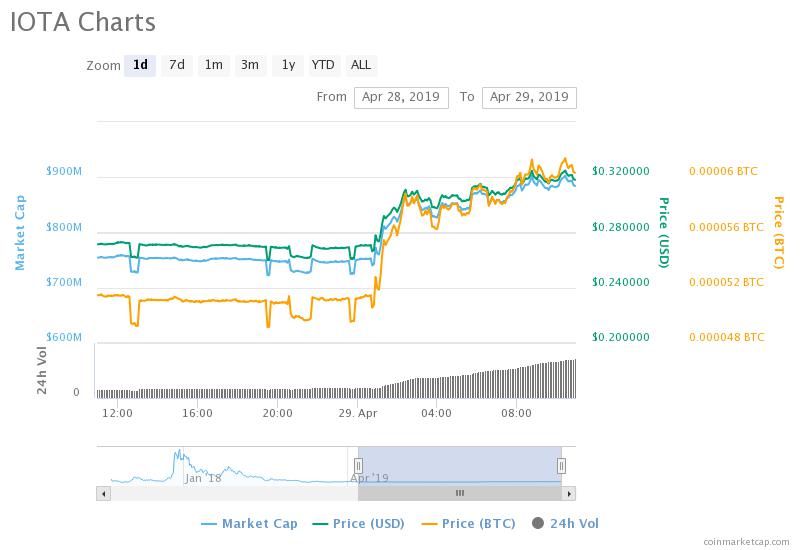 Dominik Schiener, IOTA co-founder and Chairman of the IOTA Foundation, says that the project remains "very much focused" on readying the IOTA ecosystem and larger "machine economy." This means establishing partnerships with potential users as well as hiring a full team of developers and researchers to build the underlying tech.
"We are still working with many of these big companies, in fact even more so," Schiener explained to Crypto Briefing during Paris Blockchain Week. "Our focus for this year is to make companies productive, to enable them to build products on top of the Tangle [IOTA's DLT platform]."
A new smart city consortium, which the Foundation co-founded, recently received €20M ($22M) from the European Commission, according to Schiener. They will explore and develop new energy trading and data security initiatives which use IOTA technology.
---
IOTA offers car manufacturers new opportunities
Schiener believes that IOTA offers companies new revenue streams and use-cases to help them adapt to changing customer demand. Micropayments are unfeasible in most legacy systems, but DLT technology lowers transaction fees, making them financially viable for the first time.
The Tangle is based on Directed Acyclic Graph (DAG) architecture, allowing it to scale as the number of users increases. IOTA is also known to be working with Volkswagen on a new protocol, which will allow automatic updates to car software using cloud technology.
Holger Köther, director of partnerships at the IOTA Foundation, said: "Our distributed ledger technology is perfectly suited to enable machine-to-machine payments for smart charging, parking and tolls, in addition to creating opportunities for drivers to earn their own digital currency."
Jaguar Land Rover, the UK's largest car manufacturer, says the new smart wallet integration forms part of its Destination Zero initiative – which seeks to lower emissions, traffic and collisions to zero. The manufacturer, which sold nearly 600,000 cars last year, will offer all drivers the option of 'electrification' – a whole new range of battery-powered products – by 2020.