This Just In: Over Half Of TRON Founder Followers May Be Real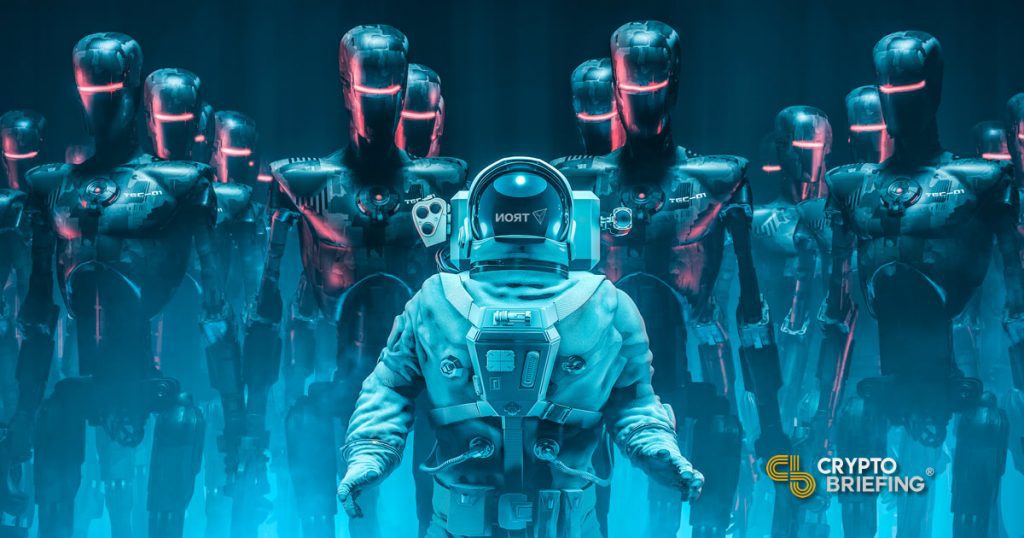 Justin Sun's Twitter followers may be real human beings – or at least, some of them. That's the astonishing conclusion reached by a statistical analysis of TRON-related social media accounts, which revealed that bots are not entirely responsible for the dramatic increase in Sun's popularity.
The news was originally reported in Trustnodes, based on a social media research by Geoff Golberg.
Unsurprisingly, Golberg's research revealed that many of Sun's followers are only as real as the TRON white paper. Out of Justin Sun's 50,000 newest followers, some 20,000 had no visible activity except to follow and retweet the TRON founder.
The upsurge follows the latest promotion, in which Sun promised to give away large cash awards and a Tesla to his followers. Justin Sun is known for bragging about his social media following and recently boasted about having exceeded Vitalik Buterin's Twitter following.
Although anyone familiar with Sun's online antics–or with any common sense– would conclude that this was largely comprised of false accounts and bots, the Trustnodes Report suggests that at least some of these accounts could pass a Voigt-Kampf Test.
As unbelievable as that may seem, a random sampling of Sun's followers supports the same conclusion. 68% of his followers "have a suspiciously small number of followers," the audit found, and 61% use "spam-correlated keywords in their profile description."
If these data are taken at face value, the numbers suggest that as many as one third of Justin Sun's followers consist of actual, real-life humans.
Statistical mapping of these accounts supported the same shocking conclusion.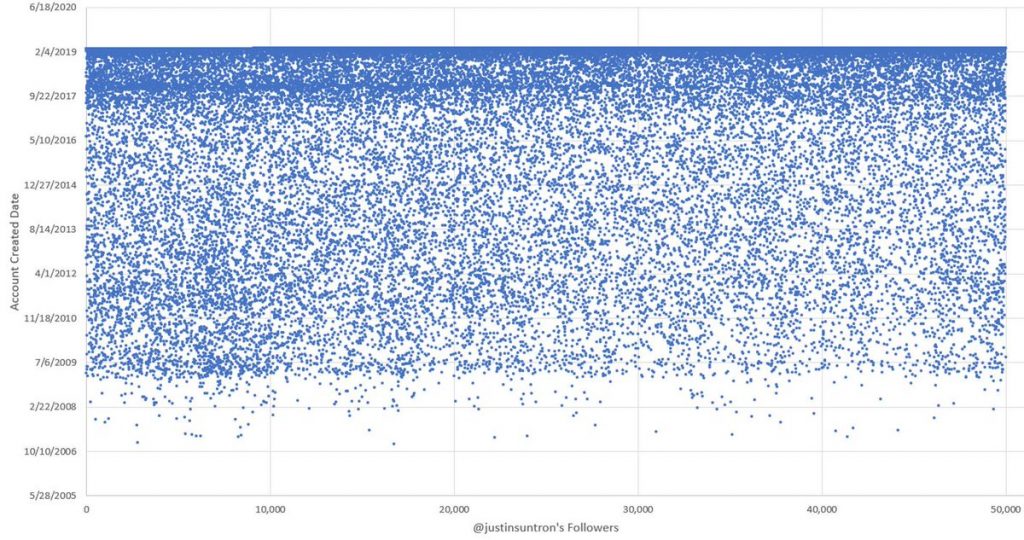 "You can see 2019 is deep blue," Trustnodes says, "suggesting tens of thousands of accounts were created just this month and they happen to follow Justin Sun…."
However, the graph also shows a wide band of accounts created far earlier than the creation of TRON,–accounts which may be manned by actual human beings with an interest in the TRX cryptocurrency.
Social media communities responded with astonishment, with many Redditors expressing shock that "only half" of the TRON following is artificial.
Meanwhile, at least some of those accounts were human enough to notice they'd been exposed and they promptly took to Twitter to dox the researcher:
Yesterday I was doxed by @no_itsmyturn

They tweeted my home address + phone number (and same info for some of my family members)

Tweets have since been deleted, but I took screenshots + emailed them to @jack and @vijaya

Despite this update, account is still tweeting ¯\_(ツ)_/¯ pic.twitter.com/bfrmbo7d4I

— geoff golberg (@geoffgolberg) January 30, 2019
This is not the first time TrustNodes has used Twitter data to arrive at an incredible conclusion. Last week, an investigation into the "Massive XRP Sentiment Shill Army" revealed a significant human contingent among the token's robot supporters.
---
The author has investments in XRP, which is mentioned in this article.