Kentucky Derby Punters See Cryptocurrency As Best Bet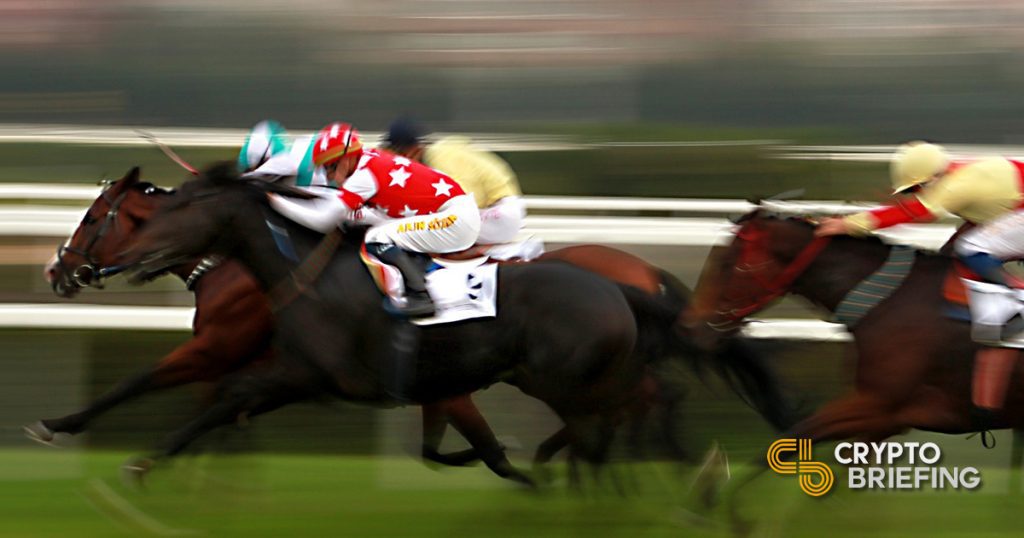 The number of cryptocurrency bets being placed ahead of next week's Kentucky Derby suggests that digital assets may soon be the preferred source of funds for horse-racing enthusiasts.
Reports by US Racing, an online horse racing service, suggest there has been a significant rise in the number of bets taken in cryptocurrency for the most famous horse race in the world, to be held next Saturday. (10 million people watch the Grand National in the UK, while 16.4 million tuned in to the last Kentucky Derby.)
Principal increases have come from private gaming groups that have begun to take more wagers in Bitcoin (BTC) and Litecoin (LTC). The rise comes at the same time as the number of new registrations for accounts on Coinbase, a US-based exchange that specialises in fiat-to-crypto trading pairs, has also increased.
"Right now, while punters are limited to a handful of private international gaming companies that will accept deposits with cryptocurrency, players with crypto wallets can use Bitcoin, Bitcoin Cash or Litecoin to make a deposit and bet on the Kentucky Derby," said Tim Maxwell, Operations Director of US Racing.
---
The Bookies' Favorite?
For good or ill, speculation on cryptocurrency is already a major facet of the industry with applications such as Ethorse enabling customers to place bets on the future prices of cryptocurrencies in relation to others.
However actually using cryptocurrency as a means to place a bet is something not as common or well-known – but that could have increasing use-cases as cryptocurrency adoption and integration runs its course.
Not only could cryptocurrency make it easier to bet on a larger variety of events, but the anonymity offered by many coins could make it easier for people in countries where gambling is currently illegal to have a sly flutter without the authorities ever knowing.
Similarly, certain features such as smart contracts could greatly improve customer protection. Self-fulfilling agreements would mean gamers whose bet has come off would be certain of their reward – not held at the mercy of dishonest bookies.
Horse racing is big business in America: at last year's Kentucky Derby, over $100m was placed in bets, setting a new record.
Millions of people are expected to either go to or watch this year's 144th Kentucky Derby, with many of them placing bets. With all the potential benefits it can bring, cryptocurrency might prove a good bet for the gaming industry.
"We expect a handful of publicly traded UK, Maltese and Canadian gaming companies to accept Bitcoin deposits on a trial basis by early to mid-2019 followed by land based racebooks and casinos in late 2019 and early 2020," Maxwell suggested. "However, both the legality and associated risk management of accepting cryptocurrency needs further clarification before we see widespread adoption in the gaming and racing industry as a whole."