Kevin O'Leary Discusses Crypto's Path to Institutional Adoption
Mr. Wonderful reflects on crypto's growth and what may lie ahead for the asset class.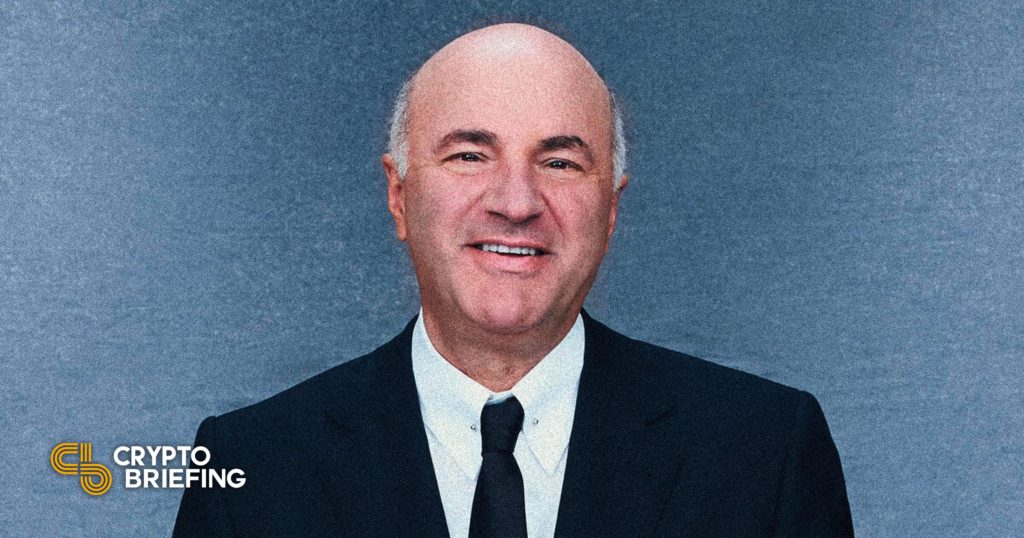 Key Takeaways
Kevin O'Leary is an entrepreneur, investor, and popular TV personality.
In recent months, O'Leary has dedicated much of his time to crypto.
He spoke to us about crypto's road to institutional adoption, the promise of DeFi and NFTs, and more.
Crypto Briefing sits down with Kevin O'Leary to discuss crypto as software, DeFi, NFTs, and institutional adoption of the asset class.
How O'Leary Sees Crypto as Software
Kevin O'Leary is best known as Mr. Wonderful on the ABC TV series Shark Tank, but his career spans more than four decades. A successful entrepreneur with an eye for technology, O'Leary has always been ahead of the curve in one way or another. He famously founded SoftKey Software Products, which went on to complete a series of acquisitions, before it was sold to Mattel for $4.2 billion. Since then, he's been involved in various profitable companies, written three bestselling books, and invested in countless successful startups.
Nowadays, O'Leary is deeply focused on the world of crypto. He's openly discussed his interest in Bitcoin and DeFi, and more recently has been paying attention to NFTs as the technology has entered the mainstream. When Crypto Briefing caught up with him for a rare telephone interview, he revealed that he spends around 40% of his waking hours on crypto, from looking at potential deals to scouring new tokens and DeFi opportunities. He was particularly enthusiastic about crypto's road to institutional adoption, remarking that institutions could be a catalyst for trillions of dollars to flood into the space.
While O'Leary is an entrepreneur and investor through and through, his character defies the stereotypical "big money" type. His hard work has afforded him the opportunity to allocate more time on his interests, which include collecting watches and wine, playing the guitar, and cooking. These interests are also reflected through his professional endeavors. For example, he runs a wine business called O'Leary Fine Wines that aims to make high-quality wine more accessible for regular people.
O'Leary's avid interest in crypto derives from his keen eye for groundbreaking technology. He says that he sees cryptocurrencies as software, rather than Internet money. "I simply look at cryptocurrencies as software," he said. "It's productivity software." While Bitcoin can be described as both a blockchain and an asset, for O'Leary, it's "not a coin."
O'Leary spends a lot of time watching how the space develops and weighing up the fundamentals for each crypto investment he makes. That's how he reached a decision to invest in Polygon after seeing Ethereum's skyrocketing gas fees.
Institutional Crypto Adoption
O'Leary's crypto thesis is also underpinned by a belief in one of the space's favorite mantras: "the institutions are coming." O'Leary says he thinks that many major finance players could enter the space over the next decade, though there are challenges ahead. According to O'Leary, institutions are not so focused on the decentralization or performance figures that Ethereum and Solana fans like to debate over. Rather, it is "compliance infrastructure." As O'Leary pointed out, it's difficult for any institution to make a 1% allocation to Bitcoin on their balance sheet today.
"In my own case, at the beginning of this year, I was 3% weighted in our operating company's portfolio to crypto," he explained. "And I spoke to my auditors and my compliance department, and said 'I want to get to 7% [weighting] by year-end.' It took six months to figure out a way to do it."
O'Leary added that compliance measures limit many institutions from allocating more than 5% weighting to any one equity and more than 20% to any one sector. O'Leary said he hopes that clearer regulations emerge so that institutions have a way to access crypto technology.
O'Leary spent time watching Taproot, Bitcoin's first major upgrade in four years that could theoretically allow for smart contracts to run on the blockchain. However, he takes a similar view to many others in crypto, viewing Bitcoin more as a "digital gold" store-of-value than a competitor to Layer 1 smart contract platforms like Ethereum. O'Leary said he thinks institutions share his view on the asset.
"My read on Bitcoin is that it is being perceived at the institutional level, which has not even bought it yet, not as a currency, as simply a store-of-value, in the same way you would think of gold or you would think of real estate," he said.
Institutional adoption also comes hand in hand with increased regulatory oversight. O'Leary said that this is a positive for the space to assure that institutions are complaint, rather than acting like "crypto cowboys" with people's money. O'Leary has previously said that he thinks the genie is out of the bottle when it comes to crypto. In other words, he thinks it will not be eradicated by any regulator.
O'Leary said that regulators care about facilitating innovation and productivity, while filtering fraud (of which crypto has seen its fair share). He added that while U.S. regulators are doing a good job so far, guidelines need to be clearer so that everyone can use the technology. "Tell me what's compliant, and I'll use [it]," he said.
DeFi and NFTs
While Bitcoin often dominates the headlines, one of the bigger points of focus for U.S. regulators over the last year has been DeFi. The SEC has expressed concern with the use of stablecoins in the sector, often under pressure from politicians in the Senate. O'Leary reflected on the rise of stablecoins, noting USDC's parabolic growth in recent months. "To watch something like USDC go from $1 billion to over $30 billion in such a short period of time tells you there is market demand for it, and that it should be regulated," he remarked.
Alongside DeFi, the other crypto niche that's seen a meteoric rise in recent months is NFTs. Musicians, celebrities, meme artists, and digital artists sent the technology mainstream in 2021, drawing amazement, confusion, and ire from onlookers.
O'Leary has been watching the space closely. He recently became a strategic advisor for the NFT-focused blockchain firm Immutable Holdings, and has been actively researching the technology with consideration for one of his biggest passions: watches. O'Leary has a massive collection of luxury watches and travels with no less than 16 at a time. He stores the rest in bank vaults across the world. He says that he wants to tokenize his collection so that they can live on the blockchain.
As watches usually have small imperfections under the dial glass, technology exists to analyze them and create a unique "fingerprint" for every watch made. This fingerprint could theoretically be tokenized as an NFT, which would provide verifiable ownership and authenticity. That would also prevent counterfeiting.
Digital fashion is already big business, with major brands like Adidas and Nike recently announcing pivots toward the Metaverse. Whether Rolex and Patek Philippe will join them remains to be seen. O'Leary said that the biggest obstacle preventing him from tokenizing his own watches concerns trading platforms. To date, none of them have been willing to allow NFT trading without getting the watchmaker's approval. O'Leary explained:
"If you go to FTX and say, 'OK, I want to trade an image of a Rolex,' they're not going to let you do it, nor would Binance, because they don't want to be offsides with the Intellectual Property… So what we have to do now is develop a whitepaper that would agree on what the protocol would be the standard by which all of us who minted NFTs and created them could agree to."
Nonetheless, O'Leary said that he thinks fans could have a chance to own a fraction of one of his watches in the next 18 to 24 months.
Throughout our conversation with O'Leary, we had the same impression we get from watching him as Mr. Wonderful on Shark Tank: what you see is what you get. O'Leary is a blunt and honest character, which has partly helped him find success as an entrepreneur and investor. In recent months, it's informed his crypto investing thesis. According to O'Leary, crypto is world-changing software, institutions are interested, and it's not going away anytime soon. While he spent a long time discussing the benefits of DeFi and NFTs, it's also clear that he believes the world's biggest cryptocurrency, Bitcoin, still has a bright future ahead. When we wrapped up our call, we concluded by asking O'Leary whether Bitcoin was now too big to fail. Responding in his usual candid tone, he said: "It has already created its value."
Disclosure: At the time of writing, the author of this feature owned BTC, ETH, and several other cryptocurrencies.