Kyber Network Fundamentals Improve Ahead of Protocol Upgrade
Kyber Network is gaining momentum ahead of major protocol upgrade "Katalyst" scheduled for Q2 2020. Transaction volume, new accounts, and price are all seeing strong growth.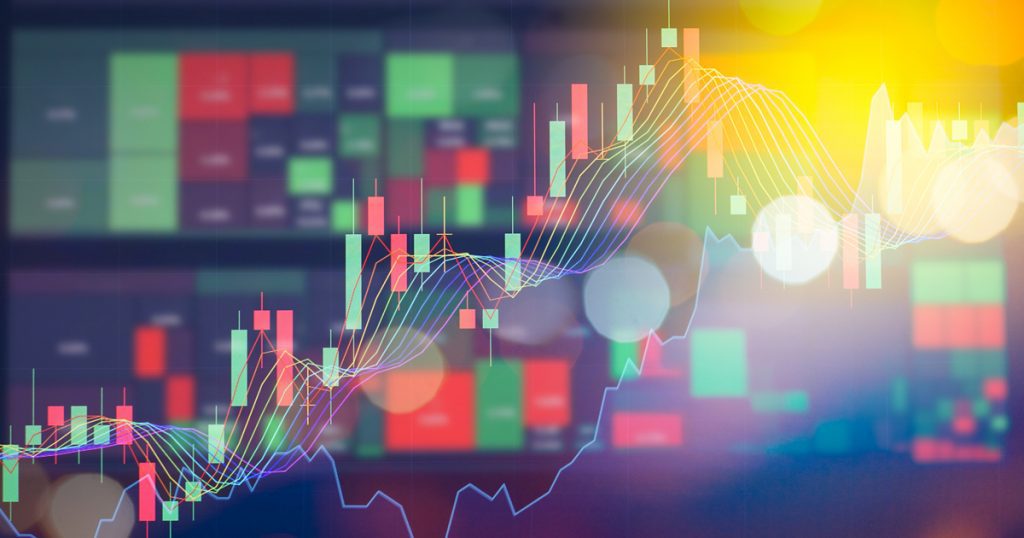 Key Takeaways
Kyber Network saw its price skyrocket by 3.5x since mid-December 2019
The substantial bullish impulse is supported by a spike in network activity as well as a growing number of KNC holders
Investors appear to be putting a lot of emphasis on the upcoming Katalyst upgrade
Kyber Network experienced massive growth in terms of transaction volume and price ahead of a major protocol upgrade scheduled for Q2 2020. While the stakes are high, on-chain metrics show that investors believe in the long-term potential of KNC.
Investors React to Upcoming Upgrade
Kyber Network has been in the spotlight, with its price rising significantly these past few months. The hype around it appears to be correlated with an upcoming protocol upgrade scheduled for later this year. Dubbed Katalyst, this upgrade is set to introduce staking rewards, allowing KNC holders to earn part of the fees collected by the network for helping keep it secure.
Since Katalyst was announced in mid-December 2019, market participants appear to have welcomed the news, rushing to crypto exchanges to buy the KNC token. The spike in demand pushed Kyber up over 350% since the announcement was made, causing prices to peak at a high of $0.90 in early March.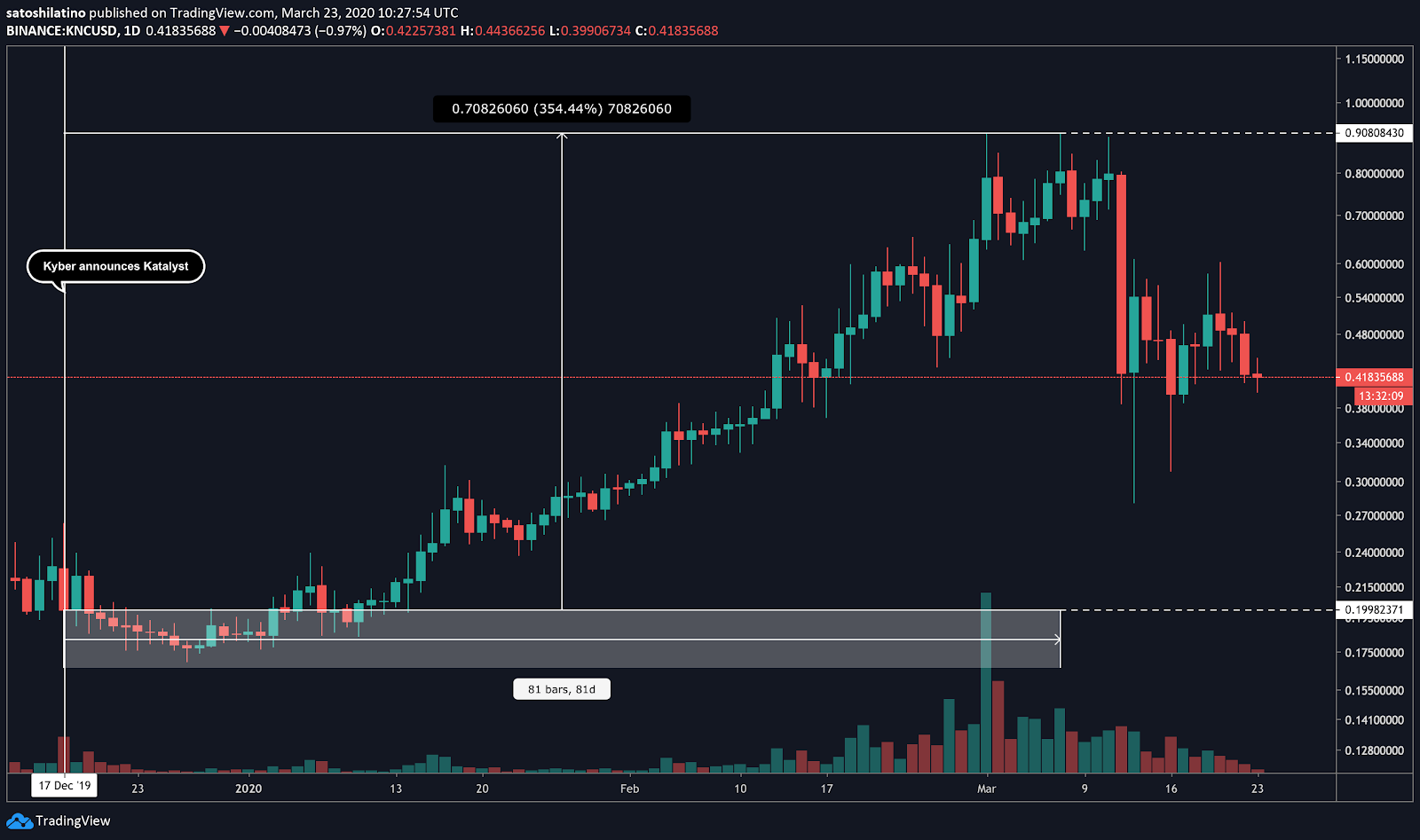 Along the same lines, Kyber's social engagement skyrocketed since then, according to data from LunarCRUSH. The crypto community sentiment provider takes into consideration interactions across all social posts⁠—including favorites, likes, comments, replies, and other metrics to determine how engaged a community is around a particular digital asset.
Based on these data sets, the firm reported that KNC saw the first significant spike on Dec. 20, with over 2 million engagements on that day alone. The month of March, however, has seen even greater engagement, with spikes as high as 3.4 million engagements per day.
Although KNC suffered from the global financial meltdown that was primarily triggered by the widespread transmission of coronavirus and fissures within OPEC, it has managed to keep a year-to-date return of over 60%. Additionally, on-chain metrics reveal that the project's growth and adoption is also trending up.
Rising Network Activity
IntoTheBlock, another data analysis firm, recently revealed that Kyber's price appreciation has been accompanied by a substantial increase in the number of transactions on the network as well as the volume of these transactions.
Indeed, the average number of transactions rose from 524 transactions per day in December 2019 to 1,460 transactions per day over the past week.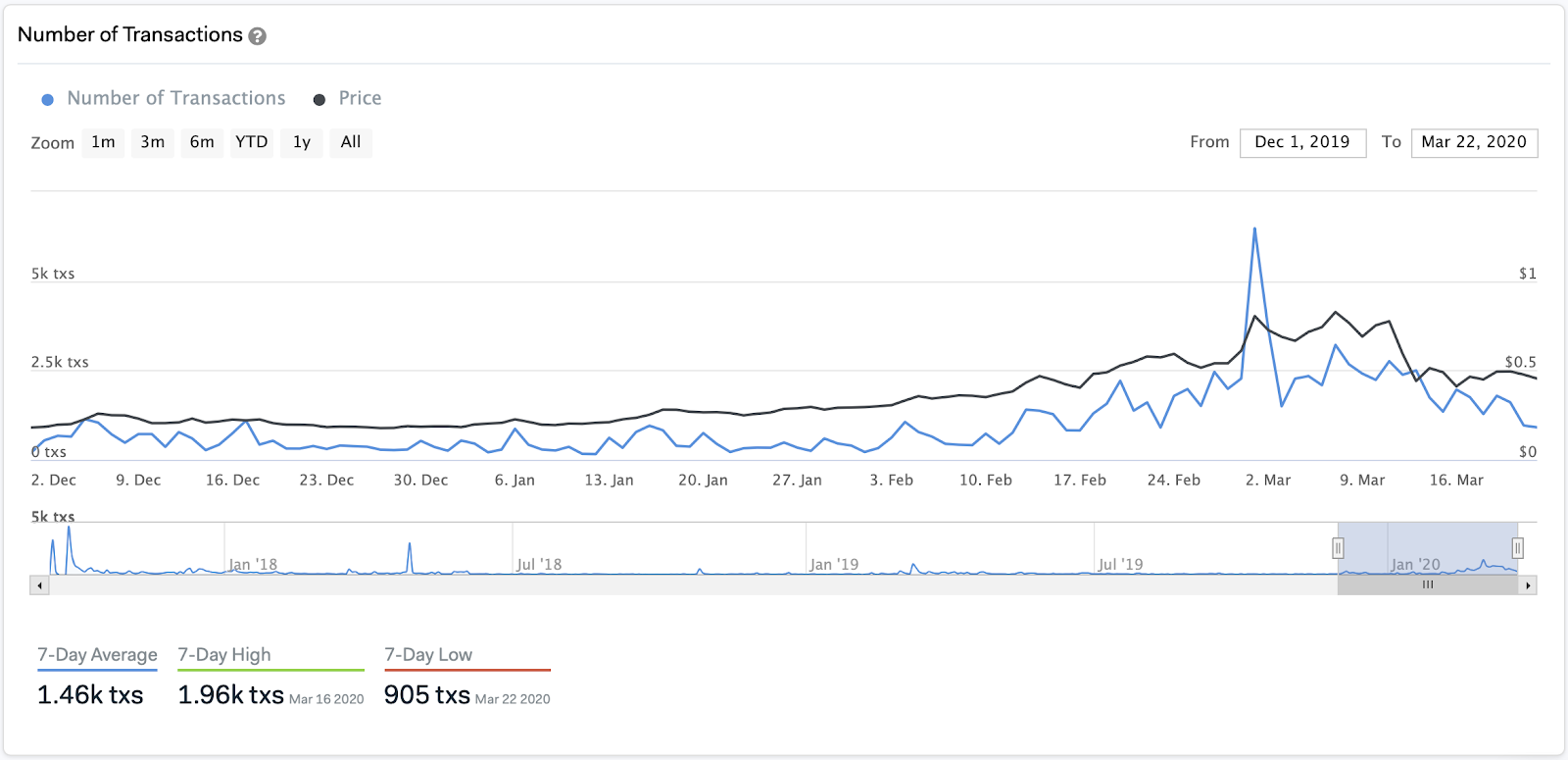 "While this may seem like a small number of transactions, the transaction volume has also increased by more than 90% in the last year, peaking at over $60 million in KNC traded [in the beginning of March]," said IntoTheBlock.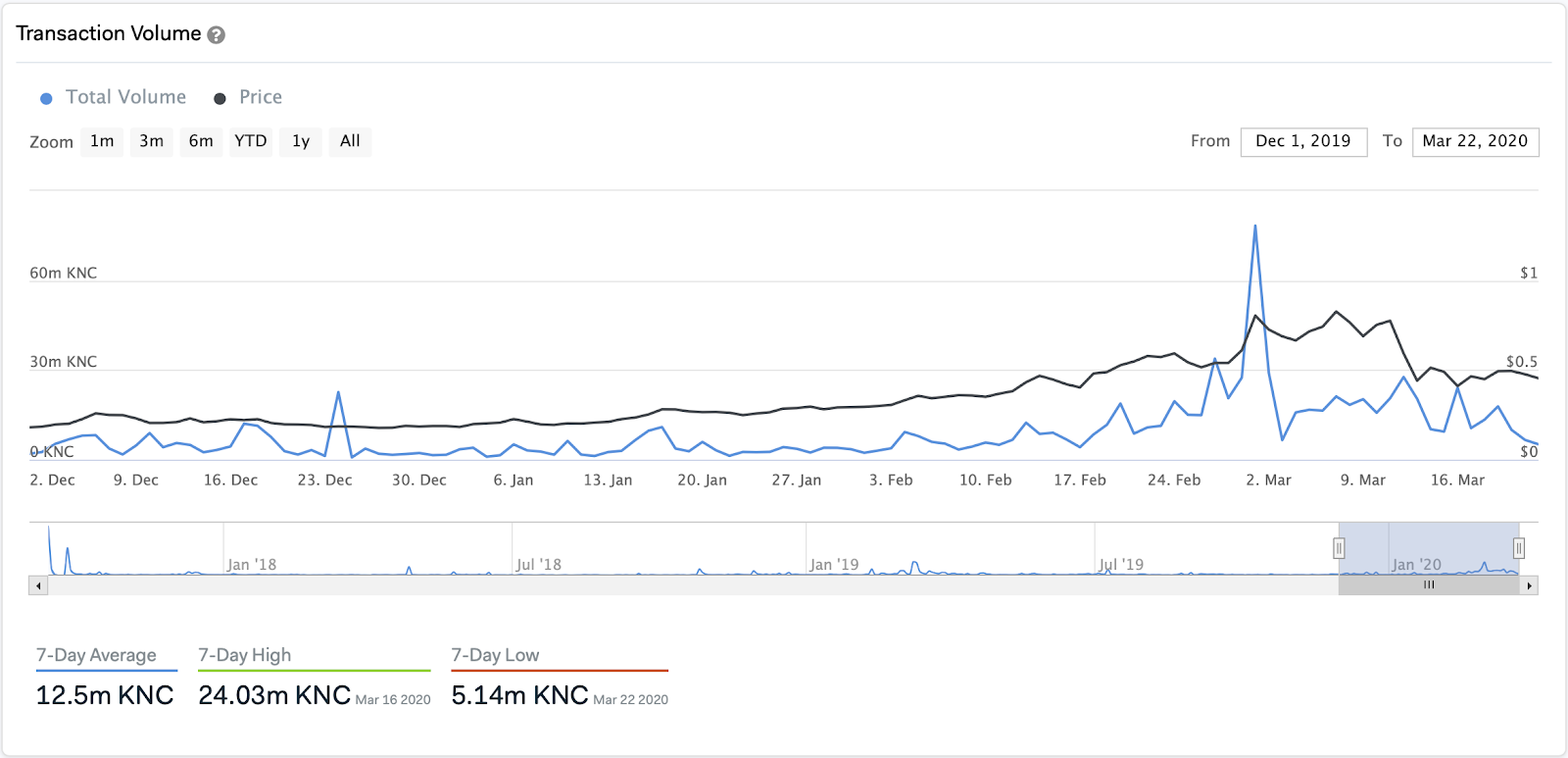 Moreover, daily active addresses have surged significantly, but more importantly, the rate of new addresses creation has outpaced the rate of emptied addresses. This growth in the network activity is a "robust sign" that Kyber's adoption is on the rise, according to IntoTheBlock.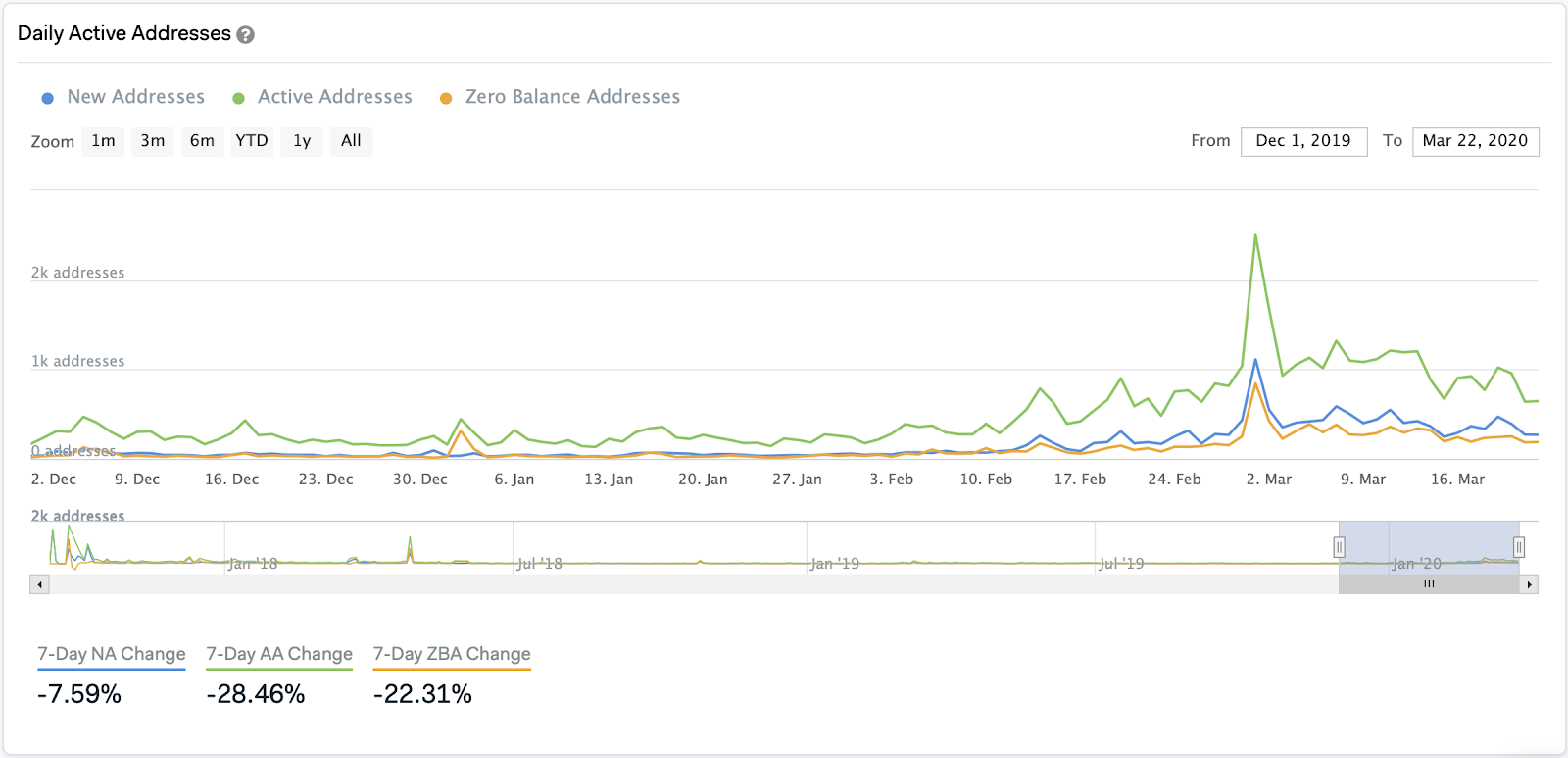 As Kyber Network continues to strengthen fundamentally, more investors are believing in the long-term potential that this crypto project has. The number of traders, for instance, which are characterized by addresses with a holding period of less than a month, doubled over the past month. Meanwhile, "hodlers," which are considered to be addresses with holding periods of over a year, consist of nearly 80% of all KNC addresses.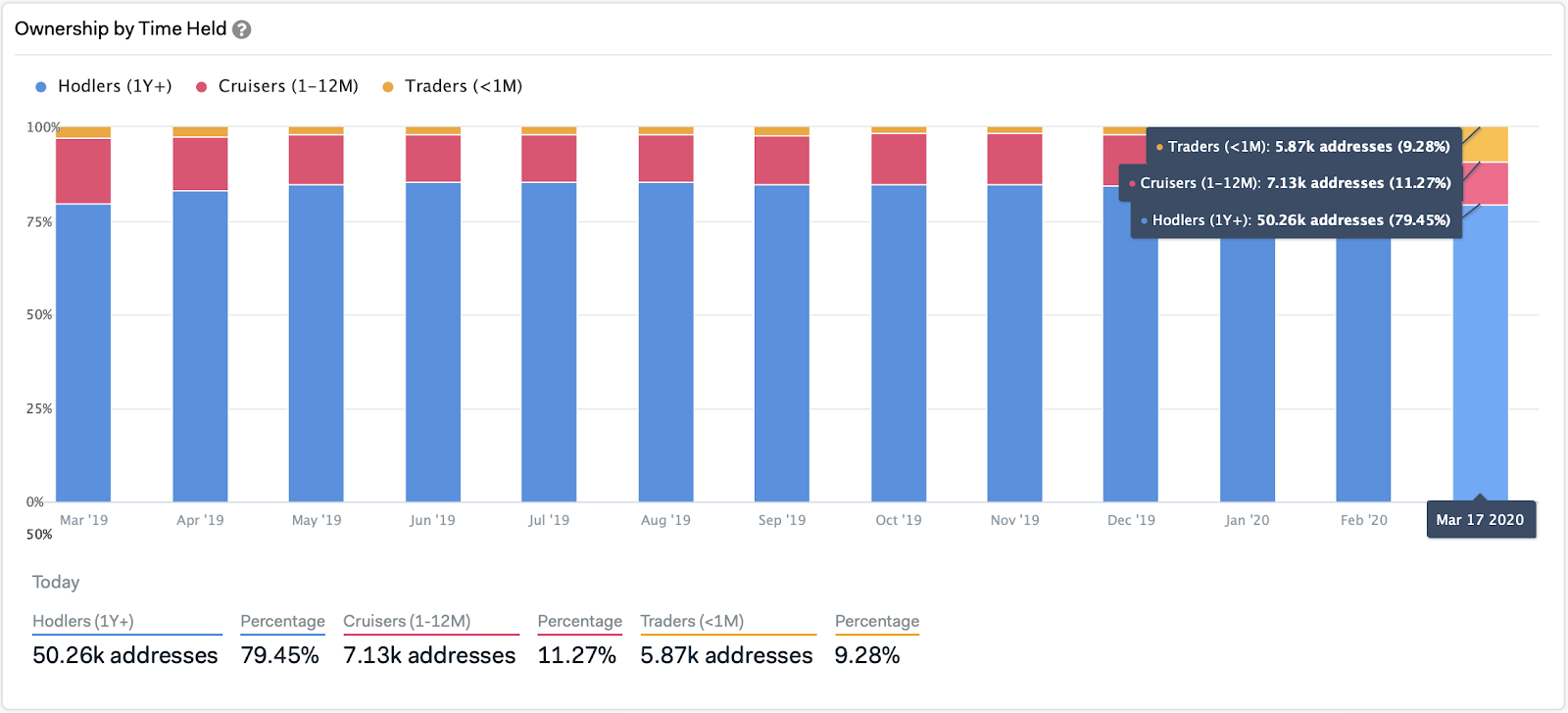 The high percentage of Kyber "hodlers" could indicate that investors are expecting this cryptocurrency to post bigger gains despite the conditions of the global financial markets. This bullish scenario coincides with a technical pattern that appears to be developing on KNC's 1-hour chart.
Bullish Impulse on Kyber's Horizon
The price action that Kyber has seen since Mar. 13 led to the formation of a symmetrical triangle. This technical pattern is indicative of a consolidation period before the price is forced to move in a positive direction.
By measuring the distance between the initial high and low of the pattern and adding it to the breakout point, the symmetrical triangle suggests a 58% target. An increase in the buying pressure behind this cryptocurrency could take it to trade at around $0.81.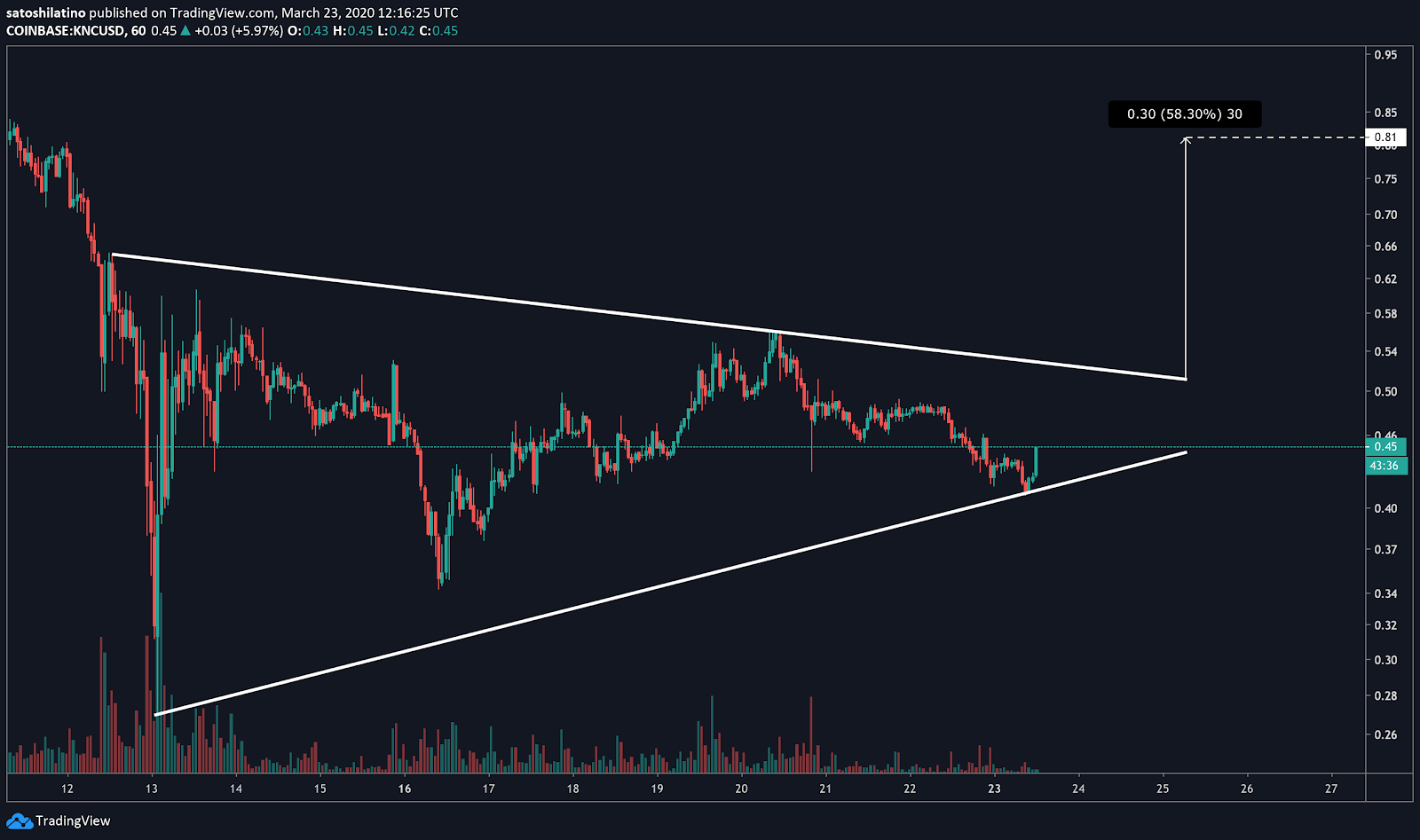 Although symmetrical triangles have the potential to develop as continuation patterns, they can also form as reversal patterns to an uptrend.
For this to happen, Kyber would have to break below the support trendline. The bearish impulse would likely increase the selling pressure behind KNC consequently increasing the odds for a 58% downswing. Upon the breakout point, this cryptocurrency could see its price plummet to $0.18.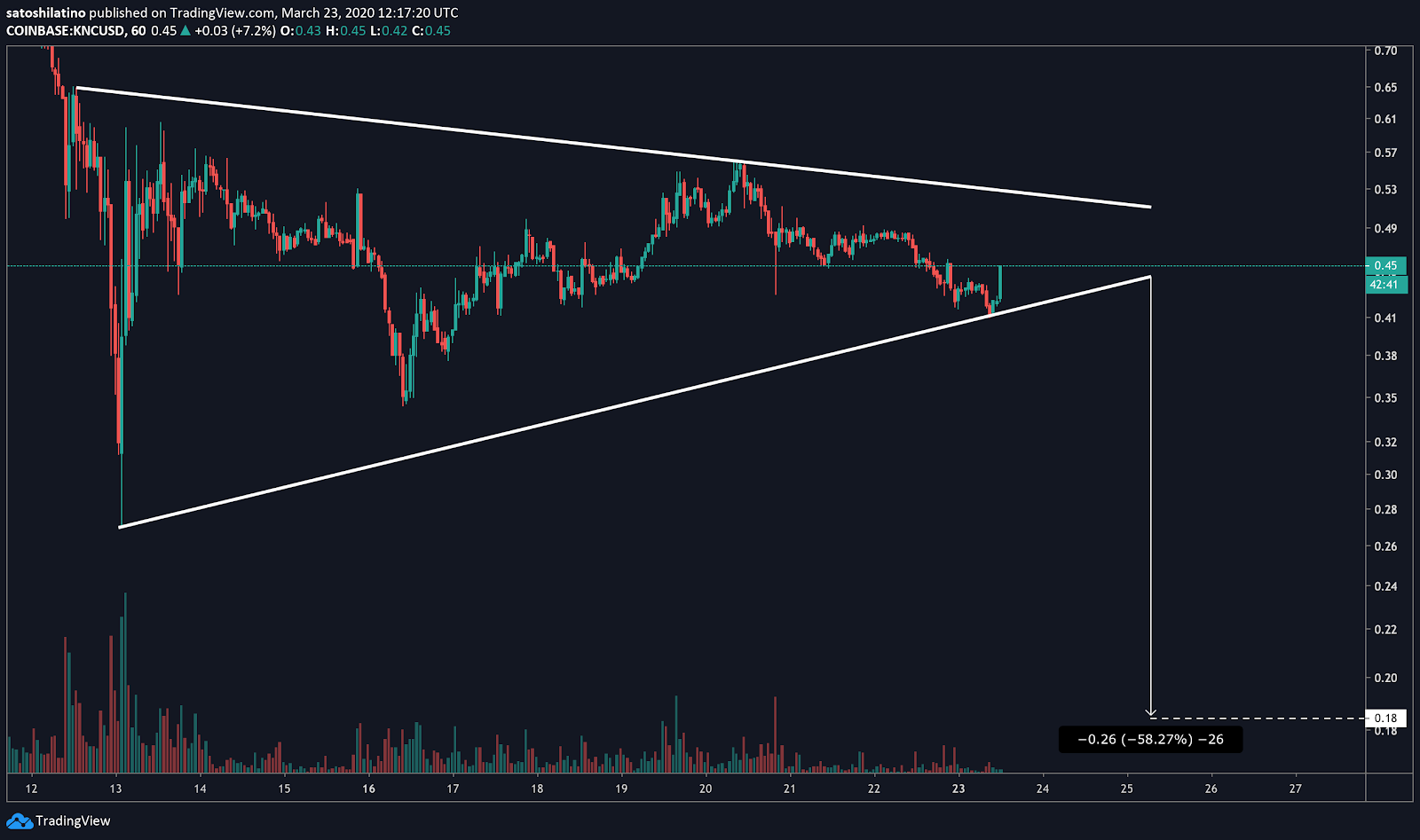 The ambiguous outlook that symmetrical triangles present makes it essential for traders to wait for confirmation before entering a long or short position. A candlestick close above or below the converging trend lines could provide a better idea of where Kyber Network is headed next.
Moving Forward
Since the team behind Kyber Network announced that the protocol was going to go through a major upgrade, the price of this cryptocurrency has been trending up. Additionally, on-chain metrics show that network activity is also on the rise with the number of KNC holders increasing.
Deniz Omer, the head of ecosystem growth at Kyber Network, believes that due to the trust the community has placed in this project it is time to build the decentralized autonomous organization and make all those users "active participants in the upcoming stakeholding experiment." Omer expects that Katalyst will launch in Q2 2020, which could see KNC rise even further.
For more key market trends, subscribe to our YouTube channel and get weekly updates from our lead bitcoin analyst Nathan Batchelor.