Crypto Market Booms $4bn After Litecoin News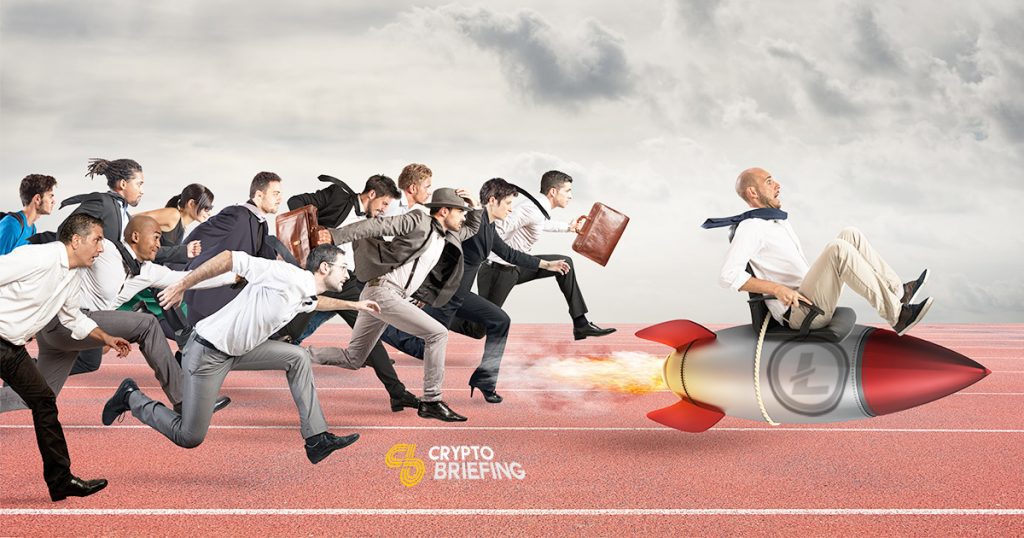 The crypto market suddenly surged several billion dollars on Friday, after nearly a week going sideways. Bullish news from Litecoin (LTC) means some investors are buying back into cryptocurrency.
The market cap for crypto stood at just over $111.6bn at the start of the day. It suddenly surged at around 08:30 GMT, taking it up by more than two billion dollars. It's total value reached $113.5bn just over an hour later, at 09:30.
The market stabilized at the $113bn mark in this morning's trading. But surged again later that day. At the time of writing, the total value of crypto came in at $115.4bn; a near $4bn increase since the start of Friday morning. It also reverses the losses made earlier in the week, which had originally taken the market down to the $111bn mark.
But the sharp growth hasn't stemmed from a comprehensive improvement in the top-ten coins. The only major crypto to show any significant movements is Litecoin, which is currently up by more than 14%. Individual coins are currently trading at $38, up by $5 from where they were earlier today, at $33.
Although Litecoin's 24h trading volume is also up by $300M, Mati Greenspan, eToro's senior market analyst highlighted that transactions per day on the network has remained constant, throughout the changing market conditions, since April 2018.
"The transactions per day seem to have bottomed out around 20,000 TPD," Greenspan wrote in his daily email briefing. "In fact, they've been very steady around this level throughout the bear market."
---
Why is the crypto market going upwards?
Founder Charlie Lee announced yesterday that Litecoin was exploring options to implement privacy features using the Mimblewimble implementation, Beam. Today's price surge is a positive reaction to the news, as LTC leads the $2bn boost for the crypto market.
Team has been chatting with the @vcorem and @beamprivacy team about MimbleWimble on Litecoin with Extension Blks. Pleasantly surprised that Beam has already implemented switch-commitments w/ ElGamal. It's a safety switch to protect against quantum computing breaking CT soundness.

— Charlie Lee (@SatoshiLite) February 6, 2019
Josh Bramley, the head of trading at the cryptocurrency asset management firm, BLOCKSTARS, saysthat sharp movements happen in bear trends. Investors who sold at higher prices earlier in crypto winter could be buying back in at lower prices; this sudden uptick in demand creating a spike in price.
"We are in a bearish market where we are currently eyeing up Bitcoins 2018 yearly lows and volatility had dropped to a 12-week low," Bramley wrote in an email to Crypto Briefing. "While volatility is low during a bear market, we expect exaggerated moves from bullish sentiment or technical breaks due to short covering."
Bullish sentiment improves confidence. The value shed in the past two to three months won't be restored any time soon, but it's a sign some traders are moving back into the fold. The prodigal investor returns.
---
The author is invested in digital assets, but none mentioned in this article.