From True Love To Lazy Breakups, eDiamond Solves Relationship Issues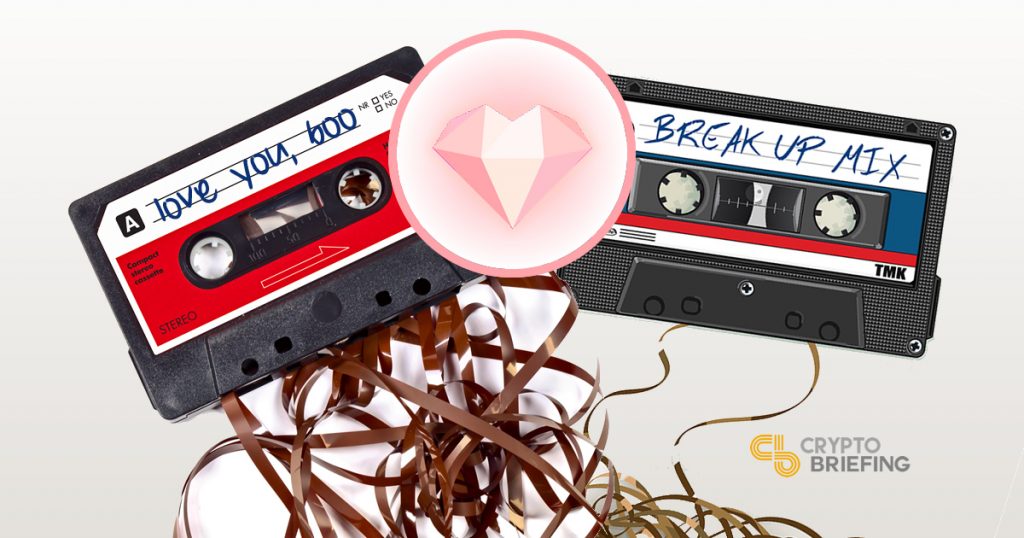 If you've ever spent any time in a jewelry store, you know how expensive the love business can be. Diamonds may be a girl's best friend, but they're also subject to cartel pricing – which puts them in the same category as cocaine and Big Oil. Sure, you could get her flowers, but they only last a week and then you have an empty vase.
Now one Chinese startup has launched a cryptocurrency for the relationship business. In a press release earlier this month, "eDiamond" announced a crypto-token for couples. "We have added a personal relationship layer to traditional cryptocurrency technology.," announced founder Yan Wu. "eDiamond is a forward-thinking application of cryptocurrency that makes the traditional symbol of love completely digital."
The diamonds are essentially tokens, used "to solidify a relationship online, declare love or recommit to a long-term partner."
Here's how it works. Say you screwed up and your bae is mad because you flirted with her sister, even though they sound alike on the phone.
Not to worry! Just sign in to eDiamond.love (available for desktop and Android) and patch the relationship with an expensive gift. The app the notifies the other person, but making-up isn't guaranteed. "When eDiamond(s) is offered and accepted," the site says, "neither person can give or receive an eDiamond from anyone else. "
Unlike regular diamonds, an e-diamond only costs a dollar. Looks like things really are more efficient on a blockchain.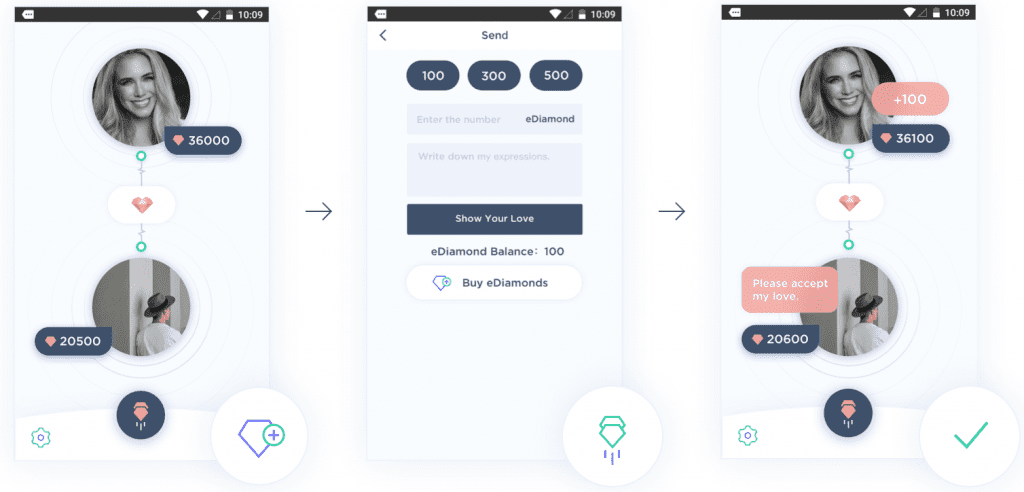 When you want to start swapping gems with someone different (her sister kinda looks like her, too), you can use the app to break the bad news. Simply click the 'breakup' button! You can even reuse them by sending them to your new, erm, partner. This process is described beautifully on the site:
"If A or B decides to end the committed relationship, A or B may initiate disengagement unilaterally, causing the system to send immediate notice to the counterparty via text or APP."
Texting breakups is so passe. Let someone else text your breakup, so that you don't have to go to all the effort of adding the sad face emoji…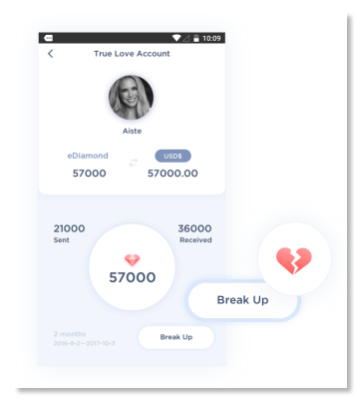 There are other limitations of course, since this is all about true love. "This relationship is held in private between the two people," The company says. "eDiamond does not publicly acknowledge the relationship status of the couple." Part of the fun in crypto is speculation, and the whole point of jewelry is showing it off. What's the point of a crypto-diamond that lets you do neither?
The idea of an exclusive token sounds like a clever bit of programming, but the company doesn't seem to have put that much thought into it. Instead, each user is associated with with their Facebook account, and the company uses in-app messagings to let others know that you're taken. So far, all of the ERC-20 diamonds don't seem to change hands.
And there are a few other nagging questions as well. What if someone has a second Facebook? That's a favorite trick for every cheater out there. What if someone's in a less traditional relationship? Is it really wise start a business that trades on the two things that millennials are supposedly killing?
This may sound like a gimmicky business proposition, and "ediamonds" probably aren't headed for the moon. But crypto technology is getting a thorough looking-over in the diamond and other mineral industry. DeBeers is using blockchains to track diamonds from mine to store, and there are several tokens for digital trading of gold and silver.