Revealed: McAfee 2020 Campaign Plans To Use Skycoin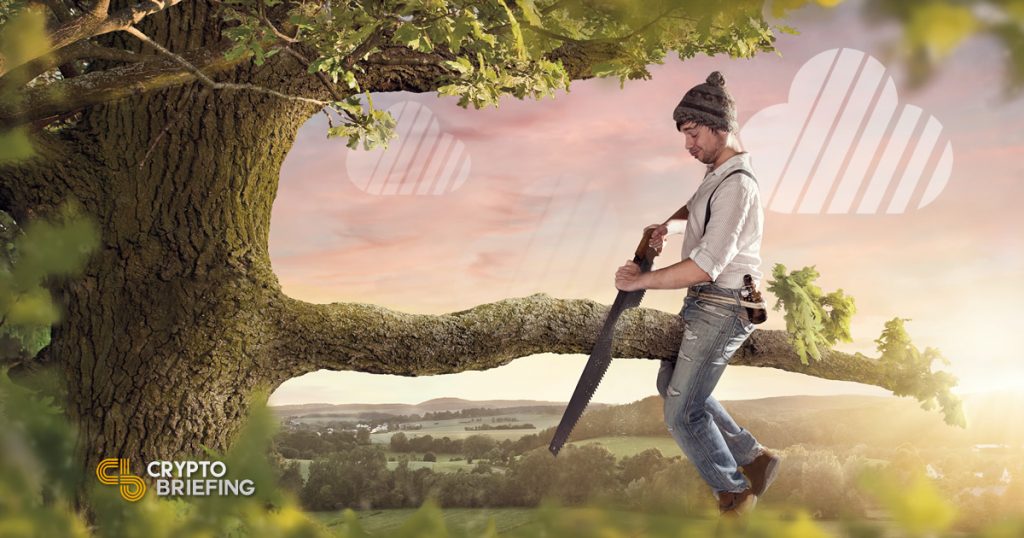 John McAfee, the one-time antivirus software developer and vocal libertarian cryptocurrency advocate, plans to use Skycoin (SKY) in his 2020 campaign for the American presidency, Crypto Briefing can reveal.
Drew MacGibbon, the Asia events lead for Skycoin, said McAfee planned to use the project's Skycoin BBS, a social media application, in his election campaign. McAfee, who will first need to seek nomination from the Libertarian Party, will run on a platform of demanding greater acceptance for cryptocurrencies.
"McAfee wants to use Skycoin's social media platform for his presidential campaign," MacGibbon told Crypto Briefing, during a Skype call. "Regardless of the result, he wants to use it to draw attention to cryptocurrency."
A spokesperson for the McAfee 2020 team told Crypto Briefing that they wouldn't be able to confirm or deny at this time.
Described as a decentralized version to Twitter, Skycoin BBS hopes to become a viable alternative to the big social media giants. It will work on Skycoin's "flagship application," the internet platform Skywire. This works as a mesh network with thousands of nodes – 9,000 at the last count – all over the world that can send and receive internet traffic.
Although Skycoin BBS will play a crucial part in the McAfee campaign to help spread his message and encourage discussion, MacGibbon explained that it hadn't actually been built yet. It "wasn't a priority at the moment." It will, however, reportedly be up and running before the race begins. Presumably, that means sometime next year.
---
The McAfee Skycoin Partnership
Details are still scant, but the decision to use Skycoin during his presidential race reflects McAfee's sudden surge of enthusiasm for the decentralized web provider.
He only met Skycoin for the first time a month ago. He shared a stage with Skycoin's co-founder 'Synth' at the Malta Blockchain Summit, which took place right at the end of October. They spent more than an hour talking, according to MacGibbon. McAfee was given a Skyminer – used to process transactions and provide storage capacity for the network – at the end of their first meeting.
Since then, the relationship has become closer. A boat party and a few meetings later McAfee tattooed the Skycoin logo onto his lower back within a week. This was reported by many crypto outlets – not ours – and led to a 10% surge in the SKY token price. MacGibbon said that it had originally been proposed as a joke and they were surprised when he did it. McAfee even reportedly paid for it.
Later on, McAfee invited the Skycoin team to celebrate Thanksgiving. Some of the Skycoin team were actually at McAfee's house when Crypto Briefing spoke to MacGibbon last week.
---
What will the SEC say to McAfee 2020?
Skycoin wasn't helped when a journalist for TheNextWeb published an article that called it a 'scam'. Although the Skycoin team quickly posted a rebuttal, the damage was done. MacGibbon, whose role focuses on the project's public image, said it had taken months of PR to mediate the effects.
Whether Skycoin BBS will be ready in time depends, by the sounds of it, on how quickly Skycoin developers can build all the other things that take precedence. There's also the worry that McAfee might face legal difficulties. The SEC said at the weekend it would crack down on social media influencers who receive payments to promote token sales. The financial authorities ordered two ICO projects – Paragon and Airfox – to reimburse investors in November.
DJ Khaled and boxer Floyd Mayweather have already had to settle with the SEC. McAfee, who reportedly charged $100,000 per promotional tweet on his now-defunct 'Coin of the Day' series, said he remained unfazed earlier today.
Me? Worried about the SEC? I have openly, publicly and in the media ridiculed that corrupt, puss filled, bile dripping abcess on the fabric of America. Come for me SEC. I will, in every media outlet in this country, rip you a new asshole worthy of parking a tractor trailer in.

— John McAfee (@officialmcafee) December 3, 2018
McAfee announced his intention to run during the summer and doesn't expect to win.
Disclaimer: The author is not invested in any cryptocurrency or token mentioned in this article, but holds investments in other digital assets.