MetaVisa Announces $5 Million of Fundraising in Seed and Private Round
MetaVisa Protocol conducts comprehensive processing and evaluation of data in various dimensions such as credit history and on-chain behavior prefere.nces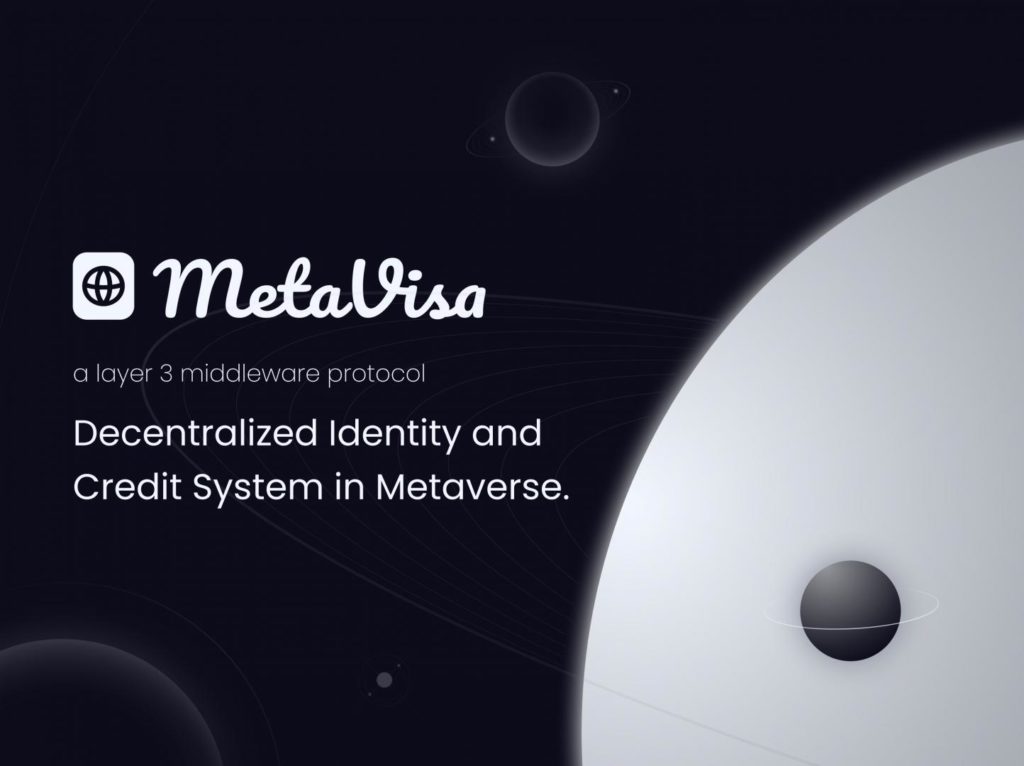 MetaVisa, a layer-3 middleware protocol built on Ethereum, dedicated to developing decentralized identity and building a credit system in the Metaverse, has announced that it has recently raised $5 million in seed and private round funding from Spark Digital Capital, Sora Ventures, Amplio Capital, HG Ventures, GTA Ventures, Seeded Ventures, Dutch Crypto Investors, Maven Capital, Black Mamba Ventures, Tensor Investment Corporation and Collinstar Capital.
MetaVisa Protocol aggregates and analyzes all transactions of blockchain objects on multiple networks
By analyzing blockchain data, MetaVisa Protocol helps users establish and display reliable on-chain identity & credit records and makes it easier for DeFi, NFT, GameFi, DAO, and other DApps to better serve their users through our credit system; which we call the MetaVisa Protocol Credit Score (MCS).
MetaVisa Protocol aggregates and analyzes all transactions of blockchain objects on multiple networks, establishes links between them, and then uses this data to evaluate an individual's credit score objectively and transparently.
The Importance of DID and Credit System
With the emergence of the Metaverse and the transition to Web3.0, users need a permanent, self-owned identity. Decentralized Identities (DIDs) are identifiers that enable a verifiable, decentralized digital identity based on the self-sovereign identity paradigm. DID and credit systems are also the keys to realizing the goal of Web 3.0 and Metaverse.
In addition to collecting, obtaining, and organizing metadata for on-chain identity, a complete information system is needed to facilitate the analysis and evaluation of data.
Finding the right data model and proper standards for managing credit are great challenges. Our ability to address these challenges will determine whether decentralized identities can be mainstreamed.
The background information behind the identity, objective credit evaluation, information data security protection, access to credit information sources on-chain, and the diversified data requirements of the credit system are fundamental to promoting the realization of Web3.0 and the Metaverse.
MetaVisa Protocol and MCS
Based on the blockchain data, using cloud computing, machine learning technologies, and model algorithms such as logic regression, decision trees, and random forests, MetaVisa Protocol conducts comprehensive processing and evaluation of data in various dimensions such as credit history, on-chain behavior preferences, address activity level, asset holdings & portfolio, and address correlation.
The MCS system will provide users with badges of honor showing their MCS for all to see in the form of an NFT. Users with higher MCSs will be rewarded with high-ranking badges and will enjoy more privileges when receiving services from various DApps.
MetaVisa performs credit ratings for other digital assets such as NFT. The credit scores for NFTs are estimated based on the number of times they have been auctioned on MetaVisa Protocol or other trusted platforms. NFT's score will not depend on their price because their price is typically determined in an unreliable manner, based on the emotions and the subjective preferences of the purchaser.
To evaluate credit scores for a wallet address, factors such as total assets, transaction history, loan ratios, circulating assets, and trustworthiness of possessing assets will all be accounted for.
MetaVisa NFT Claim – MetaVisa Hero
MetaVisa recently launched their first NFT series – MetaVisa Hero, with ten different roles; Archer, Barbarian, Berserker, Druggist, Knight, Master, Ninja, Priest, Rogue, and Warrior.
MetaVisa Hero is minted using an infinite algorithm. The way to receive an exclusive NFT is by combining a scalable vector graphics (SVG) image + address information (wallet number info) + minting timestamp = a string of source codes that can be used to generate SVG files. The code is encoded with BASE64 and packaged with additional coding content, including the address number information and the time of collection. It is recorded on the blockchain in the form of BASE64 encoding. Anyone can get the original coding information from the chain, decode it or generate a vector diagram with a decisive path.
To put it simply, MetaVisa NFT demonstrates ownership of the object and shows when it was generated with a time badge, giving meaning to the image and providing context to the history of the item.