Microsoft Will Pay You To Develop... Ethereum?
Thousands of dollars in bounties available through Gitcoin.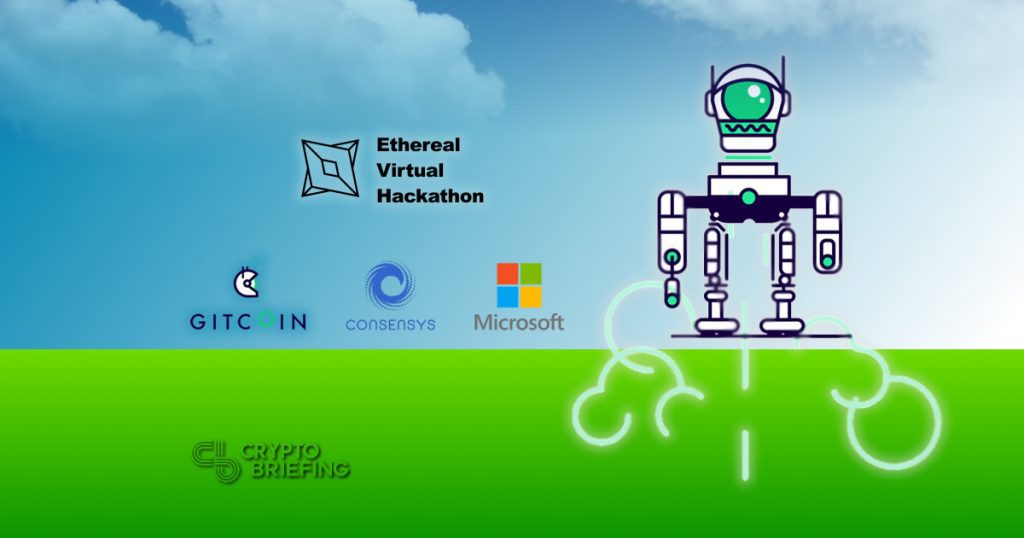 If you're a veteran cryptonaut, there's a fair chance you're cursing yourself for not picking up more eighty-dollar ETH—and crossing your fingers for another dip.
Luckily, there are other ways to earn cryptocurrency, and you don't even need to learn technical analysis. As a case in point, Microsoft is offering thousands of dollars, through the decentralized platform Gitcoin, to anyone who can help build and develop the Ethereum ecosystem.
The world-leading software giant is joined by over a dozen other companies and teams offering bounties totaling $67,000, paid out in Dai stablecoins.
The rewards are being offered as part of the Ethereal Virtual Hackathon, a two-week contest that's part of the run-up to next month's Ethereal Summit in New York. Three winners will be chosen to present their projects to the Ethereum community, either in-person or online. In fact, part of the point of the contest is to demonstrate how online communities can form through offline events.
The hackathon isn't just for developers, though: one of the leading sponsors is ConsenSys Labs, the venture arm of Ethereum's leading software foundry, which has offered high bounties to projects that can imagine reinventing the financial system.
"[ConsenSys Labs] has put up a few bounties in the vein of rethinking the lending market, and thinking about a peer-to-peer lending and a decentralized credit score system," explains Gitcoin's Operations Lead Vivek Singh. Instead of relying on centralized credit agencies, such a system—if successful—could allow borrowers to leverage their social connections into a sort of decentralized credit score.
At present, Microsoft is leading the field with twenty project bounties, ranging from smart contracts for shipping containers (2500 Dai) to weather insurance (2000 Dai).
And they're not alone; even JPMorgan is getting in on the fun, through their enterprise-oriented Quorum blockchain. The Ethereum fork has multiple projects offering hundreds of Dai each, for innovations like integrating Quorum with Metamask or developing privacy functionality. Apparently, Jamie Dimon's skepticism of Bitcoin does not extend to smart contracts.
---
Gitcoin Pays Open Source Developers
In addition to expanding the Ethereum ecosystem, the hackathon also brings a much-needed spotlight to Gitcoin, a decentralized platform to incentivize open-source development. The platform, which is built on Github, has already paid out nearly $1,000,000 in bounties to over 18,000 monthly active users and considers itself to be a "public good", funding open source volunteers around the world.
Gitcoin is currently celebrating its second year of operation, but you won't find it on CoinMarketCap: bounties are paid out in Ethereum, or Dai stablecoins.
"[R]ecruiting talented developers that you want to work with is a challenging process," Gitcoin explains in a Medium post. "We're providing this service to the community to help funders bring developers onto their team."
ConsenSys itself is dangling carrots that may be even more appealing to developers: the company has confirmed that it uses events like this not only to find talented staff, but also to find (and even fund) the projects of the future.
Singh is also adamant that the contest is designed to include developers of all creeds and languages. For instance, Java developers are welcome; PegaSys, which created the Pantheon Enterprise Ethereum product, is actively seeking their input.
---
Plenty Of Time To Get Involved
Although the hackathon has already begun, it's not too late to get in on the action. "We've seen what people can do in two or three days," Singh says. "Some of these prizes by Microsoft got knocked out in the first 24-48 hours…..If somebody catches this on the 27th, there's definitely time for them to make a meaningful contribution."
While participating in a blockchain hacking contest might sound intimidating to the rest of us, you don't even need to be a developer…
In fact, you can make $500 just by knowing a developer, if you can connect them with a funded issue.
The Ethereal Virtual Hackathon will conclude on April 30th; an explanation of how to participate can be found here, or you can jump right to registration.