Nano Investor Abandons Lawsuit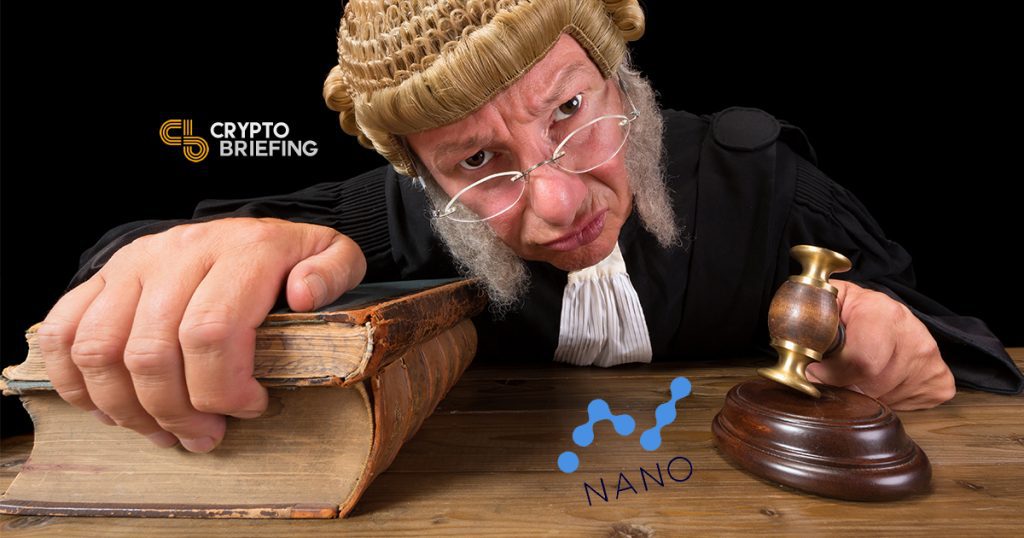 An attempted class-action lawsuit against the creators of Nano has been dismissed with prejudice, after the lead plaintiff withdrew his complaint. Investor Alex Brola attempted to launch the suit against the cryptocurrency's creators on behalf of the victims of the BitGrail hack, asking a US District Court to force developers to launch a "rescue fork," putting stolen coins back in the victim's wallets.
Brola was among thousands of investors who poured money into Nano last year, when it was still known as RaiBlocks and worth a lot more. At the time, RaiBlocks was only available on BitGrail, a poorly-secured Italian crypto exchange. In January, BitGrail's one-man developer team revealed that the site had been hacked, compromising approximately one-fifth of the entire coin supply.
Brola, who spent $50,000 on RaiBlocks, claims that he was encouraged by the Foundation's "investment solicitations and specific representations" to purchase RaiBlocks on BitGrail, which was then the coin's only exchange.
"Rescue Fork" Gets Bent
"[T]he most direct solution to the XRB investors' problems rests squarely in the Defendants' hands," the Silver Miller Law Firm argued on Brola's behalf. "Specifically, Defendants can rewrite the XRB code and simply restore ownership to Plaintiff and the Class."
In their reply, Nano's lawyers argued that the token is not a security, and in any case, its sale by an Italian exchange would not fall under US securities laws or implicate the founders. "Nano's value does not derive from a group of managers or executives managing other people's property," Nano lawyers wrote in their Motion to Dismiss. "Rather, Nano's value is derived from its utility or potential utility as a currency."
U.S. District Judge Nina Gershon dismissed the case after Brola voluntarily withdrew his complaint. Although there was no comment from Brola's lawyers, Nano counsel Peter Scoolidge told Law360 that "the plaintiff withdrew the complaint because the case lacked merit."
The legal victory is not likely to give much comfort to hodlers of the 35th-largest cryptocurrency, which is still trading at nearly 94% losses from the all-time high. Nor is it likely to satisfy investors; four months after BitGrail wallets were seized by Florentine authorities, the fate of the remaining funds remains in limbo.
The author has invested in Nano and other digital assets.