NFT Traders Wanted an OpenSea Airdrop. Then OpenDAO Launched on Christmas
Another major airdrop has hit the crypto space in time for Christmas. This year, it's OpenDAO's SOS token.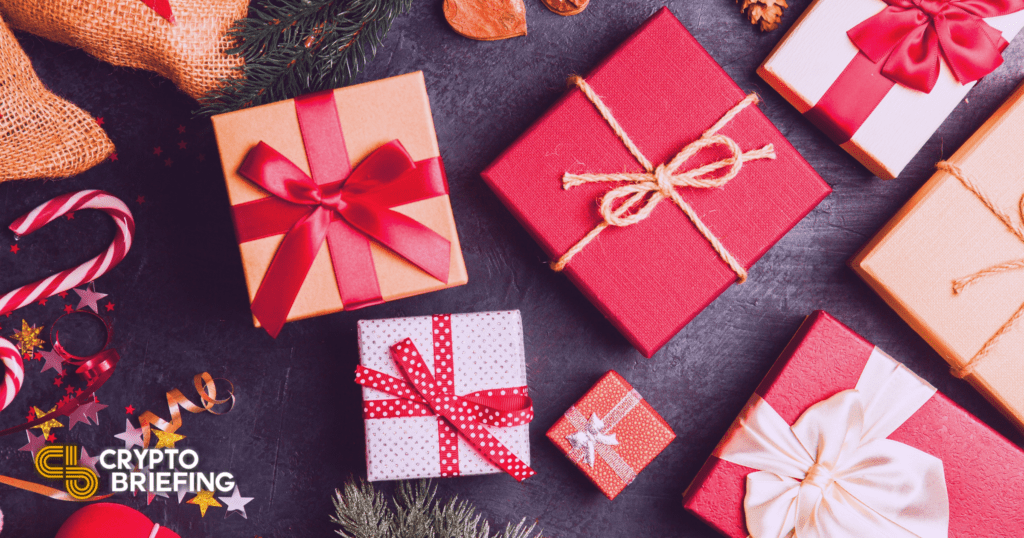 Key Takeaways
OpenDAO is a new decentralized NFT-focused project.
It launched on Christmas Eve with a token airdrop for OpenSea users. The token has soared overnight.
The distribution method is notable because of recent criticisms aimed at OpenSea and its hesitance to launch a token.
Following an overnight surge, OpenDAO's market cap is at roughly $295 million.
SOS Airdrop Calms NFT Community's OpenSea Woes
Christmas just keeps getting better for the NFT community.
A new project called OpenDAO launched Friday, bursting onto the scene with a token airdrop for dedicated NFT collectors.
The project allocated a 50% portion of its SOS token supply to users of OpenSea, the largest NFT marketplace. The amount distributed to each user was calculated based on the amount spent on OpenSea and the number of transactions before a snapshot date. As a result, some of the most active NFT traders have received the largest payouts from the airdrop. Christmas token airdrops like this have become something of a crypto phenomenon in recent years; in 2020, 1inch memorably distributed its 1INCH token to early users at midnight on Christmas Day.
OpenDAO's chosen distribution method is notable in part because of recent developments surrounding OpenSea. As NFTs exploded in popularity in 2021, OpenSea cemented its place as the leading marketplace for digital collectibles. OpenSea users have long hoped that the team would launch a token to give the community ownership over the project. Token airdrops are a common practice in crypto, and particularly DeFi, among projects looking to move toward decentralization and reward the early adopters that contributed to their success. However, despite ongoing rumors, OpenSea is yet to launch a token. Earlier this month, the company hired a new CFO from Lyft, Brian Roberts, who revealed in a Bloomberg interview that he wanted to work toward taking the company public, which would likely rule out any token plans. Roberts later clarified that the company "would look to involve the community" in any potential IPO following intense backlash from the NFT community.
There was inaccurate reporting about @OpenSea's plans. Let me set the record straight: there is a big gap between thinking about what an IPO might eventually look like & actively planning one. We are not planning an IPO, and if we ever did, we would look to involve the community.

— bkroberts.eth (@BKRoberts) December 8, 2021
Now, interest in OpenDAO and its SOS token indicates that the community has an appetite for a decentralized project focused on NFTs. Per data from CoinGecko, SOS is up 589% in the last 24 hours. Similar to many meme coin projects that emerged this year, the token has a large supply of 100 trillion, which means each token is worth only fractions of a cent. At press time, $100 worth of USDC buys about 12 million SOS on Uniswap. With the overnight rise, the project's market cap is at roughly $295 million. Etherscan data reveals that SOS has over 130,000 holders, and that number could increase as more users start to claim their airdrops.
On its website, OpenDAO describes SOS as "the token for the largest NFT community, to pay tribute, to protect, to promote." Interestingly, it says that a 20% allocation of the supply will go toward supporting the community through compensating OpenSea scam victims, supporting emerging artists, NFT communities, and art preservation, and organizing a developer grant for the SOS ecosystem. While it's unclear whether OpenDAO will make a lasting impact on the NFT space, for now, it's generated a significant amount of buzz thanks to its token giveaway.
Disclosure: At the time of writing, the author of this feature was eligible for OpenDAO's SOS airdrop. They also owned ETH, USDC, and several other cryptocurrencies, and had exposure to UNI in a cryptocurrency index.