Nike Bought RTFKT. Now Its NFTs Are Trading at a Premium
Nike announced it had acquired the NFT sneaker studio RTFKT this week, sending the prices for its most sought-after items soaring.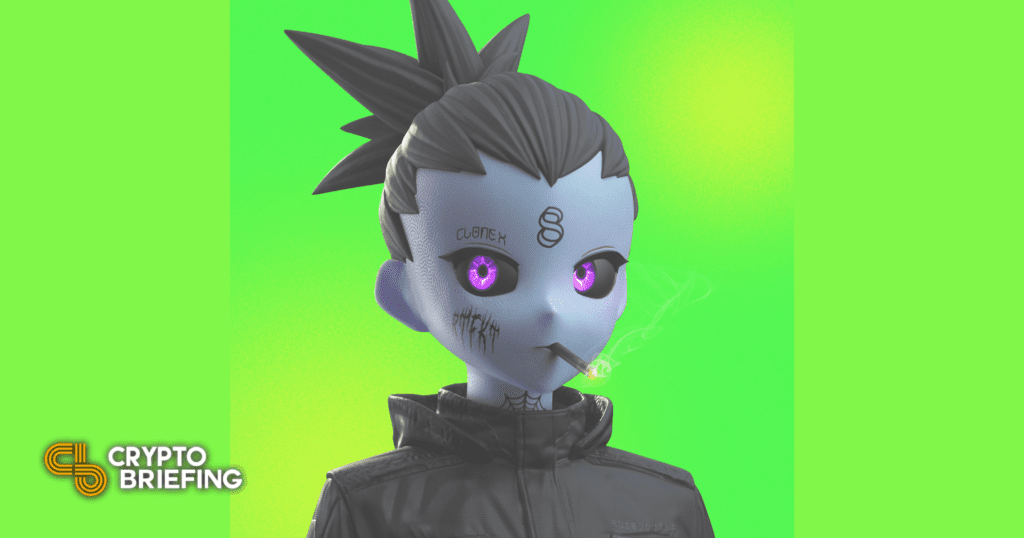 Key Takeaways
RTFKT NFTs have jumped in value since Nike announced it had acquired the brand this week.
The floor price for a Clone X Mint Vial has jumped from 3.8 to 11 Ethereum, and some rare Clone X NFTs have sold for significantly higher.
RTFKT is a digital sneaker brand backed by Andreessen Horowitz. It's partnered with NFT mainstays like FEWOCiOUS this year.
Since Nike announced its acquisiton, the floor price for an RTFKT Clone X avatar passes has jumped to roughly $41,000.
Nike Gives Boost to RTFKT NFTs
Nike's entry into the Metaverse is having a big impact on RTFKT NFT prices.
The sportswear behemoth announced it had bought RTFKT in an undisclosed deal Monday, adding to a small acquisition portfolio that also includes Air Jordan and Converse. Since the announcement, the prices for RTFKT's top items have rallied.
RTFKT is now a part of the NIKE, Inc. family. 🌐👁‍🗨 pic.twitter.com/5egNk9d8wA

— RTFKT Studios (@RTFKTstudios) December 13, 2021
RTFKT recently dropped a collection of Clone X Mint Vial NFTs, which can be used to mint a Clone X—an avatar character created by RTFKT and Takashi Murakami. One Mint Vial traded at 3.8 Ethereum throughout last week, but prices have quickly risen since Nike dropped its announcement. The cheapest Mint Vials are currently selling for just over 11 Ethereum on the NFT marketplace OpenSea, or around $41,000. The Clone X Mint Vials are currently the second most traded OpenSea collection with over 13,300 ETH in volume.
The Clone X NFT collection, which features the avatars themselves rather than a mint pass to get hold of an avatar, is also trading at a premium. Clone X is currently the most traded OpenSea collection by some distance with over 32,100 ETH in volume, and the current floor price for a piece is 4.8 Ethereum, or just under $18,000. The average sale price, meanwhile, has increased to 10.2 Ethereum today. Some rarer pieces have sold for significantly higher than the floor price this week: one piece went for 288 Ethereum worth over $1 million yesterday, and several others have sold for 100 Ethereum or more.
Besides the Clone X pieces, several other RTFKT collections have seen an uptick over the last few days. A collection of NFTs inspired by LarvaLabs' iconic CryptoPunks series and set of bonus items have also jumped in value this week.
Announcing the acquisition Monday, RTFKT said that Nike had been a key source of inspiration for the digital sneaker brand. "Nike is the only brand in the world we always looked up to and got inspired by when starting RTFKT," a tweet read. RTFKT launched in 2020 and has quickly found a place at the forefront of the NFT space. It held an $8 million seed funding round led by Andreessen Horowitz in May and has released sneakers in partnership with FEWOCiOUS, one of the most successful NFT artists.
In Nike's announcement of the acquisition, the firm's President and CEO John Donahoe said that it was planning "to invest in the RTFKT brand, serve and grow their innovative and creative community, and extend Nike's digital footprint and capabilities." However, whether acquiring RTFKT is the full extent of Nike's Metaverse plans remains unclear. Nike's interest in NFTs was revealed last month after the firm filed several patents suggesting it was looking into digital apparel.
Nike's acquisition is only the latest example of a major brand jumping into the crypto space following Facebook's pivot to the Metaverse. Earlier this month, Adidas announced it had joined the Bored Ape Yacht Club as part of a collaboration with the hit NFT collection, Punks Comic, and gmoney. Adidas also dropped a series of digital items via Punks Comic's MetaHero project and posted a link to an app for limited drops on its Metaverse landing page, possibly hinting at a merchandise collaboration in the pipeline. If Nike follows its main competitor's lead, the brand could soon be revealing more Metaverse-focused plays of its own.
Disclosure: At the time of writing, the author of this feature owned ETH and several other cryptocurrencies.