Maker Liquidity Dries Up After Oasis DEX Closes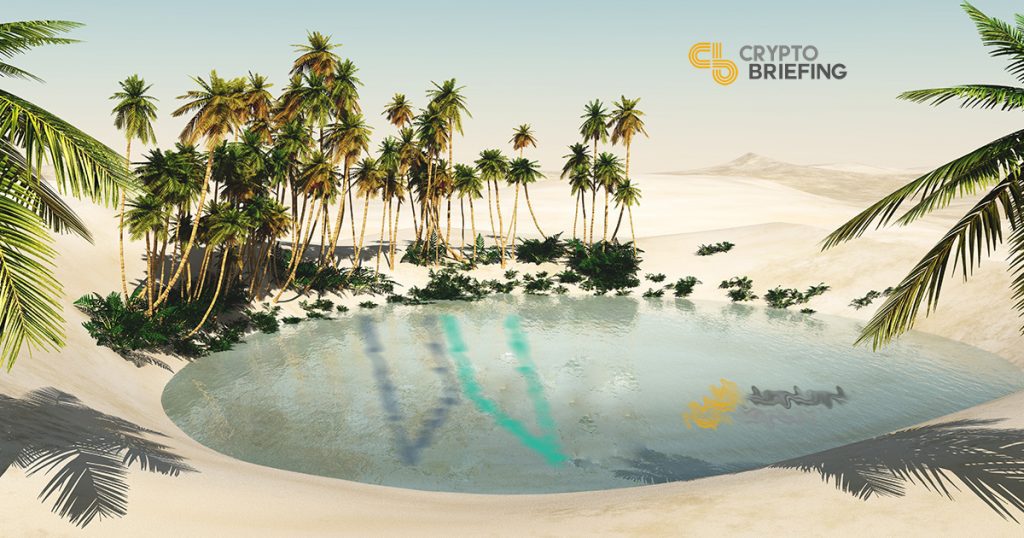 Maker (MKR) tokens experienced a price spike at the beginning of the week, as trading fell throughout the DAI ecosystem. The sharp movement follows the closure of the popular OasisDEX last week.
Maker tokens had gradually gained value since Thursday, rising from approximately $365 per coin to around $377 by Sunday close. Although the trend continued incrementally on Monday morning, MKR price leaped to $397 at around 09:00 GMT.
A surge in orders on Bitinka caused MKR to peak above $500 on the small-scale exchange, while prices on other markets remained lower, oftentimes below the $400 mark.
A recent increase in selling pressure with Bitcoin (BTC) and Ether (ETH) pairs means the MKR price has since decreased. Average prices had fallen back to $389 by the time of writing.
---
What's making MKR move?
The recent MKR token price trend broadly coincides with the closure of Maker's own decentralized exchange, OasisDEX, on Thursday, January 31st. A popular trading platform, Oasis was the first venue to trade MKR and a key source of liquidity.
In a Medium blog post published on January 14th, the Maker team announced the DEX would temporarily be taken down in order to create a trading platform for collateralized assets and security tokens. It's not clear how long the closure is expected to last.
"On January 31, 2019 we are going to take down the OasisDEX and Oasis.Direct front ends to completely rebuild the solutions based on a new strategic direction," the team wrote. "We believe there is a critical need for a place where people can trade Multi-Collateral Dai and the multitude of collateral assets backing Dai, including security tokens, while also conveniently accessing CDP [collateralized debt position] features for all of these assets."
Launched in Q1 2017, OasisDEX was the first Ethereum-based decentralized exchange to work completely on-chain. Although MKR tokens are also tradeable on some centralized exchanges, including Coinbase, the temporary loss of a popular trading platform may have had a knock-on effect on the MKR price, causing subsequent liquidity issues.
The 24h trading volume for Maker tokens has floated in and around the $400,000-$500,000 mark for the past few days, far below January's normal trading volumes. Last Thursday, when OasisDEX closed, trading volume peaked at $3.2M. Although volumes ranged significantly in the weeks prior to the closure, this is still a low point.
The closure of MKR's main market is having an effect through lower-than-usual volumes on the remaining exchanges.
---
When liquidity is low, buy and sell orders have a bigger impact on market prices. In the case of MKR today, an increase in buy orders on the Bitinka exchange caused a larger-than-normal surge in the price at the start of the working week. A corresponding boost in sell orders – as shown in the graph above – caused prices to drop back down again.
Maker established a replacement exchange, eth2DAI, but this is exclusively for Wrapped Ether (WETH) and the stablecoin DAI. That's unlikely to make up the shortfall in trading; in the meantime, Maker is likely to stabilize soon enough, provided other exchanges can pick up the slack.
---
The author is invested in digital assets, including BTC and ETH which are mentioned in this article.