OkLetsPlay $1.25m $OKLP IDO Exclusively on Polkastarter
The OKLP token is minted on Polygon.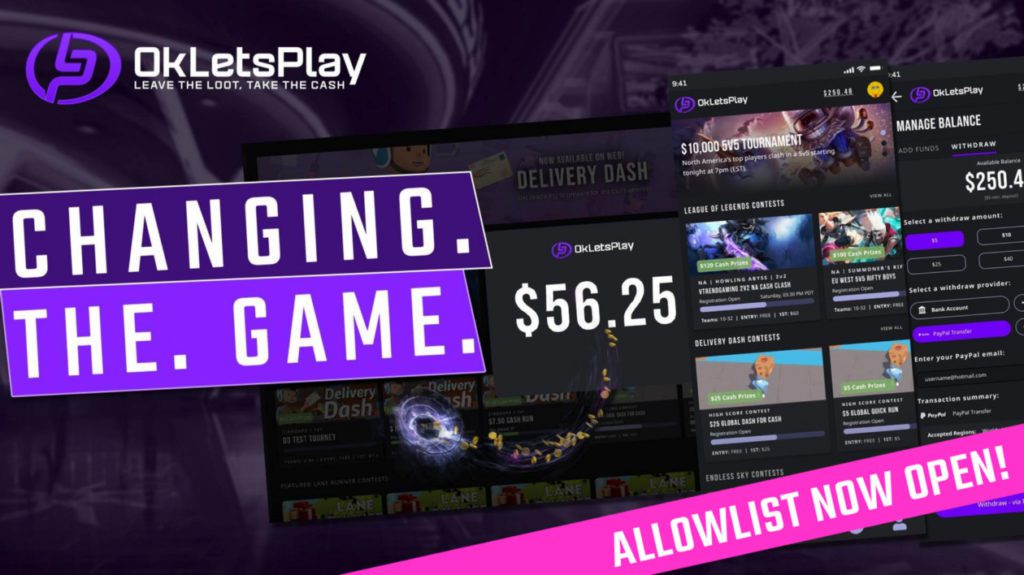 OKLetsPlay has the capability to support a wide array of online games and game modes in monetization for users.
OKLetsPlay to IDO
OkLetsPlay, the patented eSports tournament platform for casual and competitive traditional and blockchain PC and mobile video games, is conducting an exclusive $1.25m $OKLP IDO on Polkastarter April 20, 2022 to launch their built, battle tested, market ready eSports tournament platform.
The $OKLP token is minted on the Polygon network and has immediate utility within the OkLetsPlay eSports tournament platform, which is ready to catapult any player, community, and brand onto the main stage in a new and exciting era of real money competitive online gaming.
OkLetsPlay can support any online game and game mode with an array of functionality giving everyone from casual single players to professional eSports teams the chance to get paid for playing the games they love. Using an ultra-lite linkage, game developers and publishers now have a no-cost turnkey solution to quickly add cash and crypto PvP matches and tournaments to their game.
By using $OKLP, players receive platform bonuses such as lower service fees, discounted tournament entry, win multipliers, and many other benefits. To support crypto gaming and token market adoption, all player accounts receive a P2E $OKLP wallet and token drip simply for playing on the OkLetsPlay platform.
OkLetsPlay has its own intellectual property, and is well connected in the eSports gaming arena with an impressive team of heavy-hitter advisors and directors, from the likes of EA (Electronic Arts), Razer, Microsoft, Glu Mobile, Kabam, Neon Media, Riva Technologies and Entertainment (to name a few) and an impressive 300m+ gaming community ecosystem from Riva Technology & Entertainment, Galaxy Racer Esports, Polkastarter PGG, Rogue Games and Firefly Games.
With their extensive patent portfolio, OkLetsPlay has a firm stake in the ground and an exciting future ahead in a traditional and blockchain gaming eSports market that continues to see explosive growth.
OkLetsPlay is a patented next-gen eSports tournament platform for skill-based traditional and blockchain video games that amplifies the gaming experience and ushers in a new era of real rewards.
Join OkLetsPlay on Telegram to learn more about the $OKLP token and exchange listings and stay tuned for the big announcements.
Polkastarter is the fully decentralized protocol for launching new ideas. Our curation process and industry access enable us to offer the best new projects in blockchain and digital assets. With Polkastarter, decentralized projects can raise awareness, build a loyal community, and receive long-term support.