Opinion: Blair and Clinton Speak on Crypto? Hang Your Heads FTX
Tony Blair and Bill Clinton will speak at Crypto Bahamas later this month. What on earth were FTX and SALT thinking?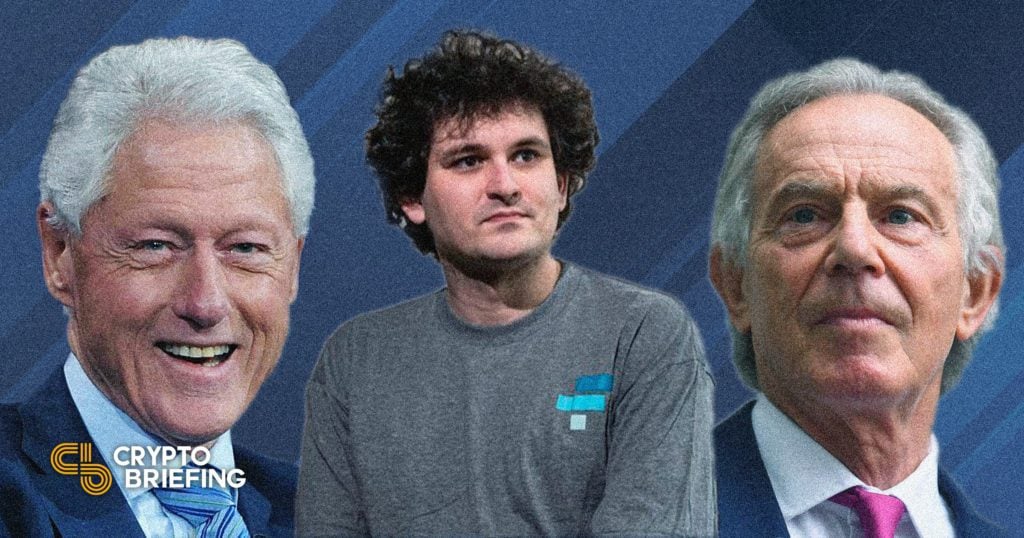 Key Takeaways
Tony Blair and Bill Clinton will speak at Crypto Bahamas later on this month.
The event is co-organized by FTX and SALT.
Chris Williams says that Tony Blair and Bill Clinton represent the opposite of what crypto stands for.
Tony Blair and Bill Clinton will appear at the inaugural edition of Crypto Bahamas. Chris Williams explains why that's a problem.
Tony Blair's Stint in Number 10
For millions of people like me who grew up on music video channels and pre-Broadband Internet, three major events have shaped our lives and changed the world forever. The most recent one is still ongoing; it's the reason Pfizer's profits doubled last year, and we're still wearing masks to travel on airplanes. Before that, around 12 years before "lockdown" was part of common parlance, a small group of bankers caused a global financial crisis. Governments bailed them out, and they paid themselves big bonuses while millions of ordinary people went bankrupt. The meltdown inspired a pseudonymous developer known as Satoshi Nakamoto to create the most important invention since the Internet, which then set millions of ordinary people free. And the first one happened around the time Broadband gained adoption in New York City on Sep. 11, 2001.
I was too young to understand the consequences of 9/11, and I don't remember watching it on TV like millions of others worldwide did. Being only nine years old at the time, my primary school teachers opted not to show us the horrors unfolding, and we had a typical school day instead. I do remember visiting Ground Zero a couple of summers later—I must've stood close to where George W. Bush vowed to avenge those responsible for the attacks hours after the towers fell. I also remember earlier that year when 1 million people marched through London in protest against an illegal war in Iraq. The U.K.'s then Prime Minister Tony Blair had joined forces with Bush and committed to invading the Middle East under the guise of looking for "weapons of mass destruction." Though the death toll from that war is still disputed, estimates put it somewhere between a few hundred thousand and 1 million. None of the weapons they lied about were ever found.
As a result, many British people remember Blair, who became the Labour party's longest-serving Prime Minister after a decade-long stint in Number 10, as a war criminal today. Under his watch, hundreds of thousands of innocent civilians died, and entire countries got destroyed. The architect of the "New Labour" movement, Blair was also known for his progressive policies while in power. Rejecting the socialist principles Labour was founded on, he positioned the party as "left of center" and famously introduced a national minimum wage. Less gets said about how he brought the U.K. into spiraling debt and gave the big banks free reign to do as they pleased. The global financial crisis happened a year after he left office, but it had been a ticking time bomb for several years (go and watch The Big Short if you're not familiar). Though Blair left Parliament in disgrace, that didn't stop him from receiving a knighthood in the Queen's latest New Year Honours list. In the years between his departure and receiving the award, he enjoyed a lucrative career on the lecture circuit, earning tens of thousands of pounds a minute to speak about world issues in the company of other wealthy elites.
Blair, Clinton Appear at Crypto Bahamas
One of Blair's forthcoming engagements is happening later this month at Crypto Bahamas, a three-day digital assets conference co-run by FTX and SALT. He'll discuss "The World Today" with the 42nd U.S. President Bill Clinton and FTX CEO Sam Bankman-Fried. It's unclear how much the two former leaders will be paid for the appearance, if at all. Clinton, of course, is cut from the same cloth as Blair, except he's better known for other antics besides war. A former friend of serial sex offender Jeffrey Epstein, Clinton allegedly visited Epstein's Pedophile Island alongside the likes of Donald Trump and Kevin Spacey and has faced accusations of sexual assault from multiple women. He's never been charged for the alleged incidents. We were told that Epstein died by suicide in jail in August 2019, but if you believe that, you must be as gullible as the people who still trust fiat. Go figure. Clinton's wife, by the way, has always overlooked his alleged crimes in public, but she's not as passive when it comes to cryptocurrencies. Another career politician who became notorious for getting into bed with Wall Street, she warned against Internet money as recently as last year, citing China intervention risks.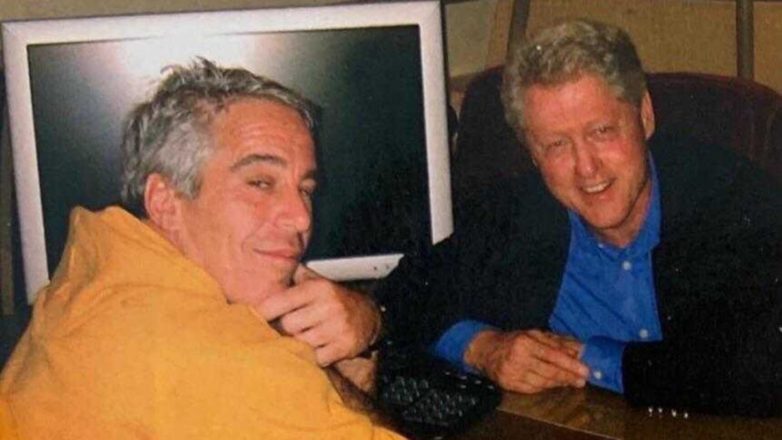 I count myself lucky that I realized the world Blair and Clinton represent was a scam at an early age. When I was 17, two members of the U.K.'s taxpayer-funded police force arrested me for a minor misdemeanor and pushed their Sergeant for a warrant to raid my parents' house. The following day, I came home free of charge to learn that they had stolen £200 from my bedroom drawer when no one else was in the room. We complained, and nothing happened. A year earlier, I'd watched the U.K. government sack its chief drug adviser Professor David Nutt for saying that ecstasy and LSD were less dangerous than alcohol, and a year before that, Lehman Brothers crashed to zero. Millions of people have died from drinking since then, MDMA is still basically harmless, and I ended up discovering Ethereum when £200 was enough to get you a couple of ETH. Meanwhile, banks still control the world's money, and I imagine the uniformed thugs that stole from me are still robbing kids for spare fiat today. If they could, they'd take our crypto too, which is why you see authorities going after non-custodial wallets today.
FTX's Parabolic Rise
When Satoshi mined Bitcoin's Genesis block, they left a secret message in the chain that read, "The Times 03/Jan/2009 Chancellor on brink of second bailout for banks." Cryptocurrency technology was created in a pushback against the failings of banks and governments worldwide, but its meaning has changed over the last decade. There are those who prefer Bitcoin and Ethereum to pounds and dollars because they believe that a trustless state will improve the world and level the playing field, and there are those who see crypto as an opportunity to extract as much money from the system as possible. Bankman-Fried, a Jane Street alum who found his way into crypto by leveraging Bitcoin arbing opportunities in Japan, has made it clear that he falls into the latter camp. A sharp mind with even sharper decision-making skills, Bankman-Fried has amassed a fortune of billions from the industry, and he's seen as a darling of the space mainly because he's committed to giving most of his riches away (Crypto also tends to worship its wealthiest participants, which has helped his profile rise). In one viral interview released earlier this year, Bankman-Fried shows his geeky charm when he explains that he drives a Toyota Corolla because he doesn't need a Lambo.
FTX, which gave Bankman-Fried the majority of his wealth, soared in popularity in 2020 by being less terrible than Coinbase and Binance and then set itself up for world dominance in 2021 by landing a series of major sponsorship deals with the likes of Miami HEAT and Tom Brady, who will also speak at Crypto Bahamas. FTX lists all of the major cryptocurrencies and a lot of dying Solana projects that Alameda Research, the trading firm Bankman-Fried founded in 2017, farmed early on and then helped dump to oblivion.
Bankman-Fried cut his teeth in the zero-sum game of trading, but these days he's better known for his masterful business acumen, his ardent support for the Solana ecosystem, and his regular appearances on mainstream outlets like Bloomberg and Forbes. Bankman-Fried has also testified before Congress on crypto regulation a couple of times now.
April 26th-29th

See you there @TomBrady @BillClinton @opmthebahamas pic.twitter.com/f2FKerdnCi

— SBF (@SBF_FTX) April 15, 2022
Whatever you think of FTX's in-your-face marketing plays and choice of asset listings, there's no doubt that it's one of crypto's most successful companies. But given its track record, that only made me more shocked when I learned that Blair and Clinton would be speaking at its Crypto Bahamas event. There are plenty of other crypto-native folks slated to appear across the three days, but these two names stick out more than the rest. Crypto's Libertarian-leaning contingent was quick to call out FTX when Bankman-Fried announced their appearances. "Tony Blair is a war criminal. He should be facing trial in The Hague for taking the U.K. into an illegal war, not opining on crypto in the sunshine… They are the opposite of what we are working towards," said What Bitcoin Did's Peter McCormack. Jack Dorsey responded with a matter-of-fact "?" And Layah Heilpern, one of Bitcoin's more outspoken evangelists, said that FTX must have been "badly advised" and suggested "a rethink." I reached out to Heilpern to get her thoughts on the speakers, and she highlighted Blair's support of digital identity and CBDCs, tools whose primary use is for government surveillance. "Bitcoin is about the decentralization of power. It's about verifying instead of trusting centralized entities. For years, Tony Blair has pushed the centralized narrative from digital IDs," she wrote in a Telegram message. "And he has shown interest in CBDCs. We are at a key inflection point in the fight toward decentralization as governments begin rolling out CBDCs. We need to educate people that CBDCs are not Bitcoin and are not going to fix the current financial problems; in fact, they will make them worse."
Bitcoin Is Anti-Government Money
While it's a positive sign that people have called out FTX, I fear that it's not enough. Neither Bankman-Fried nor FTX have acknowledged the blunder, and they didn't respond to multiple requests for comment for this piece (a SALT representative put me in touch with FTX's PR team, but they had not responded with a comment at press time). Just as importantly, if we put guys like this on pedestals as authorities in this space, we risk heading toward a dark path that stands against everything Satoshi was fighting for. If I'm honest, I'm starting to think that it's already too late: here in the U.K., the Chancellor Rishi Sunak has decided to jump onto the NFT trend in a bid to establish the country as a hub for blockchain innovation. Sunak is part of the Conservatives, a party so experienced in screwing the public over in favor of the elite class that he and Prime Minister Boris Johnson literally get away with breaking the law. Earlier this month, Johnson scored a PR win when he traveled to Kyiv in a show of solidarity with Ukraine amid the ongoing Russian war. It served as a brief distraction from the fines he received for breaking his own COVID-19 regulations, and every other mistake he's made at the cost of countless lives over the last two years. Like many other countries, the U.K. is actively researching CBDCs, likely because it wants to increase its public oversight to adopt a model closer to China's authoritarian regime.
There are people who mistake crypto as either right or left wing, but the reality is that this technology was invented to be politically agnostic. There's a reason so many crypto enthusiasts reject politics. If you're not sure that the banks have your best interests at heart and worry about the CPI's record inflation prints, you could do worse than to buy Bitcoin. Advocates say that it's the world's hardest money, and it was never meant to serve a rich minority.
In recent months, Bitcoin's utility as a credibly neutral money network has come under sharper focus due to Russia's attack on Ukraine. While the crypto community has donated over $150 million through various initiatives to support Ukraine, Western politicians like Elizabeth Warren have warned that Russian oligarchs could use it to evade sanctions. Warren is also the type to call out successful entrepreneurs like Elon Musk for having money without acknowledging that she fights for a system that keeps old money in power. While she might be right about Russia, she should look inward. The West has rightfully decried Vladimir Putin as a war criminal, but we often forget that our leaders have had sketchy pasts themselves. It's difficult to imagine FTX inviting Putin to opine on the advantages of borderless money anytime soon.
Make no mistake: Blair and Clinton dedicated their lives to upholding a system where the elite class win and innocent people suffer. They exercised their power to do what they liked and got rich off the back of it while ordinary people either died or stayed poor. These days we have Internet money as a pushback, but if we're not careful, even that won't be safe from political intervention. Satoshi probably isn't around any more, but maybe that's for the best. If they could see what's about to go down at Crypto Bahamas, they'd probably be looking on in horror at how far we've strayed from their original vision.
Disclosure: At the time of writing, the author of this piece owned ETH and several other cryptocurrencies.