Phemex 2-Year Anniversary: Choose Your Reality
Starting with just three contract pairs, Phemex has evolved into a platform that competes fiercely on the global level, with 40 spot pairs, 39 contract pairs, and over 1.5 million users.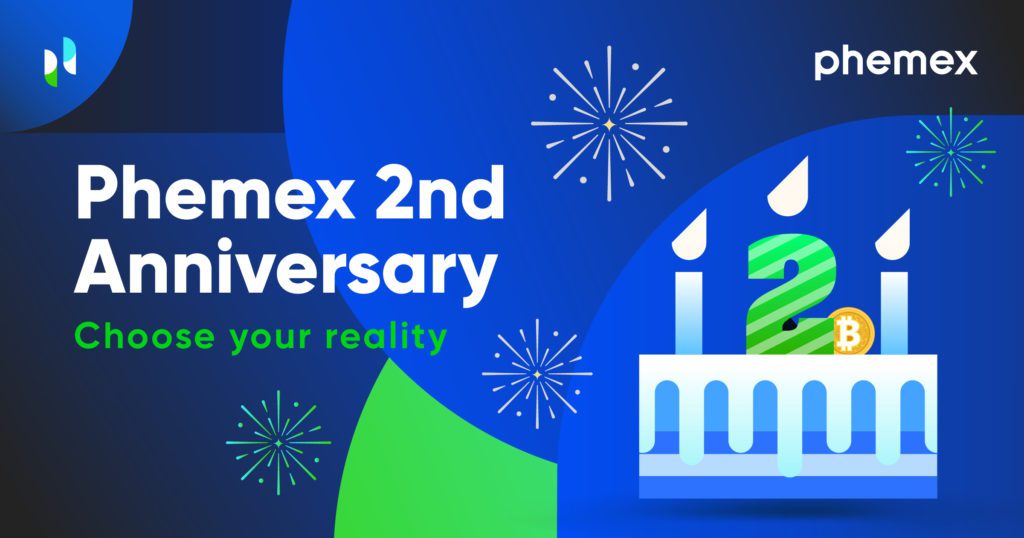 This November 25th, Phemex celebrates its 2-year anniversary with an extraordinary campaign. The crypto trading and investment platform has come a long way over the last couple of years, and it now wishes to reward the community that made it all possible.
The "Choose Your Reality" campaign is a celebration of all of Phemex's accomplishments, but most importantly, of its fundamental mission to help individuals become financially independent.
It is no secret that the legacy frameworks of traditional finance are extremely inefficient and unfair. Fortunately, as blockchain technology makes the world more digitized and decentralized, new opportunities for financial freedom are beginning to emerge. With the consistent support of its passionate users, Phemex has risen as a trustworthy shepherd, personally guiding brave explorers into a better reality.
While this generally manifests in the form of exceptional financial tools, services, and knowledge, Phemex is now taking the concept a step beyond.
The "Choose Your Reality" campaign page features the "Dream with Phemex" event. All users will be allowed to submit their most desired dreams, goals, or aspirations in written form or through a short video. Many of these will be featured on the page for the duration of the event. On February 16, 2022, 10 lucky winners will have their dreams come true.
Just as its users have helped Phemex accomplish its goals, Phemex will now help materialize its users' dreams into reality.
Two Years of Dedication
Starting with just three contract pairs, Phemex has evolved into a platform that competes fiercely on the global level, with 40 spot pairs, 39 contract pairs, and over 1.5 million users. Phemex was decisively built to put regular investors first.
Phemex's young history stands out with a plethora of events and services that have now cemented its reputation as a dedicated industry leader that offers new financial opportunities for all.
Soon after its launch in 2019, the exchange conducted a viral puzzle challenge, and gave away 2.1 BTC to spread awareness of the importance of private key self-custody.
Last February, to assist those suffering from the COVID-19 outbreak in Wuhan, Phemex launched a relief fund. By collaborating with Twitter user STAKT, Phemex was able to purchase 10,000 masks from Japan and deliver them with the help of doctors and volunteers from the Wuhan People's hospital.
In May 2020, Phemex announced "The Era of Zero," which introduced zero-fee spot trading for premium members on the exchange. Soon after, they announced a partnership with global fiat on-ramp Banxa to make it easier for users to buy crypto using credit cards, debit cards, and even added OTC services to the platform in February 2021.
After launching its 'Earn Crypto' program at the start of this year, enabling traders to earn up to 10% APY on USDT deposits of up to $1.5 million, Phemex collaborated with its community to list its first-ever NFT (Non-Fungible Token) on OpenSea. The artwork contains the ETH deposit addresses of over 1000 Phemex users. It was eventually auctioned off for 44 ETH ($100,000 at the time), and all proceeds were split amongst the participating users.
In May 2021, they launched a widespread campaign to find the original 'Bitcoin Pizza Guy' Phemex offered the Florida-based programmer a chance to deposit his BTC and pull out all profits from their Earn Crypto platform for a single day; which would have amounted to over $120,000 in interest! A few months later, the exchange launched its 'Learn and Earn' platform, incentivizing users to stay informed about blockchain technology and industry.
Phemex has routinely kept the needs of its users above all else throughout its development journey. This approach has allowed Phemex to be constantly within the top 10 derivatives exchanges worldwide, with an all-time high 24-hour trading volume of $12.5 billion.
Break Through, Break Free
Phemex now keeps an eye on the future. The platform is no stranger to adopting nascent concepts, even launching its own GameFi product. To commemorate two years in the blockchain industry, Phemex is making an even stronger commitment to its ideals, inspired by the concept of the metaverse.
The metaverse represents the next stage in the evolution of social technology, and Phemex is dedicated to making it a reality. It stands for a world where people can redefine their destinies and achieve anything they want. Phemex intends to facilitate this transition and aid people in accomplishing their goals.
At the recent World Blockchain Summit in Dubai, attended by over 1500 experts from the blockchain industry, Phemex CEO Jack Tao spoke about how NFTs were pushing the metaverse narrative forward:
"NFTs are here to stay, not because some have been sold for millions of dollars, but because millions have been sold for some dollars. Digital collectibles are not only the playground of crypto-whales; they are spreading in the direction of mass distribution," he said. "No one quite knows what it will look like, but that's sort of the point. The metaverse won't be constructed by a handful of centralized conglomerates — it'll be assembled by billions of people."
With 'Choose Your Reality', Phemex is proving once again just how dedicated it is to both expanding the platform and catering to its users. This November, Phemex is celebrating its birthday by applying its ideas and ideals into an environment where we can all break free from the shackles of traditional finance.