Phemex Celebrates 3rd Anniversary With Zero Spot Fee Trading
The 0 spot trading fee will apply to all of their 300+ spot pairs listed on the Phemex exchange.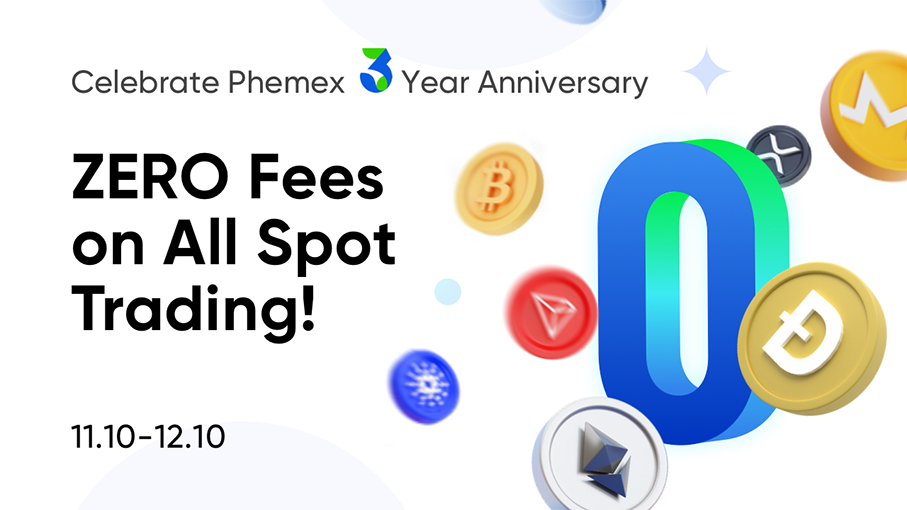 On the cusp of their 3rd year anniversary, world-renowned global crypto exchange Phemex has announced a "0 Spot Fee Trading Campaign" celebration starting November 10th. The 0 spot trading fee will apply to all of their 300+ spot pairs listed on the Phemex exchange. In a time where many valuable tokens are often seen as undervalued in the market, this promotion provides traders with an unprecedented ability to leverage their investments even further.
Zero Fee Spot Trading
Quickly rising over the past 3 years, Phemex has substantiated itself as one of the top 5 crypto exchanges in the world and is trusted by professionals and day traders alike, serving over 5 million users in 200+ countries. This opportunity to trade with 0 fees is one that does not come often in the industry, therefore it will surely be utilized to its full extent by all traders.
Phemex has continued to stand by its values of providing the opportunity for both current and new users to "Break Through, Break Free" financially in 2022, launching many campaigns in support. In March, they launched a Trade Rebates Reward campaign with a $2 million prize pool which also lasted for over a month and was widely participated in and rewarding for those that joined. In just under a few months they also built and launched their newest product, Phemex Launchpad, which provides access to early-stage projects. It already has seen over $5 million in commitments by over 50 thousand users.
Phemex's Director of Public Relations, Tyler Roessel, commented:
"Phemex's community of traders is one of the best in the industry, and we know we could have not gotten to where we are today without them. This is just one of the many ways we want to show our appreciation for all the support they have given us over the years."
The promotion opens on November 10th and will run until December 10th. For more details, please stay tuned to Phemex's website for official announcements.
Trade with Phemex
Phemex was built by long-term Wall Street traders from Morgan Stanley and McKinsey that understand the intrinsic value of providing traditional trading fundamentals while opening up the opportunity to financial products in cryptocurrency. Phemex provides the trading ability to both professional and novice traders in their easy-to-use platform with over 300 spot pairs, 150+ contract pairs, and many other products to allow one to Break Through, and Break Free. With customer service and the one-on-one attention they provide traders, it's why it's one of the most trusted exchanges in the industry. Interact with Phemex today and follow Phemex's Official Twitter for weekly giveaways and crypto updates.