Phemex Publishes Proof-of-Reserves, Liabilities, and Solvency
Users can review the Merkle-tree proofs, which confirm all users' assets are recorded within the Phemex system.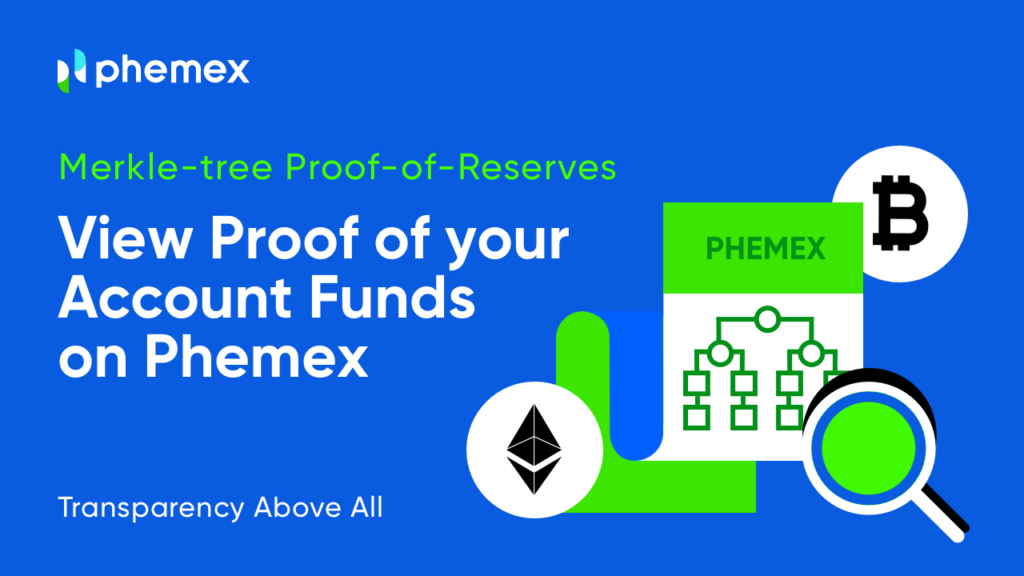 Phemex seems set to lead by example in the wake of the FTX fallout and the call from many in the community for all centralized exchanges to publish their proof-of-reserves. While not the first exchange to publish its proof-of-reserves, Phemex has taken its time to create the most transparent and trustful approach, relying on code rather than third-party auditors.
Merkle-tree Proofs
With the official publication of Phemex's Merkle-tree proof-of-reserves, users can now verify that their funds are indeed safe in reserve. In the interest of transparency and simplicity, Phemex has taken the time to design a proof-of-reserves tool, to be used in conjunction with a users' Hashed Client IDs. Phemex's unique approach allows users to check their balances at a specific snapshot in time of the five primary assets BTC, ETH, USDT, USDC, and USD, which comprise the majority of user funds. Phemex will look to add additional assets in the near future, but in the meantime, users can review the Merkle-tree proofs, which confirm all users' assets are recorded within the Phemex system.
What stands out beyond just the Merkle-tree, is that Phemex has also provided proof-of-solvency by making their assets and liabilities of these five core assets available for viewing. This is necessary because only when assets under management are greater or equal to liabilities can an exchange be trusted. To add additional transparency Phemex has also listed on their proof-of-reserve page a portion of their cold wallet addresses. All users are recommended to frequently verify that Phemex's assets do indeed cover liabilities.
It has been a difficult couple of weeks for the crypto community, and there has been understandable apprehension to utilize centralized exchanges. With that said, Phemex has seen a significant decrease in assets under management and trading volume in the wake of the recent events. Nevertheless, they believe that this is an opportunity to lead by example and showcase honesty and integrity with the utmost transparency. Combining the proof-of-reserve tool with the liabilities and a portion of the cold wallets, Phemex provides a clear and trustworthy picture.
Starting from its modest beginnings in 2019 with just 3 contract pairs, Phemex has steadily amassed a significant place in the derivatives exchange market. Phemex has grown over this time in certain aspects to mitigate risk, with a majority of the focus on the derivatives initially and only recently adding in more spot pairs. This partially explains their lower assets under management compared to more prominent exchanges. Additionally, some institutional clients withdrew their funds since the platform had not published proof-of-reserves. Today, by being the first exchange to publish proof-of-reserves and proof-of-solvency using this unique, self-proving approach, Phemex hopes all users can continue their crypto journey on the platform with confidence and peace of mind. Whether you're an institutional client, advanced trader, or crypto newcomer, let's all work together to rebuild a healthier, better crypto ecosystem for the long term.