PlanetQuest Partners With Immutable X to Power NFT-Economy-Driven Game Universe
PlanetQuest as a game experience is very much centered around its community and their ability to own and shape the game through NFTs.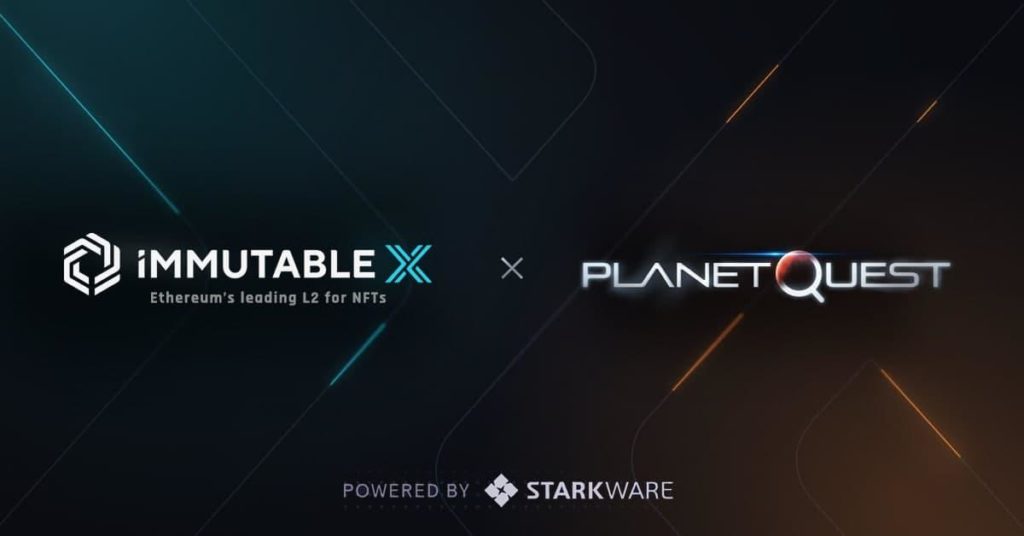 PlanetQuest is finally ready to share the vision of their universe spanning exploration and survival game, which is powered by Immutable X, the first and leading Layer 2 scaling platform for NFTs on Ethereum, to host the necessary infrastructure that will underpin the game's economy with zero gas fees and 100% carbon neutral NFTs.
PlanetQuest is Now Coming Out of Stealth After Developers Have Secretly Worked on it for Almost a Year.
Gamers are already able to create their account, choose their faction and join PlanetQuest's community, unlocking unique NFT rewards, developer updates and even the ability to take part in shaping the game's storyline.
PlanetQuest as a game experience is very much centered around its community and their ability to own and shape the game through NFTs. The project is much more than a play-to-earn game however. Rather, it is a "cinematic gaming universe," developed by veterans of the Marvel and Star Wars Cinematic Universes, who share a vision of the future of the metaverse.
In this blockchain powered game universe, users can, for the first time, own entire planets, represented by NFTs, and are able to manage and upgrade them. Then, they can invite their friends to explore these exotic, procedurally generated worlds. During their journey, players will face off against fierce creatures, earn the game's ERC-20 token, unlock epic gear and discover valuable, planet-transforming artifacts, which are represented by NFTs. Players can even borrow gear from others in exchange for sharing some of the tokens they earn with it, creating a whole new lending economy. Thanks to their strategic partnership with Immutable X, the players will be able to buy, sell, borrow and trade all these assets with zero gas fees.
On top of all this, PlanetQuest is the first blockchain game to deliver a fully decentralized storyline, meaning that gamers can vote on major decisions that will evolve the plot and drastically impact the future of the PlanetQuest universe. With new chapters of the story being introduced every week, community members can already start contributing to the direction of the storyline today, permanently leaving their mark on some of the first major events in PlanetQuest.
The PlanetQuest universe requires a highly scalable and affordable platform to engage with millions of gamers. This is where Immutable X, created from Immutable in partnership with StarkWare, a leading zero-knowledge proof provider, steps in to provide the cutting-edge solution for the developers. Immutable X L2 protocol offers gasless trading and minting with a thousand-fold scalability advantage over Ethereum, all while remaining tethered and interoperable with it.
Robbie Ferguson, co-founder of Immutable, said:
"PlanetQuest's premise of being able to actually own, explore and survive on vast unknown planets in a rich sci-fi universe, built by Hollywood talent, is something gamers have been dreaming of for ages. We're excited to see game pioneers like PlanetQuest choosing Immutable X, the most advanced NFT scaling technology, to help them realize their vision of crypto gaming at a massive scale."
Claudiu Barsan, Technology Director of PlanetQuest, added:
"We knew that with PlanetQuest, we wanted to push the limits of how many of the assets in our game could exist on the blockchain and truly be owned by players. Few technologies available today can offer the kind of transaction volume Immutable X can handle, and none do so with its level of security and ease of use. Which is why we're thrilled to team up with Immutable X and reveal PlanetQuest to the world together."
Explorers who want to begin their journey at PlanetQuest can already join their ridiculously friendly community at planetquest.io, where they can gain access to the Discord, complete missions and earn unique NFT rewards, such as gear and even planets. Plus, in partnership with Immutable X, PlanetQuest will be looking to reward early adopters of the game in additional ways.
PlanetQuest is a blockchain game that has been in stealth mode since early 2021 and is the first game to offer NFT ownership of entire planets. Built by a global team with a shared history in games, Hollywood and procedural technology, the game promises a multiplayer exploration and discovery experience, that has players touching down on foreign planets and fending off dangerous wildlife in their search for valuable, planet altering artifacts. Future players can already join the community, at planetquest.io, where they can vote on a universe altering storyline and earn unique NFT rewards.
Immutable X is the first and leading Layer 2 scaling solution for NFTs to enable gas-free minting and trading, while not compromising the security of the most used blockchain globally for NFTs, Ethereum. The solution, powered by StarkWare's innovative technology, offers instant trade confirmation, massive scalability (up to 9K transactions per second), and fantastic developer and user experience. Immutable X has announced integrations with established marketplaces such as OpenSea and Mintable, and is powering some of the largest NFT plays across consumer apps (TikTok), social metaverse (IMVU), gaming (ESL Gaming, Ember Sword, Gods Unchained, Guild of Guardians, GreenPark Sports, Illuvium, MyCryptoHeroes+), and launchpad partners (SuperFarm, Epics.gg).