PrimeXBT Announces Covesting Strategy Management Mobile App Integration
The new feature allows users to open a new strategy manager account, review performance information and see trading history.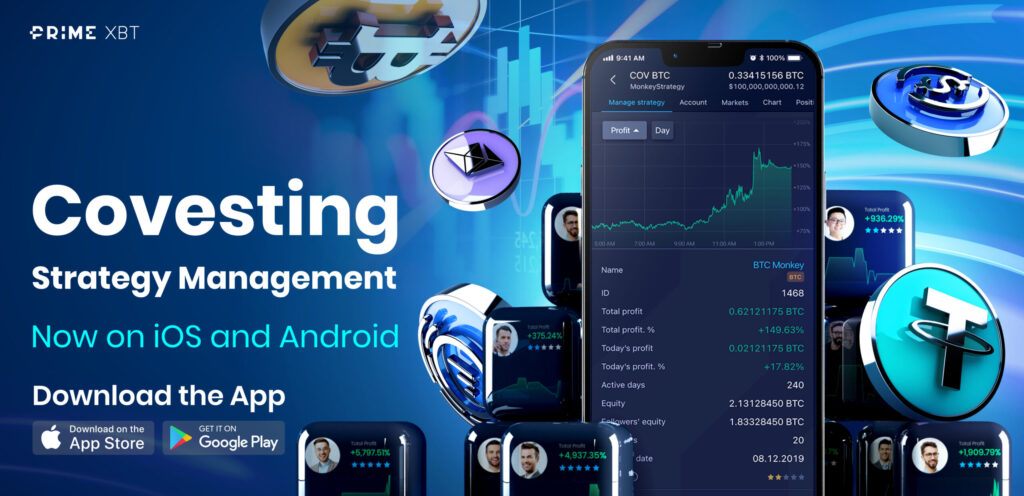 PrimeXBT, a global multi-asset platform offering a comprehensive suite of trading products and cryptocurrency services, has announced the debut of Covesting Strategy Management via the PrimeXBT mobile application.
Covesting Copy Trading Strategy Management Now Live for Mobile
The PrimeXBT smartphone app for iOS and Android devices offers a one-stop-shop of professional trading tools and long and short positions on more than 100 different trading instruments. Users can manage positions and portfolios while on the go, from anywhere in the world.
The full suite of PrimeXBT trading tools now includes Covesting Strategy Management, allowing users to open a new strategy manager account, manage existing strategies, review performance information, see trading history, and view data on each strategy's followers and equity.
PrimeXBT mobile app users can now create or manage a strategy under the My Strategies category of the Copy-trading section. The update is now live immediately for iOS and Android devices.
Additional Updates Added To Award-Winning PrimeXBT Mobile App
PrimeXBT constantly releases incremental improvements and new features to its advanced trading platform and mobile application.
Recent updates include a more intuitive withdrawal process, a crypto exchange tool, and the ability to share successful trades via social media or messenger apps in just a click.
The PrimeXBT app also launched a new crypto purchasing feature, letting users buy cryptocurrencies like BTC, ETH, USDT, USDC, and COV at the tip of their fingers, from anywhere in the world.
The award-winning PrimeXBT mobile application is available as a free download via the Apple App Store for iOS and Google Play Store for Android. Download today, or update the app to receive access to the latest features.
PrimeXBT is a multi-award-winning fintech company established in 2018 which offers a Cryptocurrency, FX, Indices, and Commodities synthetic contract trading infrastructure. The platform provides access to a wide range of trading tools while maintaining security and liquidity and enabling a safe and efficient trading environment for everyone. PrimeXBT also offers the Covesting copy-trading module, which allows users to browse through hundreds of trading strategies provided by other traders, and automatically copy their trading activity.