PrimeXBT Integrates Tron Network for Deposits and Withdrawals
PrimeXBT adds support for TRC-20 USDT & USDC tokens.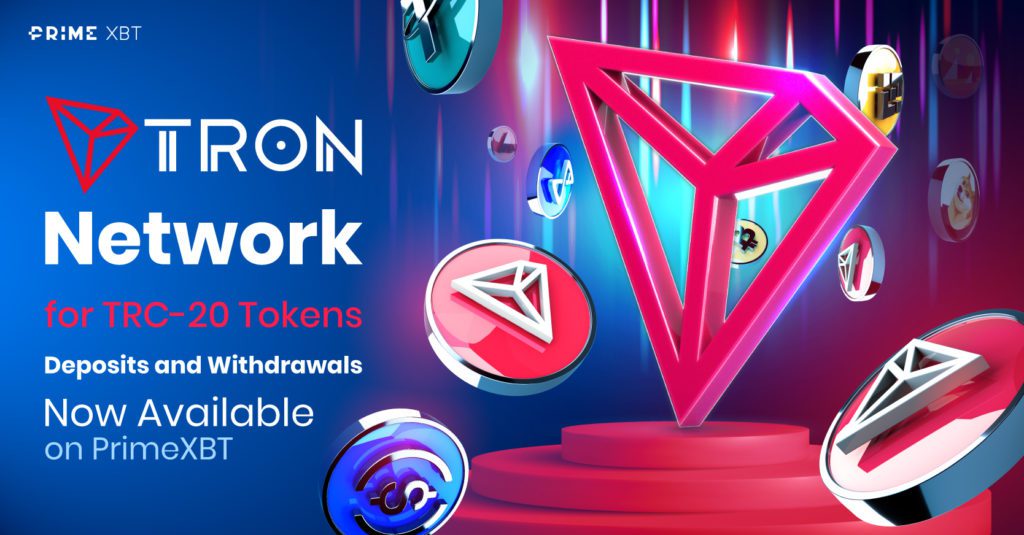 PrimeXBT, a global multi-asset platform offering a comprehensive suite of trading products and cryptocurrency services, has announced the integration of the TRON blockchain to enable TRC-20 deposits and withdrawals.
TRC-20 Deposits and Withdrawals Land on PrimeXBT
PrimeXBT is continuously improving its award-winning trading platform and releasing new features that are convenient for its users. The latest update now integrates the TRON blockchain network to enable TRC-20 token support for Tether (USDT) and USD Coin (USDC) withdrawals and deposits.
The TRON blockchain for TRC-20 tokens has been integrated alongside the Ethereum network for ERC-20 tokens and BNB Smart Chain for BEP-20 tokens. USDT and USDC TRC-20 tokens require 20 block confirmations on the TRON blockchain, which takes approximately one minute.
In addition to TRC-20 transaction support, the PrimeXBT mobile app for Android and iOS smartphones has also received an updated, more intuitive withdrawal process. The withdrawal process will now support TRC-20 token versions of popular stablecoins USDT and USDC.
The segregated withdrawal process arrived along with an ROI-sharing function for social media, the ability to buy crypto with a VISA and Mastercard, and a built-in exchange tool for swapping on cryptocurrency to another.
PrimeXBT is a multi-award-winning fintech company established in 2018 which offers a Cryptocurrency, FX, Indices, and Commodities synthetic contract trading infrastructure. The platform provides access to a wide range of trading tools while maintaining security, liquidity and enabling a safe and efficient trading environment for everyone. PrimeXBT also offers the Covesting copy-trading module, which allows users to browse through hundreds of trading strategies provided by other traders, and automatically copy their trading activity.