PwC Crypto Hedge Fund Reports Strong Appetite From American Investors
Crypto hedge funds continued to attract investment during crypto winter, according to PwC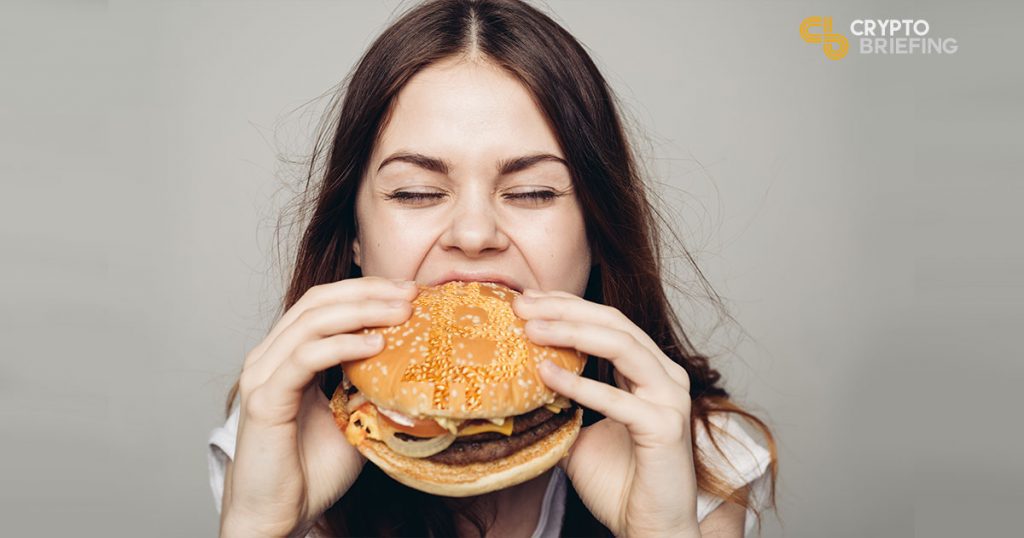 Auditing powerhouse PwC recently released a report on the 2018 performance of crypto hedge funds. Given the prolonged bear market that characterized the calendar year, it's no surprise that many funds struggled. But the report did point to an unexpected conclusion: investor appetite for cryptocurrencies seems to be increasing, especially in the United States.
Researchers estimate there to be around 150 crypto funds, controlling about $1 billion in assets. Surveying the hundred largest funds by Assets Under Management (AuM), PwC determined that they had a mean of $21.9 million under management
With median management fees around two percent and performance fees around twenty percent, the median crypto hedge fund was generating a mere $80,000 in profits, to be shared among six employees.
---
PwC Crypto Report: Bears Have Little Effect on Investor Appetite
PwC found that these crypto funds had a median of $1.2 million under management in January 2018, rising to $4.3 million a year later. Median figures were considered more appropriate gauges than mean values.
Those figures are at odds with the crypto market conditions, indicating that funds continued to attract capital through the bear season. The largest ten percent of funds held around $50 million, while the lowest 60 percent held less than $10 million in AuM. Those figures suggest clear dominance by the larger fund managers.
The median returns for crypto hedge funds for 2018 were -46 percent, as bitcoin plunged 72 percent for the year.
Sorting by the different types of funds, PwC found:
19% of the funds deployed fundamental analysis techniques, returning minus 53 percent,

44% used hybrid investment strategies to return minus 63 percent, and

37% used quantitative management strategies, (which include market-making, arbitrage, and low latency trading), returning eight percent. Quant trading dominates modern Wall Street investment strategic methodology.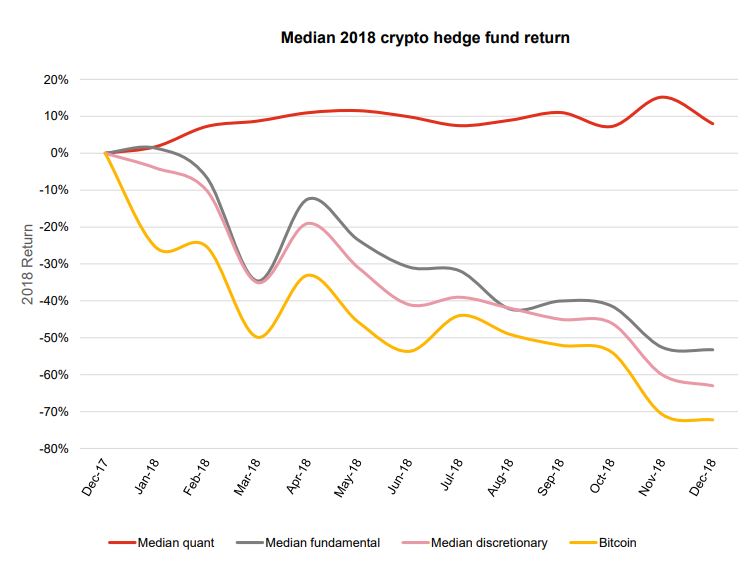 ---
Complicated Regulatory Environment No Big Deal for U.S. Crypto Funds
Despite their inability to target and service unsophisticated investors, the U.S. accounted for the largest number of crypto hedge funds. Seventeen percent of the surveyed funds were domiciled in the U.S., indicating that appetite for financial products remains resilient in the face of regulatory uncertainty.
SEC Commissioner Hester M. Peirce, affectionately known as 'Crypto Mom,' spoke of the unique regulatory challenges facing the United States' securities market. At the SUSS Convergence Forum in Singapore on July 30, Peirce said:
Outside of the U.S., funds were domiciled in fairly typical jurisdictions, with the Cayman Islands accounting for 55 percent and the British Virgin Islands 13 percent.
Most fund managers (64 percent) were based in the U.S. Given the increasingly bullish sentiment surrounding bitcoin in particular, American investors – sophisticated ones, at least – have a number of options to choose from should they seek to diversify their investment portfolios.
And while past results are no guarantee of future performance, quant funds have fared a lot better than others, perhaps making them the most sensible of targets for investment dollars. They also, by design, tend to stick to the most liquid of crypto assets, meaning they are not only more complex but also more conservative.