Raiinmaker Influencer Marketing App Passes Zokyo Smart Contract Audits
The platform's "Proof-of-Influence" protocol was tested and passed.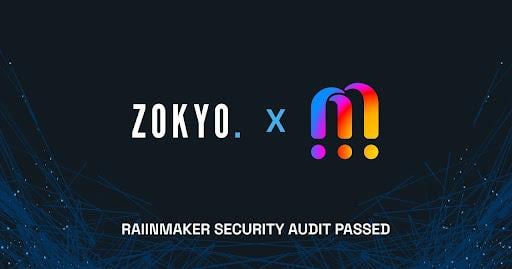 Raiinmaker, a social media platform built to connect fans with influencers, has passed a recent set of security audits conducted by cybersecurity firm Zokyo.
Raiinmaker Passes Audits
Social media fan engagement platform Raiinmaker has successfully passed a set of comprehensive smart contract audits by cybersecurity agency Zokyo. Raiinmaker's Proof of Influence protocol was stress-tested by Zokyo's blockchain security team, ensuring that the app met appropriate token standards, smart contract logic, and security.
'We're delighted to have passed Zokyo's rigorous security audits, as Hartej and the team are widely considered one of the best,' said J.D Seraphine, founder and CEO of Raiinmaker. "Ultimately we're happy to confirm the efficiency of our Proof of Influence protocol and its smart contracts."
Raiinmaker is a social engagement platform that unites fans and communities with brands and creators under one roof, providing the decentralized infrastructure to launch media drives via popular social media channels such as Twitter, Instagram, and Facebook.
Targeting an influencer marketing industry expected to be worth $15 billion in 2022, Raiinmaker upends traditional advertising methods by connecting clients directly with influencers. Through a combination of match-making, incentivization, and a unique "Proof-of-Influence" protocol, Raiinmaker utilizes the blockchain's decentralized structure to cut out advertising middle-men.
Zokyo is a digital product and cybersecurity agency that tests the security of early-stage startups and Fortune 500 companies through a series of protocol audits, penetration testing, and other safety checks. The firm has carried out audits on numerous cryptocurrency projects, becoming a trusted entity in the blockchain space.
The successful security audit is likely to shine a spotlight on the upcoming launch of Raiinmaker's in-house token, Coiin. In the Raiinmaker app, Coiin is used to launch reward pools which are used to directly finance marketing campaigns. Influencers are paid in Coiin for the tasks they perform and the engagement they draw, while users can also stake Coiin Rewards in a Proof-of-Stake model to earn additional passive income.
Raiinmaker aligns incentives and brand goals to generate word-of-mouth and grow fan affinity. By leveraging the power of decentralized identity, brands and creators can better stimulate conversations and drive engagement by adding likes, comments, and views to content. Raiinmaker leverages blockchain to automate fan engagement processes and provides digital rewards at a fraction of the cost of traditional solutions, empowering fans to discover, grow, and earn rewards through social action.
Zokyo offers smart contract and protocol auditing, penetration testing, and web and mobile design guidance as one of the blockchain space's most reputable cybersecurity agencies, confirming the safety and functionality of decentralized cryptocurrency projects. Zokyo also offers enterprise-grade features at affordable rates through a blend of onshore and offshore services.
For more information, contact Monroe Rothschild, Head of Marketing at Raiinmaker, at [email protected].