Reddit Downvotes Bitcoin Payments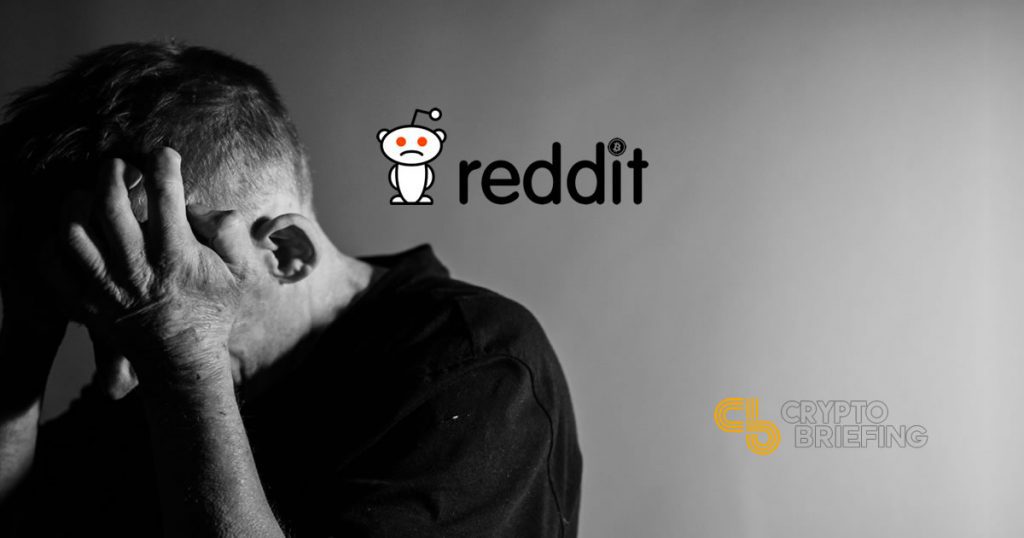 Reddit recently removed the option to pay in Bitcoin for their premium membership program Reddit Gold. A Reddit moderator mentioned that the upcoming Coinbase changes and presence of bugs in the Bitcoin payment option were reasons why they decided to drop Bitcoin as form of payment.
The social news aggregator's decision follows in the footsteps of payment processor Stripe, and their January announcement that they are ending Bitcoin payments in April 2018. "Bitcoin has evolved to become better-suited to being an asset than being a means of exchange," said Tom Karlo, Product Manager at Stripe. Due to Bitcoin's high transaction rates and a decline in demand, other companies like Steam have also removed Bitcoin as a viable payment option.
While it's uncertain whether Reddit will bring cryptocurrency payments back, there is hope that they may follow Microsoft who in January 2018, restored Bitcoin as a payment option. Reddit's decision to abandon Bitcoin, however, highlights a more significant problem. Although Coinbase's changes and bugs are to blame, the overall issues with Bitcoin's proof-of-work (POW) protocol and high transaction fees can outweigh the benefits Bitcoin provides.
Bitcoin: no longer a payment option for Reddit Gold users
On March 23, 2018, Reddit user BitcoinXio posted a video, highlighting that Bitcoin was no longer offered as a payment option and enquired on the forum /r/btc whether Reddit stopped accepting payments from Bitcoin.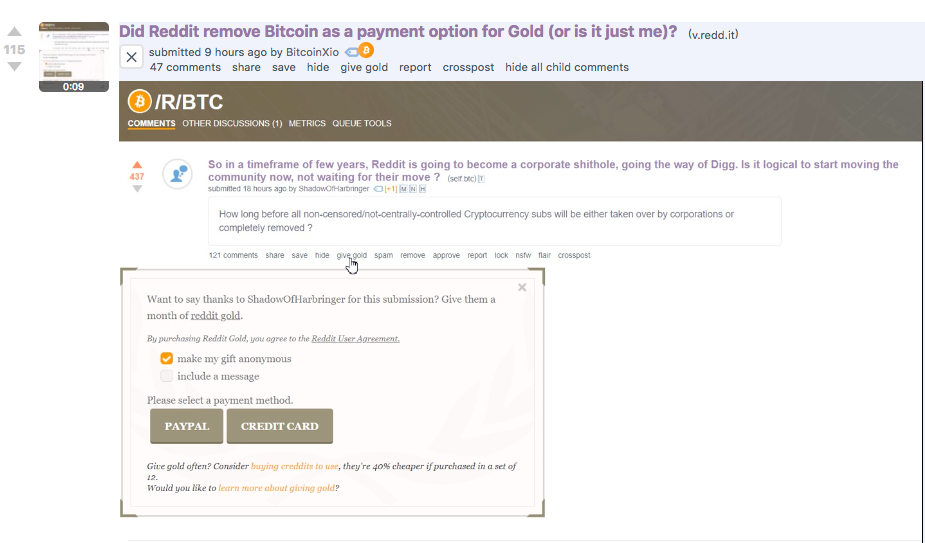 User emoney04, a moderator for several subreddits (not/r/btc), commented that "the upcoming Coinbase change, combined with some bugs around the Bitcoin payment option that were affecting purchases for certain users, led us to remove Bitcoin as a payment option." The user then mentioned that "we're going to take a look at demand and watch the progression of Coinbase Commerce before making a decision on whether to re-enable."
Removing the option to pay in Bitcoin is a big blow to the active cryptocurrency community on Reddit – between the various subs, there are millions of registered subscribers in forums like r/bitcoin, r/cryptocurrency, and r/ethtrader.
While many users understood Reddit's decision to end Bitcoin payments, Reddit user BitcoinXio raised an issue with Reddit's current approach. He mentioned that it's difficult "to measure demand if you don't enable crypto payments." BitcoinXio went on to offer an alternative, to re-enable payments with Bitcoin Cash, where the fees are significantly smaller so they can continue to assess and test for demand.
Emoney04 responded with enthusiasm and noted that they would "keep that in mind as we move forward." Like Stripe, Reddit remains optimistic about cryptocurrencies. There are, however, too many problems with cryptocurrency payments at this moment in time.
Why Reddit dropped Bitcoin payments
On a Medium blog post in early March 2018, Coinbase mentioned the launch of Coinbase Commerce, "a new service that enables merchants to accept multiple cryptocurrencies directly into a user-controlled wallet." While this new service would add significant benefits to merchants it also means the "retiring [of] Coinbase's Merchant Tools product." Coinbase acknowledges that this change "may be disruptive to Coinbase Merchant Tool customers."
While shifting to the new Coinbase Commerce platform may be an inconvenience for Reddit, if there were substantial demand and frequent cryptocurrency payments on the platform, the social news aggregator would most likely keep the payment option.
Many Reddit users have therefore expressed other reasons as to why the site has dropped Bitcoin like third-grade math. User SnowBastardThrowaway believes that "the high miner fees" are to blame. Samurai_Jesus agrees and mentions "how the high fees significantly reduced the use for it in everyday transactions." Other users also requested for Bitcoin Cash as an alternative payment option.
The Coinbase changes, bugs in the payment code, Bitcoin's sharp decline in value, high transaction fees, and reduction in demand for Bitcoin payments are most likely the sum of reasons as to why Reddit decided to end Bitcoin payments.
Unfortunately, Reddit's decision highlights an even greater problem with cryptocurrencies. While cryptocurrencies are making strides in the industry as an asset, they remain impractical to purchase everyday services and goods with. Bitcoin itself is a first generation blockchain technology with significant problems with its POW protocol.
With Ethereum's Proof-of-Stake and Bitcoin Cash's lower transaction fees, there is hope that second, third and future generation blockchain networks can solve these issues if Bitcoin cannot.