Revolutionary DeFi Wallet Ambire Launches Public Version and Liquidity Mining Program
Ambire Wallet is a full-featured cryptocurrency wallet for anyone from the absolute beginner to the crypto and DeFi pioneers.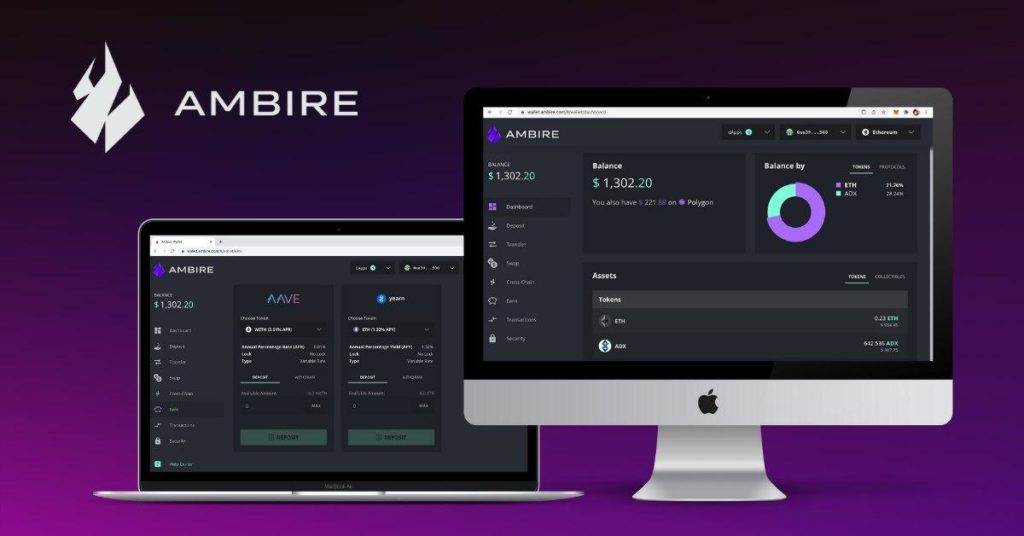 Ambire Wallet is a new-generation non-custodial and open source smart wallet that offers its users easy access to DeFi, enhanced user experience and a focus on security. For the past few weeks the wallet has undergone extensive auditing and beta testing with more than 5K accounts, and is now open to everyone interested in cryptocurrency and DeFi – from beginners to degens.
Ambire is the First DeFi Wallet that doesn't Require Installing an Extension or Writing Down a Seed Phrase.
Getting started with Ambire takes a simple email registration or connecting an existing browser or hardware wallet as a signer. However, private keys remain with the users and email is used as a two-factor authenticator when initiating transactions. Once they have created their smart wallet account, users can easily transfer crypto into their account, or purchase it with fiat money.
Among Ambire Wallet's features are batching transactions and skipping protocol approvals to avoid unnecessary transaction fees, gas management automation, Trezor and Ledger hardware wallet support, and much more. The wallet also has popular DeFi protocols, such as Aave, Yearn and Sushiswap, integrated on the dashboard and wallet users can start using these protocols in just a couple of clicks.
Currently, Ambire wallet supports four major networks: Ethereum, Polygon, Avalanche and Binance Smart Chain. More networks will be added in the future.
The Ambire team recently announced that they have secured a private funding round of $3 million by investors from private firms including Ascensive Assets, LaunchHub Ventures, Metacartel Ventures, Daedalus, Zee Prime, Spark Digital, and Danish Chaudhry, the CEO of the Bitcoin.com exchange and others.
Together with the wallet's launch, the Ambire team will launch a liquidity mining program where early users will preemptively accumulate an allocation in the upcoming $WALLET token. A total of 300 million $WALLET tokens will be distributed as rewards to early users who fund their Ambire Wallet accounts. These rewards will be distributed over a period of 4 years, starting from the wallet's launch – users will be able to see them in their accounts and access them as soon as the token is officially launched in the coming weeks. There will be extra perks for members of key communities, such as LobsterDAO, Degenscore, ADX stakers and others.
Ambire (formerly AdEx Network) is the company that develops the new-generation solution for digital advertising Ambire AdEx and a DeFi-focused crypto wallet, Ambire Wallet.
Ambire AdEx originated in 2017 as a decentralized ad exchange for digital advertising, and subsequently evolved into a full protocol for digital advertising. To date, the Ambire AdEx platform has more than 17K registered users.
Ambire Wallet is a full-featured cryptocurrency wallet for anyone from the absolute beginner to the crypto and DeFi pioneers. It brings a number of innovative features like automatic gas management, hardware wallet support for military grade security and much more. With Ambire wallet, anyone can easily benefit from the crypto and DeFi industries without dealing with complicated interfaces or concepts.