Ron Paul: Federal Reserve "Commits Fraud", Time To Abolish SEC And Decentralize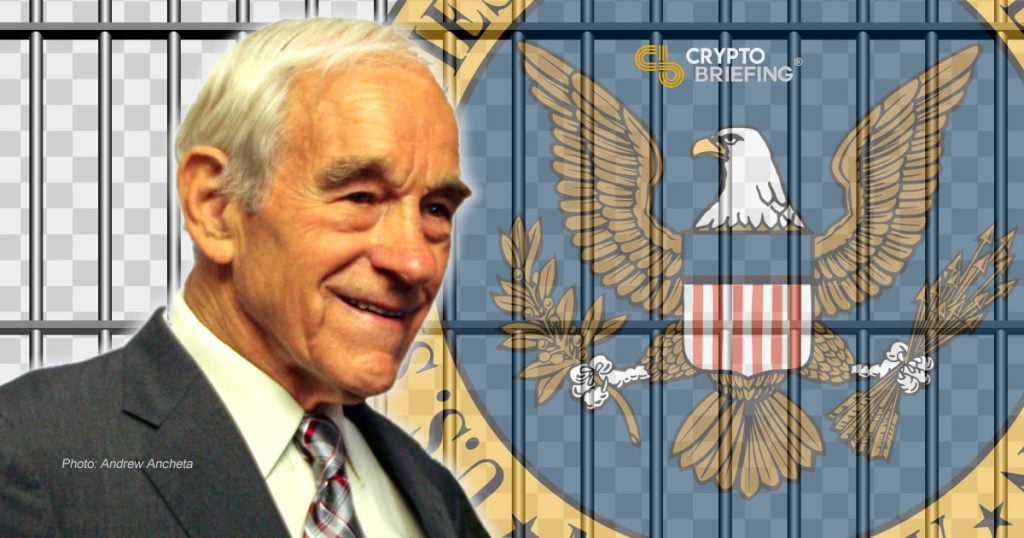 One of the leading apostles of sound-money Libertarianism is adding his voice to the chorus calling for decentralization. Dr. Ron Paul, a twelve-term Congressman and perennial Presidential candidate, has made his first appearance at Consensus 2019 – to advocate for decentralized politics.
And he had harsh words for the Federal Reserve and the SEC.
Dr. Paul will also deliver a keynote speech at the first-ever hackathon devoted to creating decentralized solutions for democracy. The hackathon will explore innovations in "participatory government," enabled by blockchains and smart contract technology.
The announcement was published by the digital asset policy network, a nonprofit organization of cryptocurrency leaders and political operatives which advocates for more open regulatory and taxation policies.
Developers at the hackathon will employ Ethereum-based technology and smart contracts to demonstrate new solutions for issues in governance, voting, oracle development, and political action, DAPNet revealed. Initial frameworks and data for their smart contracts will be provided by zap.org, a sponsor of the hackathon.
The hackathon's goals align strongly with Paul's long-standing positions of minimal government and deregulation.
"That's one reason I'm interested in the technology, because it decentralizes things," Dr. Paul told Crypto Briefing in a recorded interview.
"So If you look at money, the total centralization of money in the Federal Reserve system, and they have legal tender law. You're not allowed to compete. You're not even allowed to compete with gold and silver which is in the constitution. It's centralized in the hands of the people who print money. They commit the fraud, they become the counterfeiters."

---
Get Rid Of The SEC
Although his toughest fights may be behind him, Dr. Paul did not pull any punches as he discussed his thoughts on regulation.
'I'd let the market regulate [cryptocurrencies]" he said. "I wouldn't have the government do anything, other than if somebody's committing fraud….If you need regulations, the market should regulate, they shouldn't have any subsidies or any bailouts or anything. But if there's corruption, the government should be involved."
Asked what advice he might have for Valerie Szczepanik or Hester Peirce, who were scheduled to speak later that day, he said: "Get rid of the SEC. That would be ideal."
Although Dr. Paul was candid about his relative ignorance on distributed ledger technology, DAPNet highlighted that this tech closely aligns with libertarian and decentralized politics.
"The blockchain is redefining the idea of power and money in politics," said DAPNet cofounder Nick Spanos. "From voting to money to budgetary transparency, the blockchain is how average Americans will seize back control from bureaucrats and special interests."