Samsung To Use Blockchain To Cut Red Tape At Shipping Ports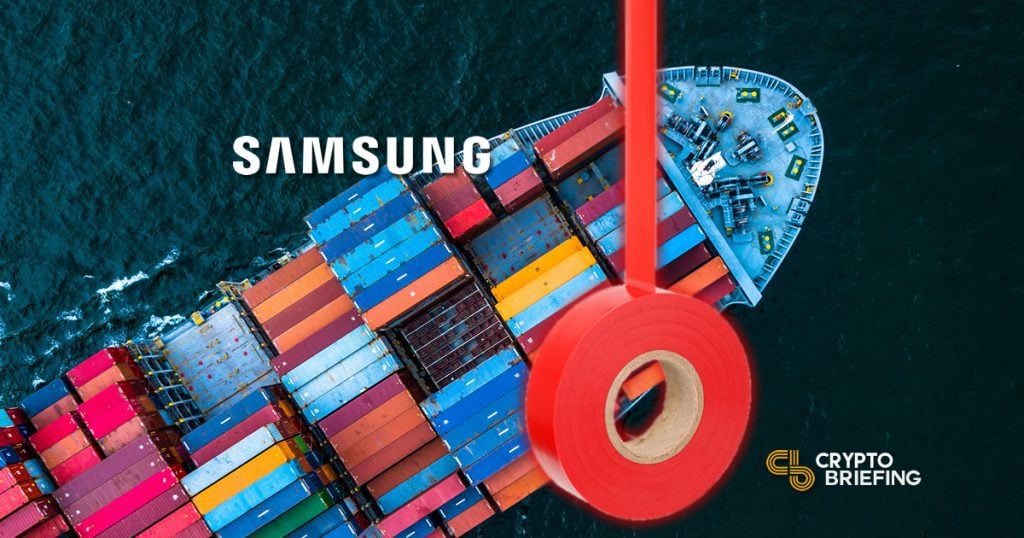 Samsung SDS is partnering with Dutch banking giant ABN AMRO to improve logistics processes at Port of Rotterdam in the Netherlands, the largest port in Europe. And with good reason.
Imagine having to fill out 200 paper documents when shipping goods to another continent. Book-size paperwork is what it takes to ship flowers from Kenya to the Netherlands, according to World Economic Forum (WEF).
Samsung SDS, one of the world's leading enterprise blockchain providers, wants to reduce all that red tape. In Oct. 22 announcement, the Korean conglomerate said it will help Dutch bank ABN AMRO track the test shipment of a container from Korean factory to Port of Rotterdam in the Netherlands. It's the busiest port in Europe with nearly 470 million tons of yearly freight volume.
The pilot blockchain project will begin in January 2019. If successful, it has the potential to fully digitize documentation, enable real-time sharing, allow electronic approvals, secure records, and automate financial settlements at marine ports around the world.
"We have been very interested in logistics blockchain in Korea and Europe," said Kim Hyung-tae, vice president of logistics at Samsung SDS. "It will be an opportunity to increase logistics business competitiveness and expand the blockchain platform business globally."
Samsung SDS and ABN AMRO partnered with Rotterdam Port Authority in a demonstration project that will attempt to link two separate blockchains: Samsung's Nexledger and ABN AMRO's Corda platform. (Corda is geared towards financial transactions.) The goal is to simplify logistics processes; financial transactions such as confirmation of receipt and payment; digitize as well as share in real-time documents related to port entry, and so on.
All three companies plan to expand their business to foreign entities and shipping companies, and to further develop partnerships with other blockchain operators.
"Currently payments, administration and the physical transportation of containers still take place entirely via separate circuits," Paul Smits, chief financial officer of Port of Rotterdam Authority, told PortNews. "For instance, an average 28 parties are involved in container transport from China to Rotterdam. The transportation, monitoring and financing of freight and services should be just as easy as ordering a book online."
A Sept. 2018 joint study by WEF and global consulting firm Bain & Co. said that distributed ledger technology (DLT) can boost trade finance globally, especially in emerging markets, by $1 trillion. The opportunity to boost efficiency and transparency in logistics and shipping is massive due to the scale of global trade, according to the researchers. According to Bain & Company, blockchain could reduce trade finance operating costs by 50-70% and improve turnaround times three- to four-fold.
Samsung SDS and IBM Blockchain are the two biggest conglomerates that are applying DLT in maritime operations, whose manual legacy systems have been in place for decades and even centuries. Samsung SDS's blockchain consortium counts nearly 40 organizations including companies, government agencies and research institutes.
Last year, the Korean conglomerate won a contract to help South Korean government use blockchain to improve administrative processes. Use cases include citizen identification as well as logistics practices at maritime ports.
The author holds digital assets but none mentioned in this article.