Sanctor Turbo announces Demo Day, revealing the first cohort of blockchain projects to graduate from its mentorship program.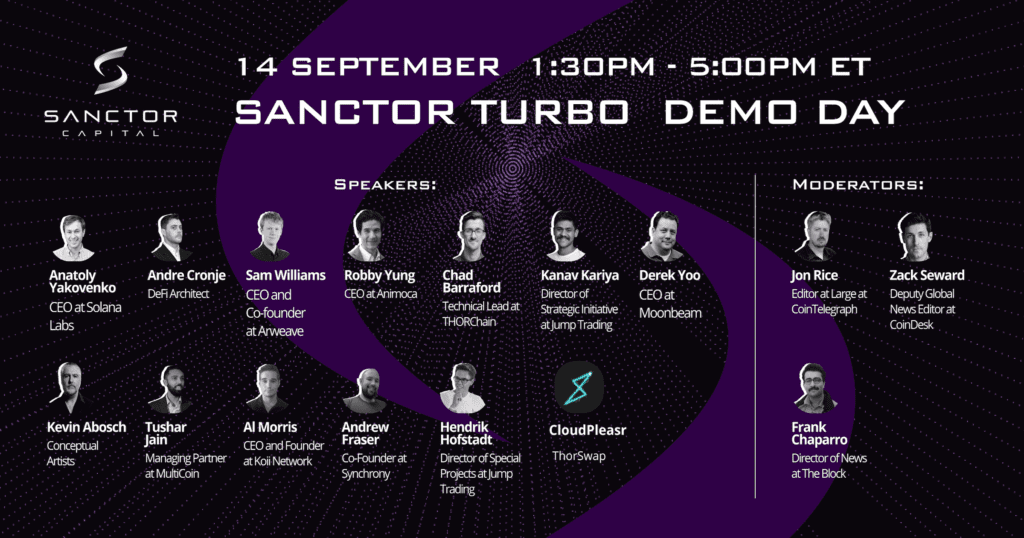 Sanctor Capital, a blockchain-focused investment firm that brings together missionary founders and successful entrepreneurs, announced today that it will be hosting its first Demo Day to showcase the inaugural cohort of projects graduating from its custom-tailored mentorship program, Sanctor Turbo. Project teams graduating as Sanctor Turbo's Alpha Class were hand-selected by domain experts from industry-leading organizations such as Coinbase, Cointelegraph, Solana, The Sandbox, and many more.
At the live-streamed event taking place on Sept. 14 between 2:00pm – 5:00pm Eastern, the founding teams from Koii, Synchrony, and ThorSwap will present their market-ready dApps and platforms, which span the domains of decentralized content ownership, cross-chain DeFi, and on-chain asset management.
"With the mentors we were able to recruit for this class, I have no doubt that the feedback the teams received have made an impact on what they will be showcasing to the world on Demo Day," said Han Kao, founder of Sanctor Capital. "It has been enormously rewarding to see the transformation of these projects over such a short period of time, and we look forward to seeing their innovations push the industry forward."
Demo Day presentations will be followed by thematic panel discussions featuring industry leaders on the biggest topics and trends of 2021.
The Current and Future State of Interoperability
Moderated by Zack Seward, Deputy Global News Editor at CoinDesk
Featured speakers: Andre Cronje, creator of Yearn Finance and Keep3r; Chad Barraford Technical Lead at ThorChain, Derek Yoo, CEO of Moonbeam; Hendrik Hofstadt, Director of Special Projects at Jump Trading; and Cloudpleasr of Thorswap
Bringing TradFi to DeFi on Solana
Moderated by Frank Chaparro, Director of News at The Block
Featured speakers: Anatoly Yakovenko, CEO of Solana Labs; Kanav Kariya, Director of Strategic Initiatives, Digital Assets at Jump Trading; Tushar Jain, Managing Partner of Multicoin Capital; Andrew Fraser, Founder at Synchrony
Redefining Art, Economics & Value with NFT Builders & Creators
Moderated by Jon Rice, Editor at Large at Cointelegraph
Featured speakers: Sam Williams, co-founder of Arweave; Robby Yung, CEO of Animoca Brands; Kevin Abosch, NFT Artist & Photographer; Al Morris, Founder of Koii Network
"Decentralized finance broke every record this year and it was in a large part due to the explosive growth of market-ready products and the impeccable drive of sleepless development teams all around the world," said Solana Labs CEO, Anatoly Yakovenko. "There was significant innovation taking place across blockchain ecosystems and I could not be more excited to welcome new talent to the space."
To register for a ticket to Sanctor Capital's Demo Day and to see a full list of speakers, please visit this link.
Disclosure: Some of the equity-holders in Sanctor Capital also hold equity in Crypto Briefing. Han Kao is the former CEO of Crypto Briefing.