SEC Commissioner Hester Peirce Opposes Crypto Bailouts
Commissioner Peirce says that harsh market conditions will lead to a stronger industry.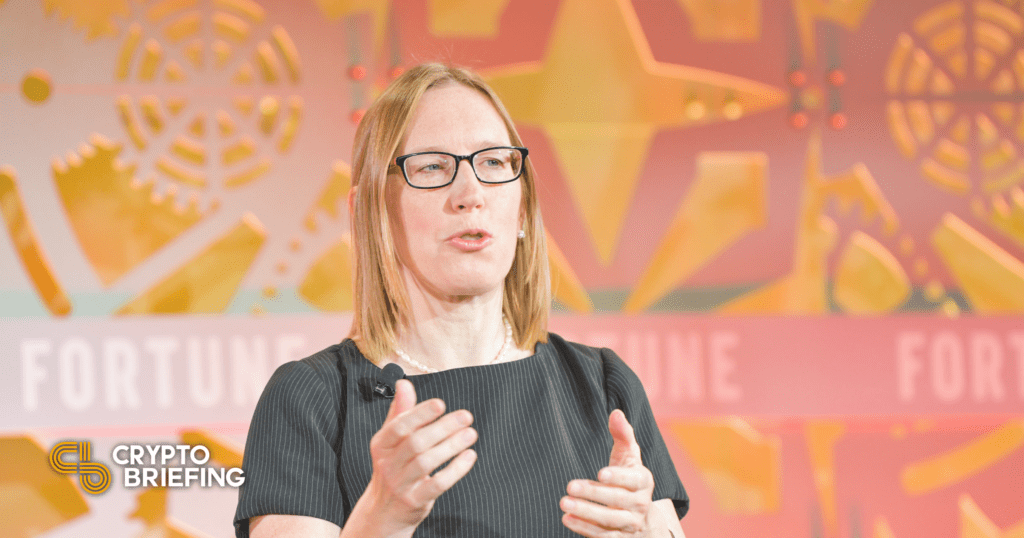 Key Takeaways
SEC Commissioner Hester Peirce commented on the ongoing bear market in an interview published by Forbes.
Peirce opposed the the idea of bailouts for cryptocurrency projects and implied the bear market would ultimately be healthy for industry.
She also warned that scammers may take advantage of investor desperation to commit fraud during turbulent markets.
SEC Commissioner Hester Peirce has suggested in an interview with Forbes that she would oppose bailouts for crypto projects, though she remains friendly toward the space.
Peirce Condemns Crypto Bailouts
Following TerraUSD's collapse and Celsius' decision to freeze withdrawals, market prices have fallen drastically. The price of Bitcoin is now $20,800, its lowest since December 2020.
Hester Peirce, however, has suggested that the ongoing bear market will help build a stronger foundation for the crypto industry. Peirce commented that the present moment is "not only for market participants to learn but… also for regulators to learn."
Though some companies may seek bailouts, Peirce suggested that bailouts are outside the Securities and Exchange Commission's authority. Furthermore, she said that she does not support bailouts for cryptocurrency companies.
She added that crypto "does not have a bailout mechanism" and that this absence is "one of the strengths of that marketplace," implying the crypto market has some ability to self-regulate. She concluded: "We really need to let these things play out."
Peirce went on to advise investors to be wary of any service that promises high returns. In that case, investors "need to be asking questions about its associated risks," she said.
Beyond the topic of bailouts, Peirce noted that the SEC may receive more tips on fraud under the current conditions. She warned that scammers may take advantage of investor desperation resulting from the bear market.
Peirce Remains Pro-Cryptocurrency
Peirce has historically advocated for moderate cryptocurrency regulations. She is responsible for the SEC's Safe Harbor proposal, which would allow new crypto projects to develop quickly.
In this week's Forbes interview, Peirce also expressed positive sentiments toward the Responsible Financial Innovation Act—a bipartisan bill that would set out clear rules for the crypto industry. It was unveiled earlier this month by Senators Cynthia Lummis (R-WY) and Kirsten Gillibrand (D-NY).
Peirce also made comments in favor of Bitcoin ETFs in a speech last week. The SEC has rejected all spot Bitcoin ETFs to date. In her statement, Peirce urged the regulator to "stop denying categorically spot crypto exchange-traded products."
Commissioner Peirce has served as the SEC's most pro-cryptocurrency regulator since early 2018. She will likely step down from her position when her term ends in 2025.
Disclosure: At the time of writing, the author of this piece owned BTC, ETH, and other cryptocurrencies.