Shark Tank Crypto Investment Is More Important Than You Think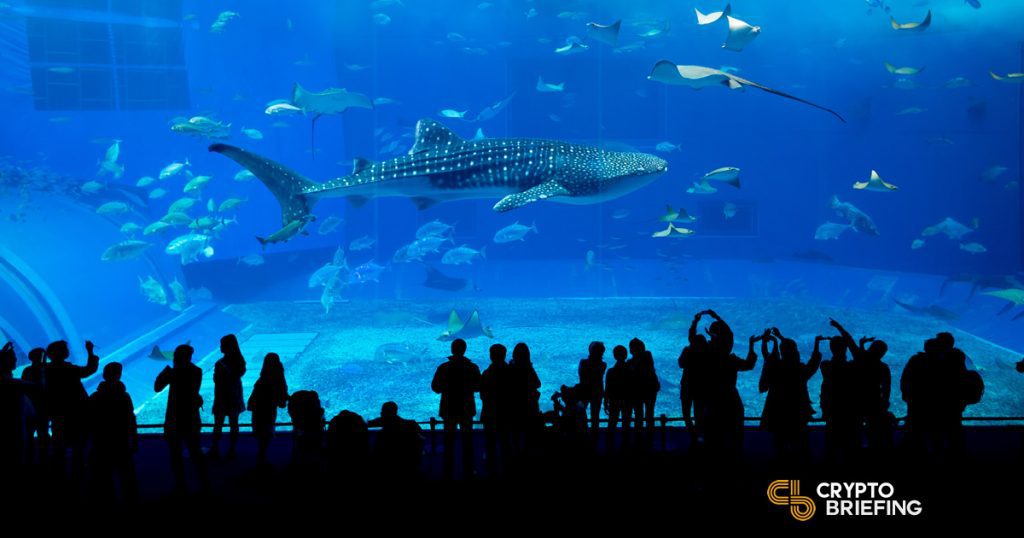 Now in its tenth season, "Shark Tank" is a juggernaut for network ABC and its parent company Disney. Over the course of 200 episodes and counting, over $100 million has been invested in up-and-coming startups, small businesses, and entrepreneurs.
The sharks (who include QVC queen Lori Greiner, FUBU founder Daymond John, and occasional celebrity shark guests like Ashton Kutcher and Richard Branson) are touted as business experts who are now savvy investors.
Every week since 2009, an average of 5 million people (like yours truly – check out my hands-on experience with a variety of "Shark Tank" products here and here) tune in to see a variety of wacky, innovative, and downright stupid ideas pitched to angel investors.
So why are we talking about "Shark Tank" at Crypto Briefing?
This week's episode featured a pitch from Dmitri Love for Bundil, a spare change investment platform for cryptocurrency. Not only did Disney allow a crypto company on its airwaves (advertising isn't easy for crypto projects), but Kevin O'Leary invested $100,000 to take a 50/50 stake.
O'Leary, a staunch conservative and one of the best reasons to watch both "Shark Tank" and "Dragon's Den Canada." He's a savvy Canadian investor and makes regular appearances on business TV shows.
Let's dive into some of five important details of this transaction to truly admire how brilliant Love is and why this is a win for the entire cryptocurrency industry.
---
"Shark Tank" Negotiations and Investments Are Real…
Yes – "Shark Tank," like any other reality show, uses the term "reality" loosely. We'll get into that in a moment. What's important to understand, however, is that these are real negotiations happening with real investors investing their real money. The reason everyone agrees to do it on TV in front of five million people is because only one percent of those people need to convert to create 50,000 sales over the period of one weekend.
What business or brand wouldn't want that?
And obviously the sharks want their investments to perform well, so they love this boost. They've been doing it for ten years now, and discussion about the "Shark Tank" effect is now regularly featured on the program.
So, when you see Love stumbling through his presentation, fielding hard questions from the investors, and eventually sealing a deal for a much larger percentage of his company than he came in hoping to give up, you're actually seeing this happen to him.
But there are caveats.
---
…But They're Still Staged by Disney
Calling the negotiations real is a bit of a stretch. Actually, they're 10- to 20-minute snippets of hour-long negotiations. Like any reality show, they're edited for drama. Also, the sharks don't know who's coming into the tank, but the producers certainly vet the people first. During this process, they know what's coming, and they are in the ears of the sharks feeding them information.
Also, sometimes the deal falls apart after the cameras are turned off, something they've aired several times, with Plated being one example. Cuban made the deal on the show, it fell apart, and O'Leary invested in in the company before it struck a deal with Safeway.
---
The Sharks Have an Interesting Tech Investment Record
The sharks involved in this episode were Mark Cuban, Greiner, John, O'Leary, and Matt Higgins. Of these sharks, Cuban and O'Leary are there because they created and sold tech companies for billions of dollars.
But ABC only airs the half of the story that relates to the men, not their companies. They're responsible for two of the biggest flops from the dotcom bubble burst.
After selling The Learning Company to Mattel for $4.2 billion, Mattel's sales and earnings dropped. Over $3 billion in shareholder value was lost the next year, and Mattel even sued O'Leary over the matter, which ended with Mattel paying $122 million to settle. The deal is widely known as one of the most disastrous in history.
Cuban didn't fare much better – remember broadcast.com? Neither does anybody else, and if you type the address into your browser, you'll be taken to the homepage for Yahoo, the company that bought the company from Cuban in 1999 for $5.7 billion in Yahoo stock. Cuban unloaded that stock at a record-setting pace (he literally held the Guinness Book record for "largest single e-commerce transaction."). It was Yahoo's largest acquisition and shut down three years later in 2002.
---
"Shark Tank" Just Solidified Cryptocurrency as Mainstream
So, with all this being said, Love's appearance on "Shark Tank" is important for several reasons. First off, cryptocurrency marketing is a rough path, and Love just found his way onto TV, not in a commercial, but within the actual TV show. Anyone working in marketing or PR knows that's a win.
On top of this, O'Leary, one of the country's most prominent investors, is now involved in cryptocurrency. O'Leary has what he calls his "Mr. Wonderful Platform" of businesses and is a social media machine with over 700,000 followers on Twitter alone. Love, and the idea of cryptocurrency investment, just got endorsed by Disney and O'Leary.
It doesn't get more mainstream than that for cryptocurrency investments.
---
Will Blockchain Be Next?
The only question that remains is how deep into cryptocurrency Disney really is. It doesn't develop its own games anymore, but could develop a cryptocurrency that can be generated through its licensed games to spend within the Disney ecosystem. It's building a viable Netflix competitor and has a majority stake in Hulu too.
And let's not forget that Disney Dollars were the unofficial mascot of localized currencies long before the Internet, much less cryptocurrency was around. Or that Dragonchain was a Disney-incubated project.
One can only wonder whether or not we'll see more blockchain-based businesses come into the Shark Tank to give the world a glimpse into the wide world beyond investments available in crypto.
The author is not currently invested in digital assets.