Shell and Gitcoin: A True Blockchain Alliance or Greenwashing Attempt?
Shell collaborates with Gitcoin on climate solutions, but with its past controversies, skeptics question the oil giant's genuine commitment.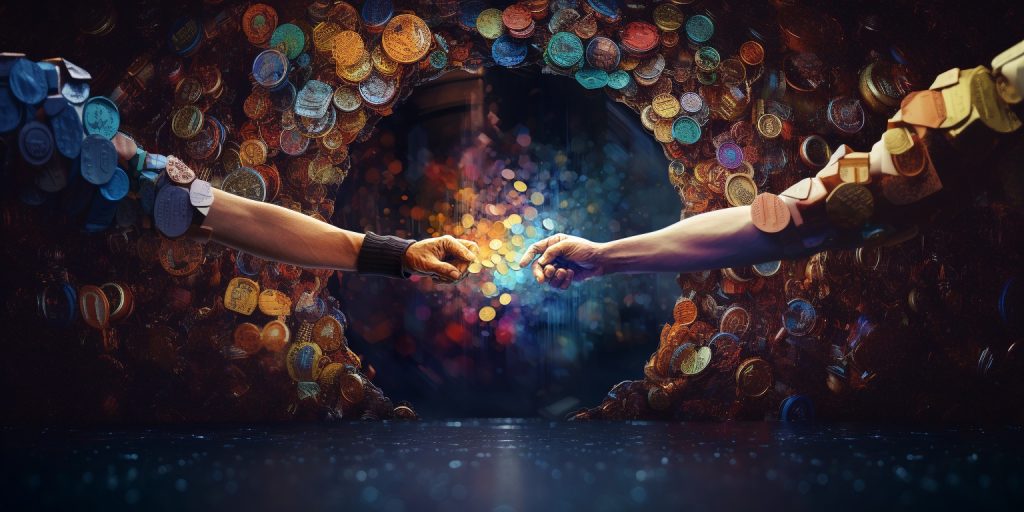 Shell Global Solutions, an international gas company, has announced a partnership with blockchain platform Gitcoin, signaling a significant shift in leveraging blockchain technology for climate solutions.
The energy transition is a colossal challenge, and we need innovative solutions. First we'll be hosting a hackathon focused on blockchain-based climate solutions along with our friends from @supermodularxyz. Stay tuned for more information and opportunities to get involved.

— Gitcoin 🟢 (@gitcoin) August 14, 2023
While blockchain technology is largely associated with cryptocurrencies, its application reaches far beyond. Its potential to address complex global challenges, particularly in energy and climate change, is immense. This newly formed partnership looks to potentially harness that potential, with a focus on the energy domain, offering avenues for better transparency and the adoption of renewable sources.
Central to this alliance is Shell's commitment to bolster the Gitcoin matching fund. The energy giant has pledged to support the upcoming four Climate Solutions rounds as part of the Gitcoin Grants Program. In addition, the collaboration will also witness a blockchain-centric hackathon later this year, specifically aimed at addressing energy use cases:
"Blockchain, with its potential to solve intricate coordination issues, is particularly suited to the energy industry, providing innovative ways to incentivize the adoption of renewable energy sources, as well as transparency and verifiability for carbon markets."
The Gitcoin Grants Program is known for its innovative Quadratic Funding model, designed to allocate resources in alignment with the genuine needs of grassroots communities.
Vikram Seth, Shell's point person for Blockchain annd Web3, stated, "Working with Gitcoin is a great way to discover and support cutting edge projects from all around the world and to leverage innovative funding mechanisms to harness the wisdom of the crowd."
Gitcoin, despite being deeply entrenched in the blockchain space, has successfully transcended its core domain. Its Grants Program stands as a monumental achievement, having facilitated over $50m in funds to a myriad of trailblazing projects spanning diverse sectors.
And, while Gitcoin's initiative to fund and support climate solutions through its Grants Program is undeniably progressive, the effectiveness and genuineness of Shell's participation remain under scrutiny.
Shell's sudden interest in climate-driven actions and partnering with blockchain technology begs the question: is this a genuine move towards innovative climate solutions or a well-crafted PR attempt to divert attention from Shell's past controversies?
Since the beginning of its operations in the region, the Niger Delta has experienced widespread ecological degradation, attributed in part to Shell's activities.
BREAKING!

We're outside the Royal Courts of Justice standing in solidarity with the Ogoni and Bodo people of the Niger Delta, who are taking Shell to court. Shell's oil spills have polluted the Niger Delta for decades – they must pay for the clean up!#shutdownshell pic.twitter.com/AIfNPyzLjE

— Fossil Free London (@fossilfreeLDN) July 24, 2023
Numerous oil spills have plagued the area, devastating local ecosystems, polluting water sources and harming the livelihoods of countless residents dependent on fishing and farming:
"More than 13,500 residents from the Ogale and Bille communities in the Niger Delta have now filed claims against Shell asking that the company clean up oil spills which they say have wrecked their livelihoods, poisoned their wells, and polluted their land and water, which means they can no longer farm or fish."
Shell has faced multiple lawsuits both in Nigeria and internationally over its operations in the Niger Delta. One landmark case in 2009 saw the company agreeing to a $15.5 million settlement to the families of the executed Ogoni leaders, including Ken Saro-Wiwa, though they did so without admitting any wrongdoing.
I love gitcoin but this is green washing, not green pilling.

Fuck Shell. https://t.co/Hu7ibLfTh1

— scoopy (@scupytrooples) August 14, 2023