SIMETRI Research Launches Near-Term Crypto Trading Signals Dashboard
Near-term catalysts now integrated into research platform.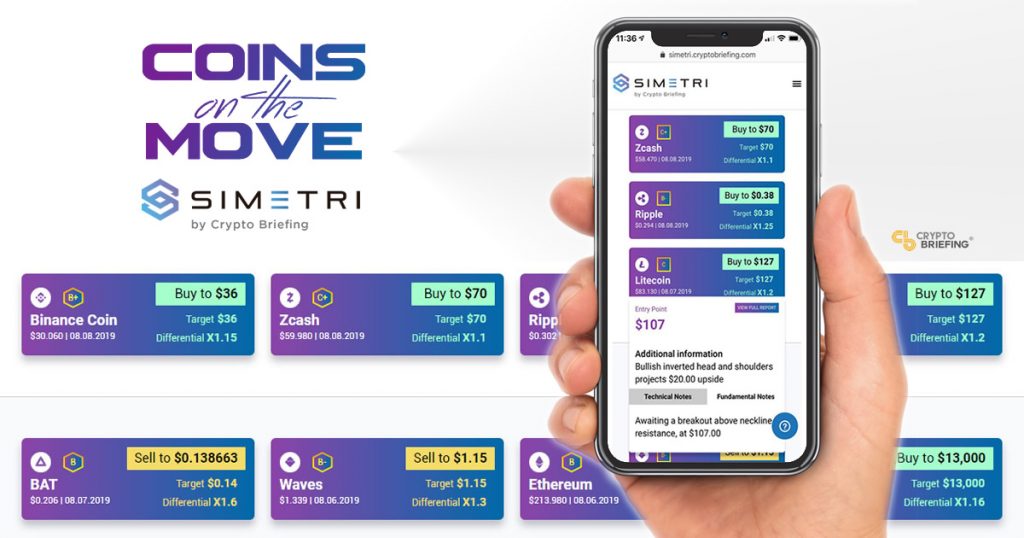 The research team at SIMETRI, which now comprises 13 full-time crypto analysts, launched a new near-term trading dashboard – "Coins on the Move" – today that combines long-term fundamental research with short-term indicators and technical analysis.
The new dashboard, available exclusively to SIMETRI Research subscribers, is based on a variety of data points including:
Chart-focused technical analysis
Momentum
Moving averages
Recent and upcoming news and announcements
Investor sentiment
Liquidity and listing prospects
Potential partnerships
Lockup and release schedules
And other potential short-term catalysts
"Technical analysis is helpful in the cryptocurrency world," said SIMETRI Research CEO Han Kao. "But it doesn't tell the full story. And since this is still a nascent market, nor does purely fundamental analysis. Crypto pricing is dictated by a unique hybrid of factors, such as the overall project strength, market trends such as staking, token momentum, investor sentiment, and of course the 24/7 news cycle."
---
SIMETRI Ratings Coming To CoinMarketCap And CoinGecko
Over the past two years, the research team at SIMETRI has developed a quantitative and qualitative fundamental framework for evaluating the potential of cryptocurrency businesses over the past two years. As well as offering deep insight into the strengths and weaknesses of major crypto tokens, the framework offers an investment grade that reflects the relative strength of the project.
"If you want to know which blockchain projects have the right combination of factors for hodlers to buy and hold for the long-term, the SIMETRI framework offers the kind of due diligence that major funds conduct before investing," explained Kao.
Those long-term investment grades will soon be featured on two of the most-visited crypto sites in the world – CoinMarketCap, with over 70 million visitors per month, and CoinGecko, with 12 million monthly readers.
Carylyne Chan, Head of Strategy at CoinMarketCap, explained that "Data standardization is a key factor in ensuring we can have greater visibility into data on an ongoing basis. Trusted data sources are a cornerstone of traditional financial markets — and as cryptocurrency matures, it needs and deserves these sources."
But as Kao noted, "There are also plenty of people in crypto who have a shorter investment horizon, and who are more interested in what's happening over the next few days or weeks. That's what the Coins on the Move dashboard addresses."
---
Entry And Exit Prices
According to the SIMETRI team, Coins on the Move will offer a variety of benefits to traders, including:
Quick and actionable investment signals
Entry and exit prices
A snapshot of projects' near-term prospects
Insights on near term projections and the reasoning for the expected move
Clear "buy to" and "sell to" targets for each coin
Integration with the fundamental SIMETRI grades
Daily updates on changes in near-term outlooks and price targets
Reports on projects that may receive strong fundamental grades, but that could have significant short-term upside
While Kao cautions that cryptocurrency investing can be risky, he is convinced that redressing 'information asymmetry' can only help investors.
"When one party has a great deal of knowledge, and the other has very little, that imbalance puts the retail investor at a huge disadvantage. Our goal is to help redress that imbalance with SIMETRI – giving our best interpretation of multiple data points, to help investors understand the market as quickly and easily as possible."
SIMETRI Research is now available here.