SIMETRI Outperforms Bitcoin, Altcoins, and Crypto Funds with 750% ROI
Crypto Briefing's mission has always been to level the playing field between retail and institutional investors. The outstanding performance by our research division SIMETRI demonstrates that fundamental analysis and careful research pays off.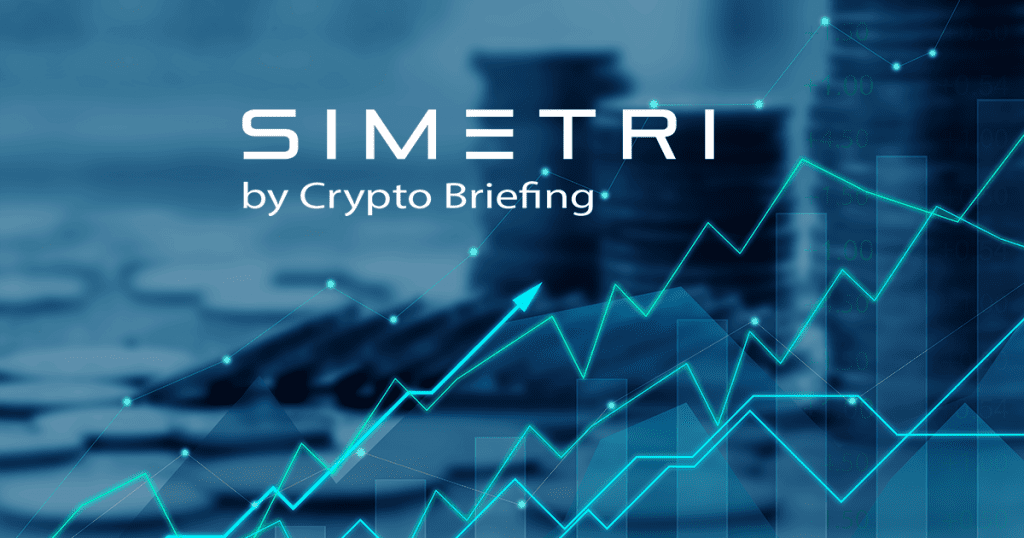 Key Takeaways
We've issued 14 Pick of the Month research reports which yielded a total ROI to-date of 751%
SIMETRI also issued 41 Full Digital Asset Reports with a B- grade or higher. These reports provided 249% gains
Short-term signals from Coins on the Move and Pro BTC Trader also did well, yielding 274% and 51% returns respectively
Since its inception in July 2019, Crypto Briefing's research division SIMETRI has been committed to finding promising low-capitalization coins with high upside potential. The numbers speak for themselves⁠—we beat Bitcoin by 758% and an altcoin index by 735%.
SIMETRI's Pick of the Month
So far, SIMETRI has issued 14 Pick of the Month reports, which selects coins with strong fundamentals but also have potential catalysts in the near-term. In our opinion, these are riskier medium-term holds.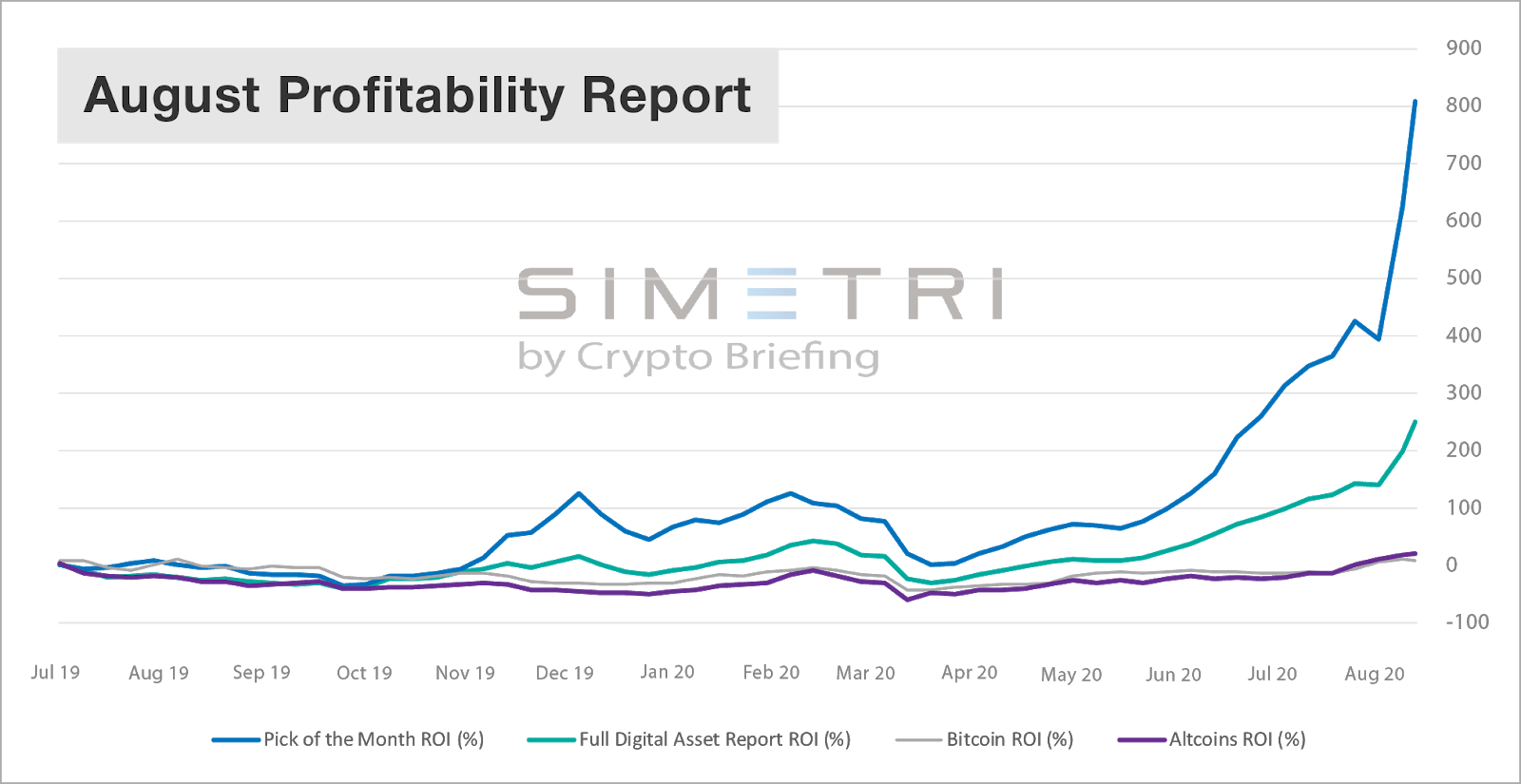 Of the cryptocurrencies selected, 10 of these picks were winners, 2 were losers, and 2 broke even. These picks generated a total ROI of 751%, as of Aug. 12 at 6:45 AM EST.
Over the same period from July 9, 2019, Bitcoin lost 7.2% and altcoins are only up 16%. Those who followed SIMETRI's Pick of the Month reports beat Bitcoin by 758% and a market-capitalization-weighted altcoin index by 735%.
The home run among these picks is THORChain (RUNE), which is up 61X since selection. Another knockout performance is Band Protocol (BAND), which has gained 23X assisted by its listing on Coinbase.
Other big winners are Kava (KAVA) and Tellor (TRB), which appreciated by 300-600% since releasing our report. Finally, there are 4 picks which made 100-200% gains: Republic Protocol (REN), Theta (THETA), Klatyn (KLAY), and one pick that is still exclusive to our members.
That isn't to say there aren't losers among SIMETRI's recommendations. RSK (RIF) lost 31%, while Proton (XPR) is down 16.5%.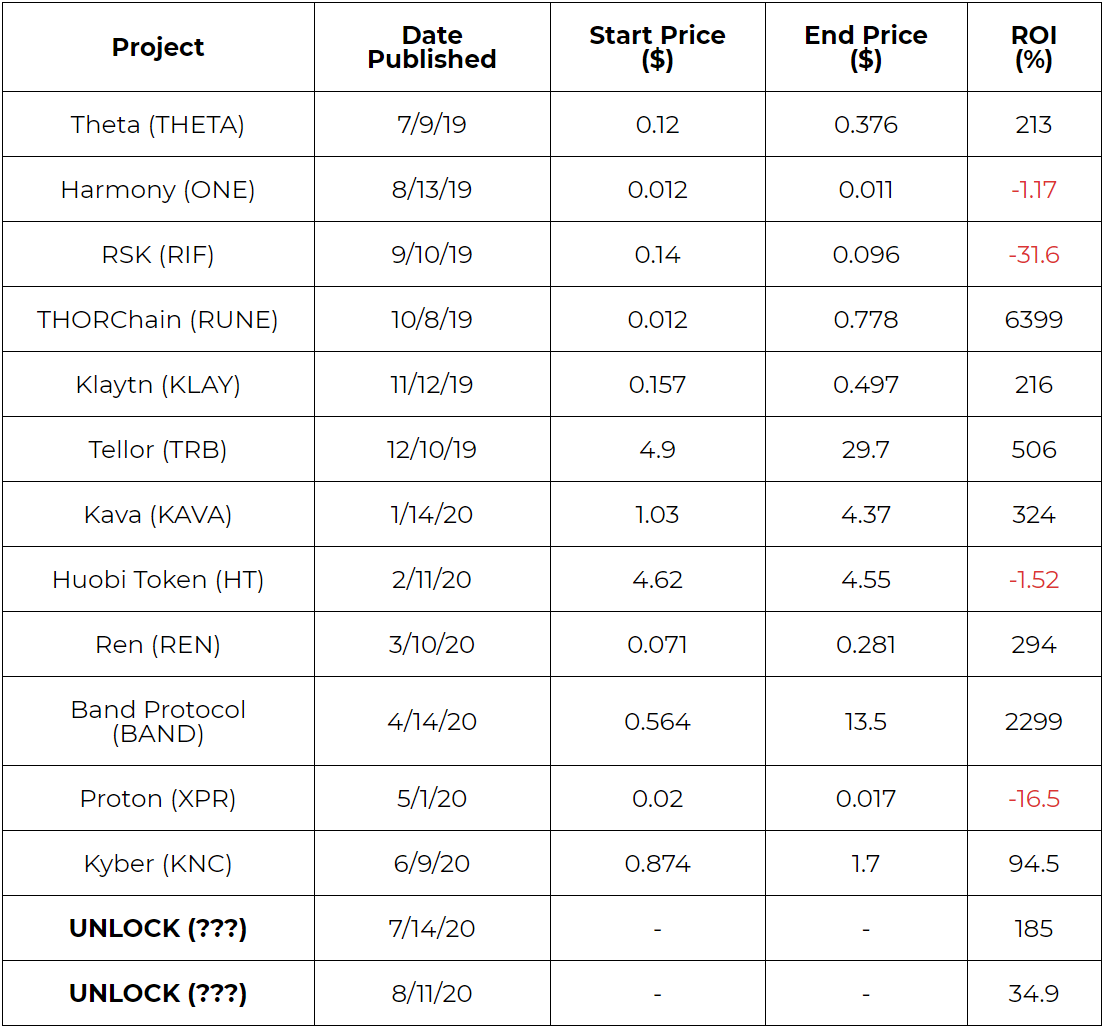 Learn more about our investment strategy and how to use SIMETRI's Pick of the Month reports.
Full Digital Asset Reports
SIMETRI's Full Digital Asset Reports are analyses of coins with strong long-term fundamentals that we believe have the highest likelihood of survival. In our opinion, these are more reliable long-term holds.
From July 2019 to August 2020, SIMETRI issued 41 reports with a grade of B- or higher, the threshold where we consider a project long-term investable.
Coins we consider prime holds include Bitcoin (BTC), Kyber Network (KNC), Ethereum (ETH), and Binance Coin (BNB).
Other projects which we believe are promising in the long-term include OKB (OKB), Basic Attention Token (BAT), MakerDAO (MKR), Chainlink (LINK), and Dash (DASH).
Of these 41 cryptocurrencies with a B- or higher, 25 were winning trades, 12 represent a loss, and 4 are break-even, amounting to a gain of 249%. Compared to Bitcoin, SIMETRI's Full Digital Asset Reports provided returns of 256%, and compared to the altcoin market, our long-term portfolio is up 233%.
SIMETRI's Short-Term Signals
Coins on the Move are SIMETRI's short-term trading signals, which, in our opinion, are ideal for swing trades. The platform issued a total of 43 trade recommendations. Of these, 24 were winners, 16 were losers, and 3 signals closed with no gain or loss. In all, these signals provided a to-date ROI of 274%.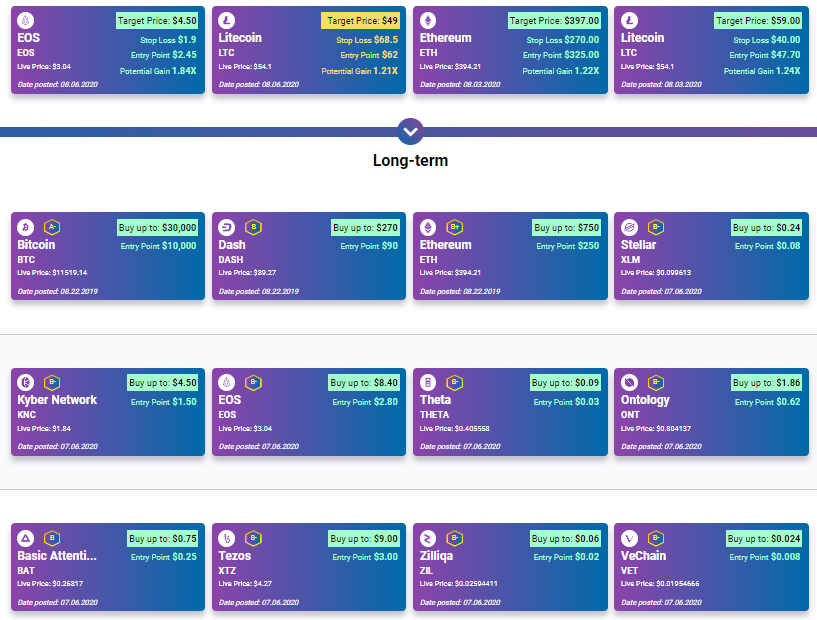 SIMETRI's other short-term signals product, Pro BTC Trader, which primarily trades on Bitcoin volatility. Pro BTC Trader issued a total of 15 trade recommendations. In all, 5 of these were winning trades, 4 closed at a loss, and 6 trades produced no gain or loss. Overall, these trades provided an ROI of 51%.
Why SIMETRI?
At most, there are only 40 million people invested in cryptocurrency right now. Like the advent of the railroad, television, or the internet, blockchain and cryptocurrency will one day benefit billions of people. It's still early.
Bitcoin and cryptocurrency have the potential to become the tool for the greatest transfer of wealth in history. These technologies can finally dislodge the bankers, politicians, and middlemen who control the financial system for their benefit. It's not too late to join the movement.
We launched Crypto Briefing and our research arm SIMETRI (the opposite of "information asymmetry") to give retail the same privileged look into the markets that insiders have. We're connected to the builders shaping this industry and have systematically evaluated hundreds of coins.
And we're here to share this information with you