Solana Based DeFi Land Announces Revenue-Generating Gen-0 NFT Seed Sale
DeFi land is well-backed by the likes of FTX, Alameda Research, and the Solana Foundation.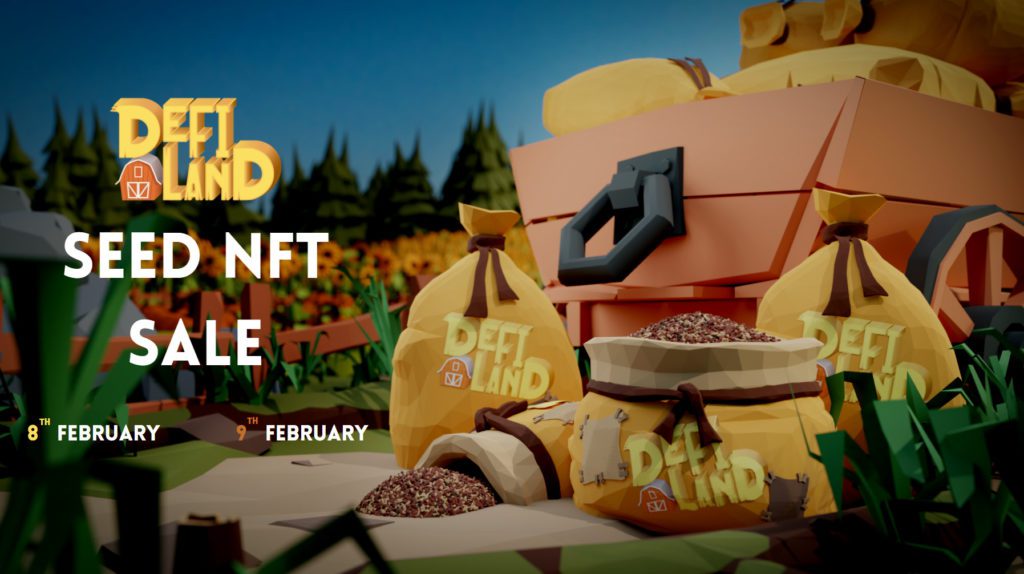 DeFi Land provides a blend of two major Web3 themes: NFTs and decentralized finance.
Solana's Hackathon Winner
GameFi unit DeFi Land is pleased to announce its Land NFT Seed Sale. A total of 7,500 DeFi Land Seeds will be made available for sale, distributed via the project's website and the Magic Eden Platform.
Blockchain gaming-oriented investors continue to take an interest in projects that combine decentralized finance with gaming in a GameFi effort. DeFi Land is one such project, as it provides an agricultural game setting where various aspects of decentralization become gamified. While players can earn money by playing the game, DeFi Land serves as an educational platform for newcomers to decentralized finance.
DeFi Land now enters a new chapter by introducing the DeFi Land Seeds, which are NFTs on the Solana blockchain. The Gen-0 NFT launch – split into two phases – is the first chance for players to earn Core NFTs necessary to unlock the ecosystem's play-to-earn functionality, coming in late Q1 2022. As such, these Core NFTs are both collectibles and gain utility as they provide access to various minigames to be played in the DeFi Land ecosystem.
Every Core NFT pairs with one minigame, ensuring players only require 1 NFT to begin earning. It is a solid way to democratize access to the play-to-earn features of DeFi Land. Additionally, every NFT has its own rarity and specific attribute to help holders unlock greater rewards and more income. Moreover, the Core NFTs have three or more attributes giving a distinct advantage in the corresponding minigame.
All Seed NFTs need to be watered for 30 days by using $DFL. Once the plant matures, it will provide Gen-0 Utility NFTs. All $DFL spent on watering Seed NFTs will be burned by the DeFi Land team, which results in a circulating supply reduction of up to 6%. Moreover, Harvesting the plant daily will provide 4 Gen-0 NFTs with the highest chance of receiving a rare item.
In late 2021, DeFi Land secured $4.1 million in funding from several dozen investors. Participants include Animonca Brands, FTX, Alameda Research, NGC Ventures, Solana Foundation, Gate.io, Jump Capital, and many others. Such outspoken support from investor heavyweights confirms there is the tremendous market potential for GameFi projects capable of bringing gamers to the DeFi industry.
DeFi Land announced its public testing phase on December 22, 2021, after reaching first place at Solana's Hackathon in the summer. That public test came on the heels of a closed beta test with 3,000 authenticated users. The public testing further confirms DeFi Land's commitment to delivering products and achieving goals rather than building anticipation. DeFi Land Token (DFL) holders soon will be able to stake it in the single sided pools with flexible and locked periods of time. They will be receiving instant rewards in tokens, in-game items and future NFT drops.
Players can play minigames for prizes, farm for produce, exchange tokens, and much more.