ICO Investors Threaten Legal Action Against Sparkster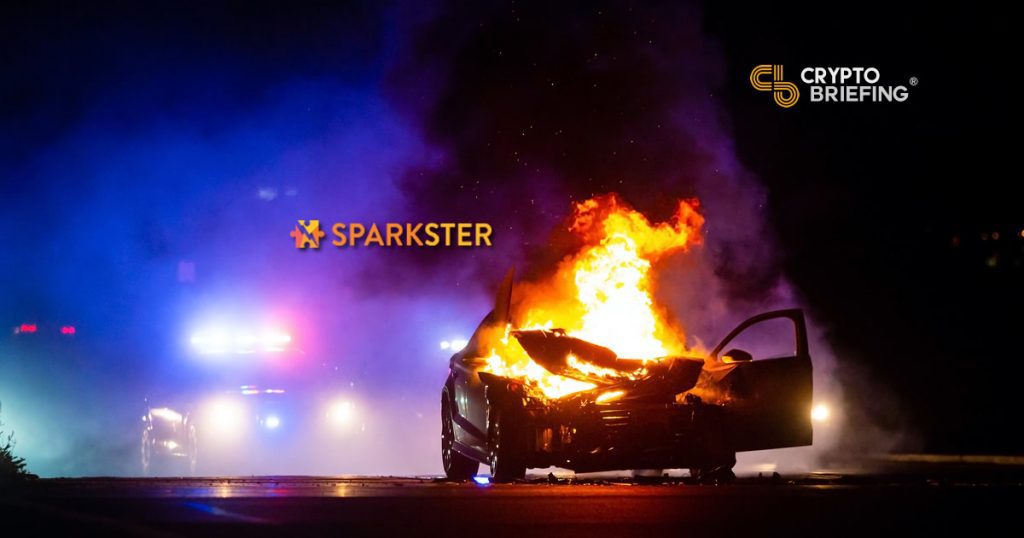 Sparkster, an ICO which raised tens of millions of dollars last year, may become the first token sale to face legal action in the UK.
Sparkster (SPRK) raised $30M in its initial coin offering (ICO), which concluded in July 2018. Investors are now threatening legal action against the project, alleging that founders purposely misled investors during the sale, with promises of returns as high as 300 times their initial investments. The Telegram handle highlighted in the image below is used by a Sparkster admin who describes himself as the CEO.
The investors also claim that the team didn't make any progress with the underlying product.
SPRK tokens were originally slated for release a month after the sale's completion, but the project has repeatedly pushed back the token release date. Last week, the team announced that tokens would be released in late April.
One of the unhappy parties is CryptoArnie, a London-based crypto personality. He explained investors became increasingly worried by the project's lack of communication.
"I know one person who invested $150,000, and another who put $25,000 into Sparkster," Arnie said on the phone. "Now the team's gone AWOL and people are calling for action."
Sparkster was pitched as a decentralized cloud network, which would allow users to write software without needing to code. Built on the Ethereum (ETH) platform, SPRK tokens are units of exchange for users to sell software ideas on an online marketplace.
The project claims on its website that the Sparkster network is highly scalable, able to handle more than ten million transactions per second.
---
Legal action
Although Sparkster insists it will release investors' tokens, many worry the value of the SPRK tokens will plummet as soon as they go onto the open market.
Some want a refund. Messages seen by Crypto Briefing show that Daya offered to pay back investors. "If you paid in USD, we will refund you in USD," he promised one investor. This was quickly refuted by another member of the team, "Sparkster hasn't said anything about "refund.""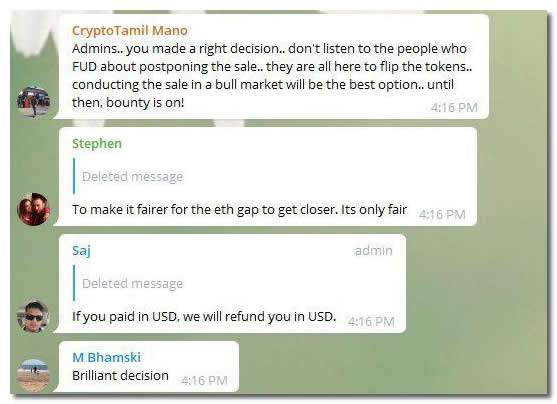 Many investors feel they are now at an impasse. Arnie explained he and three hundred other investors are in the process of putting together a collective-action to submit to the Financial Conduct Authority (FCA), the UK's lead financial regulator.
Authorities in the USA have already taken action against a handful of ICOs. The SEC ordered two projects, Paragon and Airtoken, to refund investors after they concluded both were unregistered securities sales, as Crypto Briefing reported at the time.
The SEC took action because the Howey Test defines in no uncertain terms what classifies as a security under American law. But in the UK, and the EU more broadly, the legal framework is not so clear. The Directive on Markets in Financial Instruments (MiFiD 2) – which applies across the union – defines a security according to whether it was transferred on a secondary market, rather than on the nature of the investment itself.
But London-based investors say they have a case; the lack of progress on the product means the sale was misleading, and they claim to be in discussions with multiple legal firms. The unprecedented nature of the matter could make it a "landmark case" in how UK authorities protect investors participating in crowdsales.
"The FCA needs to protect investors," Arnie said, "there has to be proper regulation of utility tokens."
The FCA declined to comment.
---
Filing complaints
Some investors have already started to take action. One investor who asked that we only used his first name, Joseph, said he had already filed a complaint with the FCA back in February. An Indian citizen, he doubted the project's quality, but invested because, he said, ICO investor and influencer Ian Balina had "marketed" it.
"I'm a software developer and knew it was a crap project as soon as I saw the code," Joseph said. "I invested $2,000 because I trusted Ian, he was the one who persuaded me to invest."
Sparkster has confirmed that Balina invested in the token sale. In early June, Balina declared it was one of the best upcoming ICOs on the market – rating it with a 90% "Hall of Fame" label on his ICO spreadsheet.
Although Sparkster released footage of Balina supporting their ICO at an event last May, he has strenuously denied claims that he was ever paid to promote the token sale. In a tweet that has since been deleted, Balina said, "I was never paid by Sparkster. I'm just a frustrated investor like everyone else."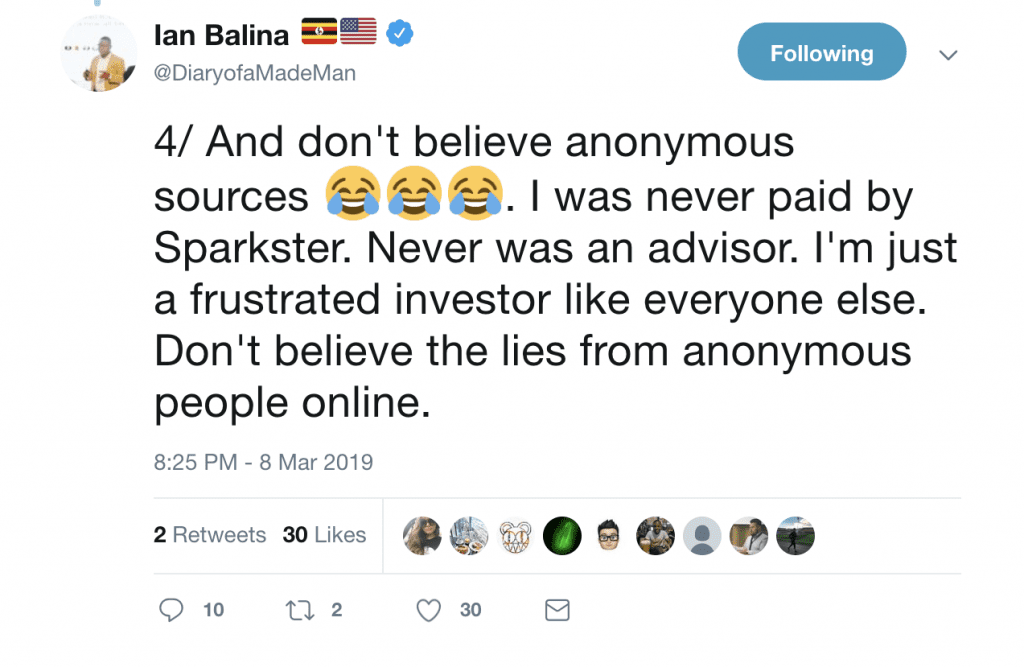 Joseph believes that although his investment is small compared to many others, someone needed to put in a complaint with the FCA.
Crypto Briefing reached out to Balina for comment but hadn't received a reply by the time we went to press.
---
What has Sparkster said?
Sparkster has denied any allegations of wrongdoing. Daya has said he has been unable to communicate with investors because his mother is in a "critical condition" in hospital.
In an Ask-Me-Anything (AMA) on Friday evening, Shabeer Kirmani, Sparkster's Vice-President and 'Chief Evangelist' said many of the claims were "unfounded."
Believing CryptoArnie is the person responsible for most of these allegations, Kirmani said that Sparkster would be "taking the strongest possible legal action against CryptoArnie." He even invited other investors to join the case against him.
Crypto Briefing approached Kirmani for comment on how Sparkster would deal with the threat of legal action brought against them in the UK.
He had not responded by the time we went to press.
---
The author is invested in digital assets, including Ethereum which is mentioned in this article.